Finnish: Herkkutatti
Swedish: Stensopp
Norwegian: Steinsopp
German: Steinpilz, Gemeiner Steinpilz, Fichtensteinpilz, Herrenpilz, Steini
Other Scientific Names: BOLETUS EDULIS VAR. ARENARIUS, BOLETUS EDULIS VAR. ARCTICUS, BOLETUS EDULIS VAR. GRANDEDULIS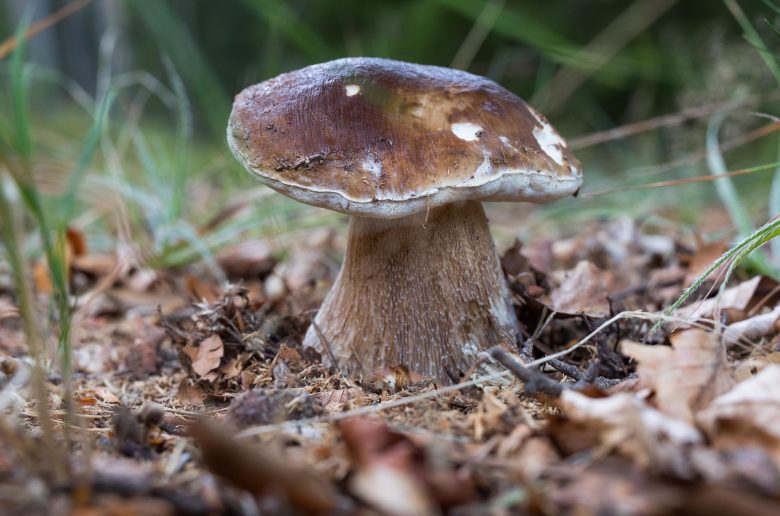 height: 10 – 20 cm
trunk diameter: 3 – 6 cm
months: July – October
colours: light brown, brown cap | white-brown trunk.
characteristic: massive, bulbous trunk and (light) brown cap,
habitat: pine-, spruce- and mixed forest
taste: hazelnut
smell: pleasant
Description
This is another example of a delicates mushroom you are welcome to pick in the Scandinavian forests.
The young mushrooms have a firm, thick and in bent cap. In older specimen the hat develops a plane form and can grow up to 25 cm in diameter. The colour can have various shades of brown. In early stages they have white firm pores which change their colour to yellow and in late stages even to a greenish tone with considerably softer pores and flesh. One main characteristic is the massive bulbous, pear shaped trunk that usually features a fine light brown netlike pattern.
Boletus are very popular mushrooms and marked prices of 50+ € per kg are common. However fellow mushroom enthusiasts are not the only ones you are up against when looking for boletus. This mushroom is also very popular amongst insects, snails and also other mammals as (rein)deer or wild boar. In many cases you will encounter specimen that are already besieged by worms or partly eaten by snails. You can simply clean these parts out and eat the unaffected ones if possible. Even though some people consider the worm-infested parts of the mushroom as additional source of proteins you should not eat them. The worm excretions are considered toxic and will do you no good.
Lookalikes
Boletus edulis can be easily confused with the Tylopilus felleus better known as bitter bolete or bitter tylopilus. This mushroom looks very similar with usually a slightly thinner and darker stem and lighter cap. The pores develop a slightly pinkish tone especially in older specimens. If you are not sure the easiest way to identify this mushroom is its strong bitter taste. Bitter bolets are not poisonous but even a small amount is enough to ruin your whole dish. Make sure to leave them in the forest.
Be also aware that there are different types of cep's that are all equally in taste and quality e.g. B. pinophilus or B. reticulatus.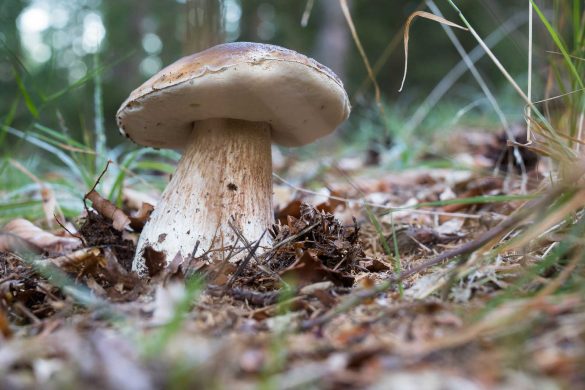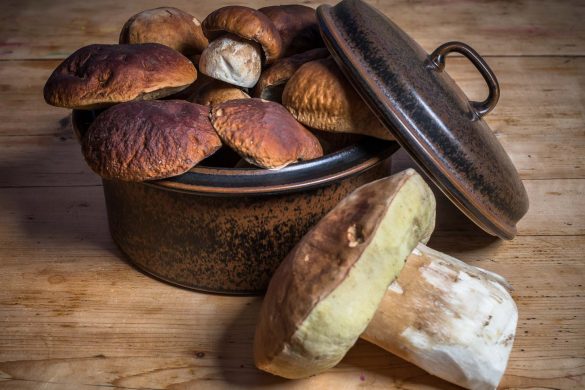 Notes
Notes for cooking: One of the best ways to prepare cep is to slice them in (4 mm thick) slices, spice them with salt and pepper and fry them in olive oil or put them on the grill. They are also exquisite in soups and sauces. Even though they are best served fresh they are very suitable for drying to use them at a later stage for soups and other dishes.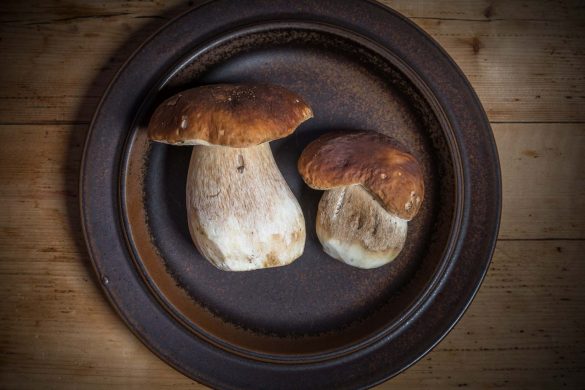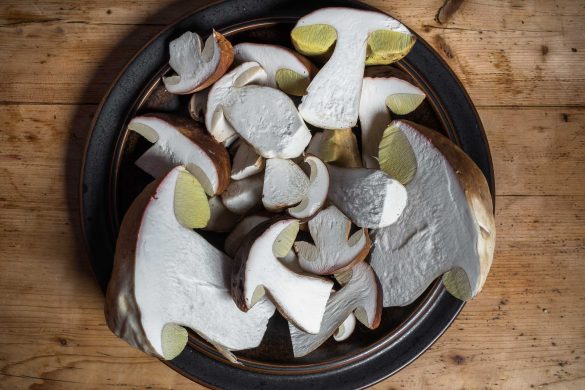 Recipes from McIlvaine
"Remove the stems, and the tubes unless they are compact and young, or the dish will be slimy from the tubes. Wipe the caps clean.
To BROIL. – Put on wire broiler or in a hot buttered pan. Cook well. Add butter, pepper and salt.
To STEW – After cutting the caps in pieces of similar size, stew in a covered saucepan for twenty minutes. Do not use much water. When done, add butter, or cream, pepper and salt. Some persons may prefer to add a little lemon juice or sherry.
To BAKE. – Bake for half an hour in covered dish, add oil or butter, a little parsley, and garlic if liked, pepper and salt.
To FRY. – Remove the tubes from all the caps, excepting of very young or very short-tubed species. Slice the caps as you would egg- plant. Fry in butter, oil or fat, or dip in batter or in egg crumbs." (McIlvaine 1901, p. 640)

B. EDULIS SOUP (as made in Hungary). Having dried some Boleti in an oven, soak them in tepid water, thickening with toast bread, till the whole be of the consistency of a puree, then rub them through a sieve, throw in some stewed Boleti, boil together, and serve with the usual condiments. (McIlvaine 1901, p. 640)
To DRY BOLETI (English method). Gather in dry weather. Remove stems and tubes. Wipe clean with a damp cloth. Slice. String the slices. Hang up in a warm place for two days. Then give them a minute in a moderately warm oven. Pack in tins with spice. When wanted steep the slices in tepid water for some hours, till they swell. Then proceed to dress as for fresh Bolets. The Russians retain the stems and dry their Bolets whole, stringing them up the stem and through the center of the cap." (McIlvaine, 1901, p. 641)
We have compiled this overview with the best of knowledge and belief, but do not claim to be complete and reserve the right to make errors.
Learn more about poisonous mushrooms and mushroom poisons here
↓↓↓