In spring wild garlic (swe.: ramslök lat.: Allium ursium) covers the forest-floors in Sweden and many other European countries. With its distinctive garlic taste this plant lives up to its name. We show you how to process this green gold into a delicious pesto.
The wild garlic plant is a wild relative of the onion and resembles in taste a bit to chives (Allium schoenoprasum). The best time to collect wild garlic is in spring before the trees sprout. Depending on your country this time of the year can vary of course. In Sweden the prime time for collecting wild garlic is usually April and May. In central Europe the time is usually one month earlier.
ATTENTION: There is one plant wild garlic often gets mistaken with – Lilly of the Valley (Convallaria majalis), a highly poisonous species often growing in similar areas. Every year a handful of people throughout Europe die making this fatal mistake. The wild garlic plant itself is quite easy to identify due to its odour. If you are in doubt simply rub a leave between your fingers and make a smell test. Better safe than sorry. However, this works only once and if you have the smell of wild garlic on your fingers it is not wise to try the same method on other specimen.
Harvesting
The whole plant is edible but the most popular parts are the leaves. Purists consider it even to late if the plant starts to bloom – we do too. Once flowering, the leaves are already quite big and ad a slightly bitter note to their taste. You can still eat it though and before you have nothing it is well worth a try. Once their leaves start to turn brown the season is definitely over.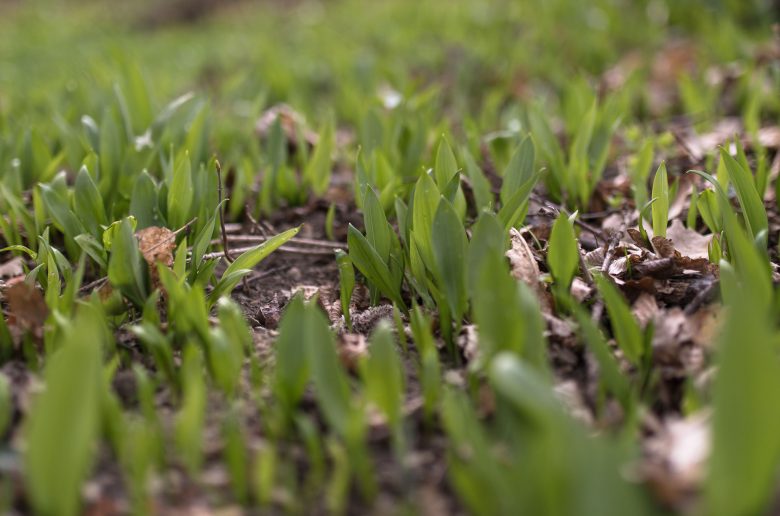 Wild garlic usually covers whole forest floor areas and occurs in mass. You'll never find only a single plant but more likely a sea of green. Leaves can grow up to 25 cm but we recommend younger leaves in the 15 cm range and below. Its prime habitat is moist soils in forests, conditions that you will find mostly in the South of Sweden.
When picking you can simply tear of the leaves with your hands or you take a knife. Don't take all leaves from the same spot. Usually there are more than enough wild garlic plants in one area so that you can give some plants the chance to reproduce for the years to come.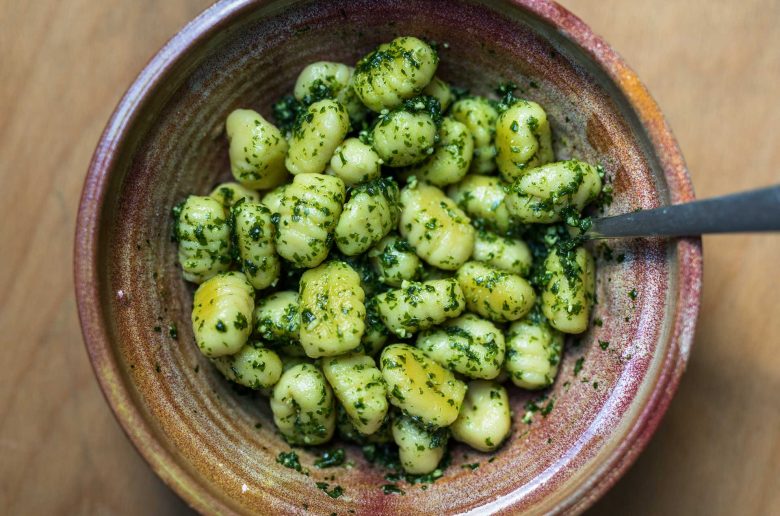 There are a variety of recipes for the plant but we find pesto the most delicious and versatile form of processing it. Spread it on bread; eat it as a dip; along with pasta, gnocchi, rice or whatever suits your taste. Pesto can be stockpiled for several months in the fridge or even longer in the freezer. For the beginning we recommend that you try the recipe in moderate quantities and see for yourself if it suits your palate. 
Pesto Recipe
There are many different ways to make a wild garlic pesto but usually nuts, olive oil and Parmesan are involved to some extend. Our favourite way of preparing it is quite pure and simple and goes with pine nuts. It's a very simple process and takes about 20 minutes.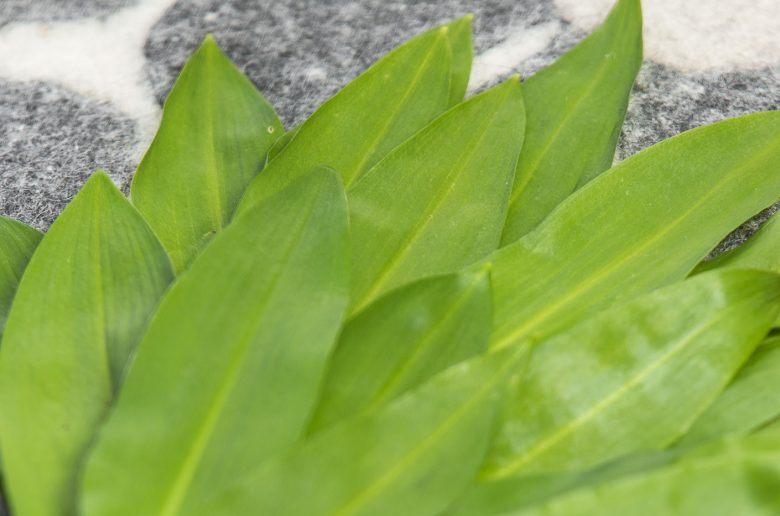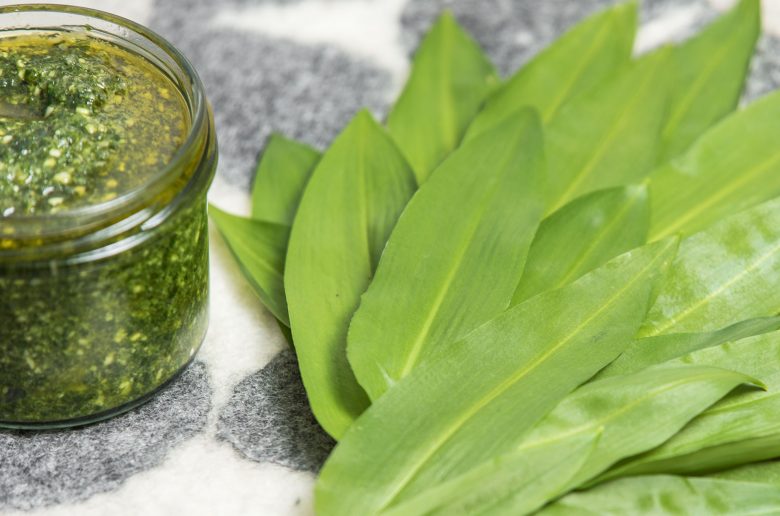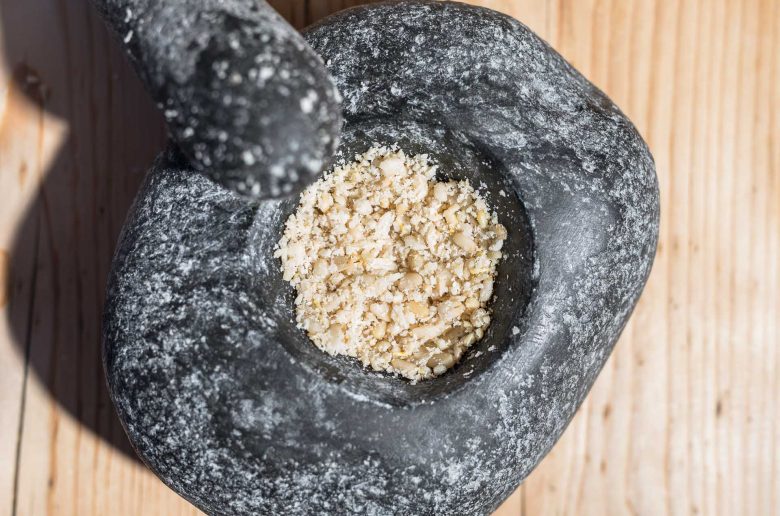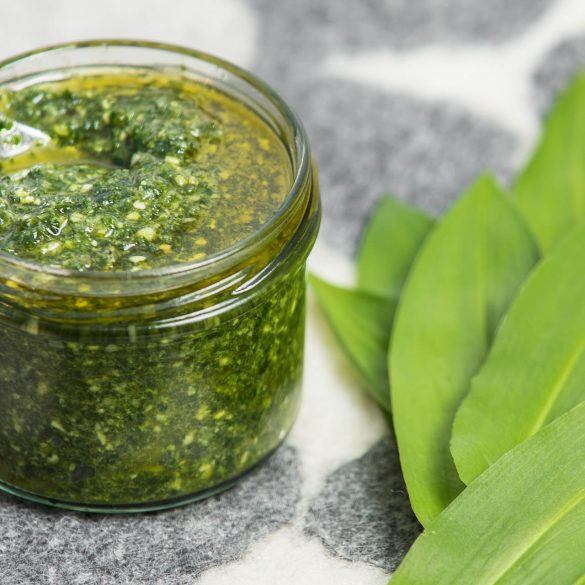 Ingredients
220 grams wild garlic
30 grams pine nuts
50 grams parmesan (fine grated)
150-200 ml olive oil
½ tablespoon of salt
Instructions
The leaves should be processed while they are still fresh. Rinse them under water and let them drip off.
Put the leaves in your blender. Alternatively you can cut up the leaves into small pieces and grind them in a mortar.
Roast the pine nuts in a pan without fat until they get a slightly golden-brown color.
Add the rest of the ingredients and blend it for about 1 minute or as long as you get a structure to your liking.
If you want to do the whole process by hand put the grinded leaves into a kitchen bowl. First thing to add is the olive oil along with the salt. Grind the pine nuts apart from the rest in the mortar and mix it along with the fine grated Parmesan to the rest. Stir until you have the desired consistence.
If the consistence of the pesto is to viscous simply add more olive oil.
If you want to store it, put it into preserving jars. If you plan to stock up with pesto over a long period of time it is advisable that you sterilise the jars beforehand. Simply put the glasses along with the lids in a pot of water and leave them for around 10 minutes in the boiling water.
Fill the pesto into the (cooled down) glasses and cover them well with olive oil to preserve them.
Notes
If you don't have pine nuts or are looking for an (cheaper) alternative you can also use walnuts or even sunflower seeds. The amount of ingredients depends a lot on your personal preferences. Do not hesitate to add or leave out nuts and Parmesan to your liking.
Freezing
The easiest and quickest way conserving wild garlic for a long time is by freezing it. One good method is to put the pesto into ice cube molds so you can always retrieve a precise amount of the green gold. If you want to store the pesto in the fridge over many months even up to a year you should leave out the pine nuts and Parmesan in the recipe.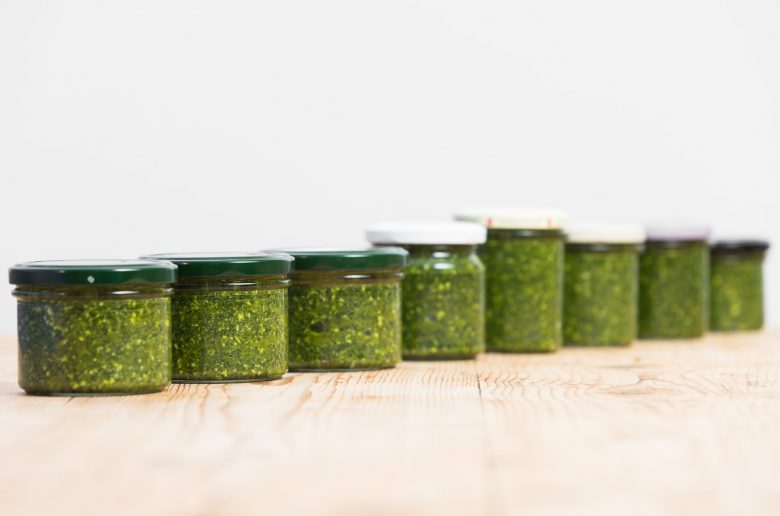 Effect and Substances
Wild garlic is considered to be a very healthy kitchen companion. It contains a lot of Vitamin C and minerals and is used as medicinal herb already for centuries. Hildegard von Bingen, the renowned medieval herbalist recommended wild garlic for indigestion and high blood pressure. This knowledge still proves to be true in the present time. Their sulphurous compounds Allicin and Allinin, which are responsible for the typical wild garlic scent, work as a natural antibiotic and have a lowering effect on the cholesterol.
Tips and alternative ways of consumption
If you like things pure and raw garnish your bread with the whole leaves and it unprocessed.
Similar to herbal salt you can produce your own wild garlic salt. Simply blend the leaves and mix it with the desired amount of salt (e.g. 100 grams wild garlic – 500 grams sea salt). Let it dry and blend it again.
For a wild garlic soup cook a base consisting of sliced onion and potato cubes and vegetable stock. Cook until the potatoes are soft, add 100-200 grams of wild garlic and boil everything up and blend the soup in a mixer.
Alternatively to the pesto you can produce a spread with sunflower oil, dried tomatoes and sunflower seeds. Prepare in the same way as the pesto. For 100 grams of wild garlic use 50-70 ml sunflower oil, 35 grams of dried tomatoes and 40 grams of sunflower seeds.
Get also inspired by some of our other Northern recipes:
Find more inspiration in some of our other poster designs
↓↓↓