Denmark might not be the first country to be on your mind when thinking about wilderness trips in the North. Hiking or biking through the country is a great experience though and there are hundreds of shelters and public campsites all over the country.
Shelter is actually also the Danish word for this construction and usually referring to a lean-to type shelter [see types]. They are closed on three sides with one side open and give protection against rain and wind. You can use them to spend an adventurous night without bringing a tent if you bring your sleeping bag and sleeping pad. However there are some things you have to keep in mind. Most times they are in an area designated as free campsites and there are certain rules that you should know. Public campgrounds are divided in two categories – small and big.
Lille lejrplads are small campsites. They are not for booking and the number of tents simultaneously pitched is limited to 8 maximum – first come first serve. The limitations might not concern you if you don't plan to bring a tent in the first place but at popular places small shelters can be occupied. Some shelters also provide fire sites and toilets. Note that the maximum time to stay on these campsites is two days.
Store lejrplads are big campsites. In general they offer the same services as their smaller counterparts (fire sites, toilets, shelters) but they are designed for larger groups and can be booked in advance. You are free to use the facility if it is not occupied even without reservation – people who book have priority though. If you travel in a big group you might want to consider making a reservation. Booking can be done under booking.naturstyrelsen.dk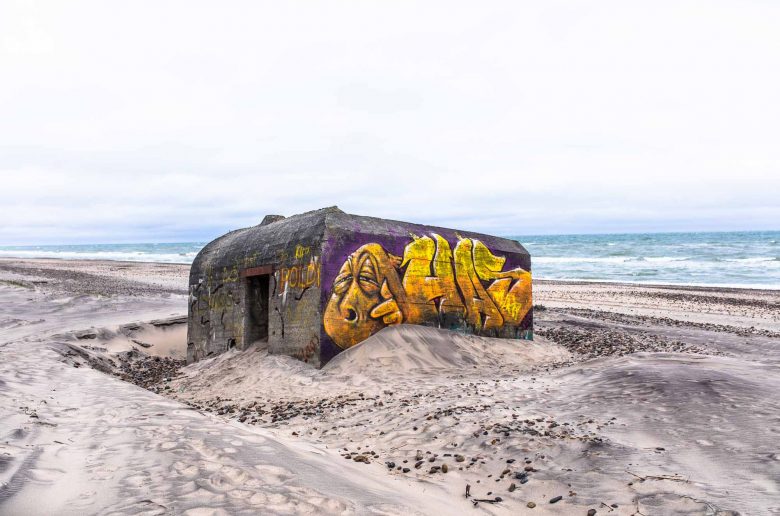 Remember for those facilities: 
overnight stay in a shelter (or tent) is free of charge unless it says different
usually you are not allowed to bring a motorized vehicle to the site
take your rubbish
you can collect firewood from the forest floor to make a campfire. You are not allowed to cut or break firewood from trees by any means.
On bigger campsites first come first serve does not apply.
If you have to use the nature as a toilet, do so in a responsible way and leave no trace.
Find shelters online
If you want to plan your trip in advance or just now in Denmark and want to check your options right away you have two main options. The Danish Nature Agency runs website mapping thousands of free camping areas around Denmark. The service provides great information about camping facilities and shelters but has also some downsides. We will give you a quick overview how to navigate it. If your simple interest is to get the location of a potential shelter in your area of interest you can check out the shelter map for northern countries.
Danish Shelter map
As the name suggests this map highlights shelters in Denmark. The service basically provides the coordinates for a shelter without little or no further information. The degree of accuracy respective coverage can vary so be advised not to take the map as the only means by which you plan your trip. Not all data is verified and in some cases the coordinates might lead you to the wrong place. That said, usually it is a great and simple way to get an idea what you can expect in an area.
Ud i nature is an official site of the Danish Nature Agency that provides a detailed map of outdoor related activities. Amongst others you can find free campsites, shelters, fire sites, drinking water and more. If you want to plan a hiking or biking tour in Denmark this is definitely a site you want to consult. There are two downsides. Number one is that it is all Danish and you might want to pick up some basic vocabulary to find what you are looking for. Further down you'll find that we have you covered with this. Second is that the map has no option to highlight shelters only. You can find all campsites in an overview but in order to check if there is a shelter you have to manually look up every site. Still the site is great and the collection of data is very handy if you plan outdoor time in Denmark. Important vocabulary to know…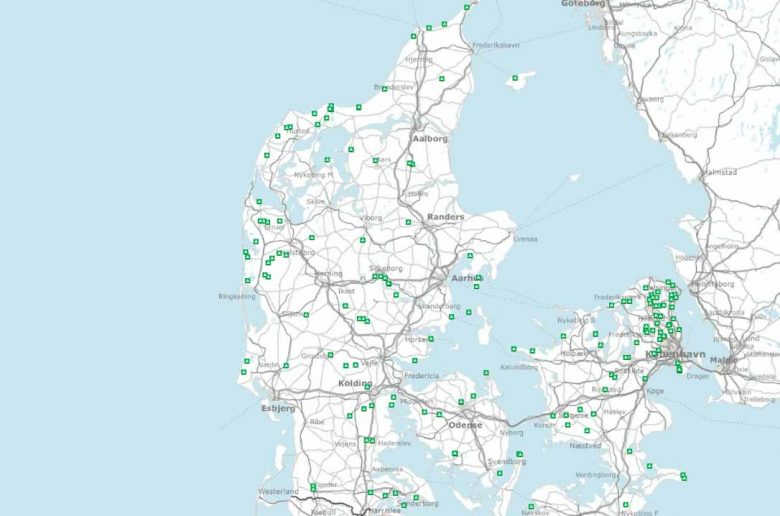 Overnatning = over night stay
Frit teltningsområde = free tentside
Stor lejrplads = big campsite
Lille lejrplads = small campsite
Faciliteter = facilities
Bålhus = fire site with roofed construction e.g. pavilion, shelter
Bålplads = fire site
Drikkevandspost = drinking water
Fugletåorn = bird watching tower
Ruter og motion = all sorts of routes and tours
To navigate the site go to the main page. Choose the tab "Overnatning" (over night stay). There choose stor lejrplads and/or lille lejrplads to show up in the map. You can than click on the small green icons and follow the "Læs mere" link for detailed information (in Danish). If you choose the tab "Faciliteter" and the first sub category "Bålhus" you'll get an overview of all fire sites that feature in addition a roofed construction. These are not meant for sleeping but can give you protection in case of rainy conditions.
Shelter app
An other option for your mobile phone is the app "shelter" available for Android and iOS. Here you can filter the available content shelters, fire sites, tent sites, drinking water and other options. The app operates mostly from data provided by utinaturen.dk but it is mobile and has the mentioned feature of filtering shelters only. The language is Danish again but and the provided in depth information to each place will only get you further if you speak the language or translate it. The shelters in this app can be very different from each other and while some might be new, others can be very old or even destroyed. Unfortunately the app maps also a handful of shelters that are not free of charge. This information is usually outlined in the details of a respective place. You can scan the text for any signs of numbers in combination with DKK (e.g. 30 DKK), which usually means that there is a fee in Danish krones.
Useful words
Filterindstillinger = filter settings
Shelterpladser = shelters
Teltpladser = tent sites
Bålplads = fire sites
Drikkevand = drinking water
In order to show only shelters in the application go to the drop down menu in the left corner and choose Filterindstillinger then tock the box that says Shelterpladser and return to the map. Now you should be provided with an overview of roughly 1000 shelters from all over Denmark.
Other things to consider when looking for shelters in Denmark
You should also be aware that many places are built by local communities or also private. Treat these facilities with respect and be grateful that you are allowed to use them. Leave them in the same or even in a better condition as you found them.
Don't be shy to ask some locals for help. You might be surprised how friendly and helpful they will be if you make the first step towards them. Fire sites and shelters are usually great places to get in contact with locals or fellow roamers.
A detailed analog hiking map is always a recommended thing if you prepare for more extensive adventures. Even though Denmark is not a big country you might appreciate a detailed overview of your surroundings.
You can always ask in tourist centers for detailed information on various topics.
Use all facilities that you encounter with greatest respect and don't take these excellent services for granted. We have first hand witnessed instances where shelters where closed permanently due to misbehavior of individuals in various places in the North. So take that very serious to give others the chance to take advantage of these excellent facilities too.
Don't leave any trash behind if there is no designated place for it.
Always follow the rules and guidelines and treat other visitors with respect.
For detailed information on shelters and wilderness huts in other northern countries look here: