There are many ways to explore the wild of the Northern countries but camping in one form or the other is probably the best. Up north the nature is not only wild, it is also free for everyone to enjoy and roam – the everyman's right. No matter if you plan an extended backcountry hiking trip into the wild or come in your 7 meter motor home, the freedom to roam benefits everyone.
However, before you set out to pitch your tent, park your camper, collect that mushroom or catch that fish you should be advised that with great opportunities come also great responsibilities. The everyman's right does not mean that you can do whatever you want and there are rules that everyone has to follow. Be also aware that these applying rules vary slightly between countries and also regions. We will provide you with detailed information and useful insights for your next camping adventure in the North.
What is the Everyman's Right
swe, nor.: Allemansrätten | fin.: Joka miehen oika
These rights grant residents and visitors of the Northern countries the right to actively enjoy nature by law. This includes recreational use of natural areas e.g. national parks, forests, mountains and also many lakes and rivers. Rules for private property are looser then in other countries. Finland, Sweden and Norway are built around nature based tourism and the everyman's right plays an important role in the everyday live all over the North. The simple rule is to respect landowners and nature. Be careful not to disturb wildlife including flora and don't destroy anything natural or man made alike. This concept may come almost surprising, especially for visitors from countries that have very strict rules of property and trespassing.
In a nutshell
applies to everyone living or travelling in Finland, Sweden or Norway
everyman's right varies between countries and regions
free of charge and no permit required
walk, ski or cycle freely but stay away from yards (houses) and land areas under specific use – do not violate the privacy of people's homes
swim or paddle your boat in most waters
set up a tent or hammock in areas covered by everyman's right
feel free to pick berries or mushrooms
using an area is not affected by land ownership
only cause minor damage or disturbances (leave no trace!)
respect the nature and do not disturb wildlife
don't drive your vehicle off road
don't cut standing trees to make a fire
Can I go wherever I want?
Under the everyman's right every person can basically walk, ski, ride or bike in natural areas without the permission of the landowner. Private yards and cultivated fields are generally excluded in growing season to prevent damage. However you are allowed to cross agricultural land in winter. You can also pass (animal) fences (e.g. for reindeers), provided there is no damage done to other property. All recreational hiking and skiing routes are based on the right to roam. It is also allowed to navigate waters (lakes, rivers, sea) by non-motorized boats (kayak, canoe).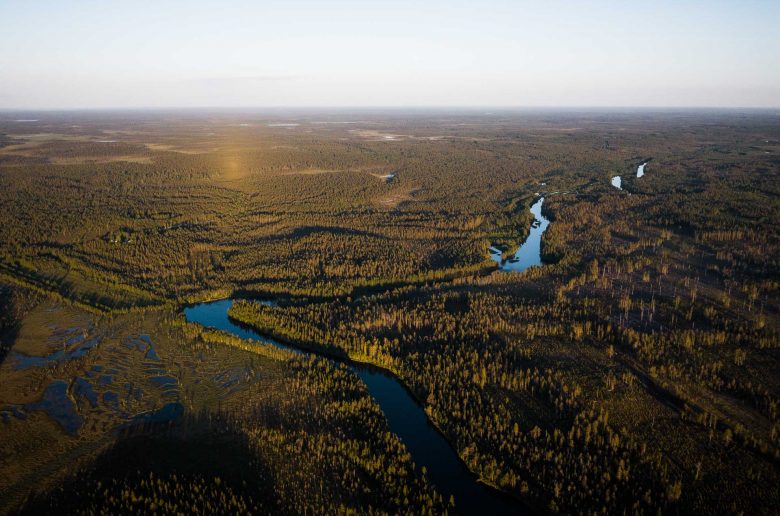 Important is that you do not (intentionally) invade domestic privacy. Stay away from houses, summer cottages, mobile homes etc. and don't disturb others with your noise. You also can't just walk through the backyard of other people's homes. Also off limits are military areas, airports and similar facilities. Note also that these rules apply for you as a person. The everyman's right does not include your vehicle and regulations where you can drive your camper are stricter. We will get back to this in a minute.
Can I sleep wherever I want?
You can temporarily pitch a tent, sleep in your hammock or occupy a shelter for one or more nights. The rule is, that camping is not allowed on public beaches. In recreational areas with fragile environment and designated campsites you should use them. If you are travelling in a bigger group with more then three tents you need also a permission of the landowner if you want to stay longer. The everyman's right covers also the right to sleep in a vehicle. However this applies only to areas along public roads and it is usually not allowed to park your vehicle on private roads. Check our guides to free shelters and wilderness huts in the different countries of the north.
Can I make a fire?
You are basically allowed to make a camp fire in the wild BUT it is your responsibility to check if there are any forest fire alarms in place. Wild fires have become a serious problem in the North and usually there are several forest fire alarms during the season where you are not allowed to make a fire in any open place. This includes also official camp fire sites that are not in a closed building. A lean-to shelter is no exception. Take that very seriously – literally one spark is enough to light up millions of trees. Don't be that person and act responsible. Always check online if a forest fire alarm is in place in the region you are travelling in. Campsites, recreational areas and public shelters usually feature a public fire place and you must not light a fire elsewhere. In Finland the situation is a bit different and you are not allowed to start a camp fire without the landowners permission!
Further things to consider:
You can always use your camping stove since it is not considered an open fire.
You can collect twigs, bark, needles or anything else that has fallen to the ground but you are not allowed to cut or break down any living plants. It is also prohibited to damage dead trees if they are still standing.
Don't start a fire on sensible areas as moss or peat bogs. The fire can start spreading from there even after it appears to be out without you noticing.
You are accountable for any damage that occurs due to your actions.
Can I pick berries and mushrooms?
Yes, you are allowed to pick all berries, mushrooms and fruits that are not considered a protected species. Pick as much blueberries and cranberries as you like. Note, that it is prohibited picking cloudberries in the Northern parts of Norway, Sweden and also Finland ­– only Sámi people are allowed to do so. When picking mushrooms make sure that you know what you are doing. There are some species that can cause serious health problems or might even kill you.
Speaking of collecting things – you are also not allowed to collect soil materials including rocks and gravel since they are subject to the landowners permission. Bird eggs are also off limits.
Can I catch a fish?
Depends. The short answer is that the everyman's right allows angling and ice fishing in most inland waters and the sea. However this does usually not apply to rapids and fast flowing waters that hold migratory fish as salmon, sea trout or char. Regulations are strongly depending on countries and regions. So the longer answer is more complicated and you can find more detailed information on regulations in a separate article.
In general lure fishing (not angling with bait) requires always a fishing license except for fishing in the sea and Swedens big lakes Målaren, Vånern, Vättern, Hjälmaren and Storsjön. In Finland you can simply pay the state fisheries management fee (45€/year) that allows you to fish in whole Finland with the exception of rapids and sections where stocked or migratory fishes are found. Fishing by other means like nets or traps always require a license. It is always your responsibility to be aware about the fishing rights that apply. In some cases – especially in strict regulated salmon rivers in the North – violations can be costly and far beyond the 1.000 Euro mark.
You can find further information on fishing in the Northern countries here:
Can I drive my car or camper wherever I want?
No. You can use all public roads without any fee in all Northern countries. Parking your vehicle on the roadside is allowed too as long as it is not a hindrance to others. To drive on a private road with a motorized vehicle you need the permission of the landowner. Usually the access to such private roads is restricted with a physical barrier (e.g. boom) or a traffic sign. Driving off road is prohibited without the permission of the landowner. In reality if you plan your overnight stays along a normal road – which does not necessarily mean paved – you'll always find resting areas, parking bays or spots where you can obviously park your vehicle. As long as you do not disturb the privacy of others and follow the general rules, no one will tell you to leave. In our experience the rule of thumb is that the further you go north the easier it is to be alone and find a sleeping spot with some privacy and atmosphere.
Can I go swimming in lakes and rivers?
Yes you can. Access for swimming to water bodies in the north is usually allowed. You have to keep your distance to fishing traps (marked with buoys) and must not disturb fisherman. You can also use a rowing or paddle boat (canoe or kayak) for fishing or recreational purposes.
Can I use campfire sites, shelters and similar structures?
Yes, if they are public. There are thousands of campfire sites and shelters all over the northern countries that are for public use. Usually you can use them as long as they are not part of a house or obviously private in other means. Apart from that, possible restrictions of use regarding shelters are usually posted near to the structure. Finding and using shelters in the North is a big topic on its own that you can find here:
Can I bring my dog?
Yes. You can take your dog to the North as long as it is kept in close distance to be easily leashed. During hunting season (April – August) dogs must be leashed in the open countryside to protect game. Dogs are not allowed on children playgrounds, sport fields, ski tracks and market squares. You are responsible to clean your dogs mess after you.
What are places with special restrictions?
These are places such as national parks, nature reserves or protected areas that have special restrictions on the everyman's right. Usually nature reserves are the most regulated areas where you might e.g. be restricted from leaving designated hiking trails, raising a tent or lighting campfires. Such restrictions are usually posted on info boards around the area. Read them carefully to understand what is and what is not allowed.
Can I hike in military zones?
No. They are usually especially restricted zones and marked accordingly. Civilians must not enter them and can/will be arrested and placed in custody. The same goes for other sensitive areas as nuclear power plants or airports.
What are the differences in the everyman's right in Finland, Sweden and Norway?
Sweden and Finland do not differentiate between cultivated and uncultivated land. Norway does. That means that you can also use agricultural land without the permission of the landowner as long as there are no crops that could be damaged. This applies also for use and trespassing in winter.
In Finland, landowners can grant permission to drive your vehicle on his property, also off road.
In Sweden, camping is only allowed 24 hours not 48. On the other hand there is no defined minimum distance to houses as long as you keep "out of sight".
In Finland you can only make a campfire with the permission of the landowner or in emergency cases.
Driving a motorboat is usually allowed in Sweden and Finland as long as there are no special regulations in place – in Norway this is more restricted.
Angling and ice fishing in Finland is allowed without a permit with the exception of localy restricted areas. In Sweden fishing without a permit is only allowed in some of the big lakes.
In Finland a community can prohibit overnight stays in a camper. In Sweden the duration to stay on a parking place is limited to 24 hours.
Campsites in the North
Depending on your style of travel it makes sense to stay at an official campsite from time to time. That might be the case if you are planning to camp in bigger cities and do not have the luxury of a fully equipped mobile home. And let's face it, even the hardcore adventurers might look foreword to that one hot shower per month and some laundry time. Travelers with kids might appreciate some infrastructure especially in bad weather conditions too. So yes, even though Scandinavia is a dreamland for camping adventures in the wild, using official camping facilities makes sense.
The various options range depending on your budgets and needs and you can camp in the middle of Stockholm or rent a cabin somewhere in Lapland. There are options for all budgets year round and you can even stay in a dome tent with 180° aurora view in Lapland or an all inclusive yurt experience further south if this is what you want.
Most of you are probably looking for the more traditional campsite for your camper or simply to set up your tent after that long national park adventure or in an urban environment. There are over a thousand campsites all over the Northern countries with enough space to host your stay. They can vary drastically in size and quality and while consist literally of a meadow, one shower, one toilet and a stove, others might give you a luxuries experience beyond your expectations.
Pricing varies of course on country, campsite and your preferences. To pitch a tent for 2 persons will usually set you back between 15 and 25 Euros per night. Sometimes you have to pay extra for showers and other services. A motorhome will coast you around 20 to 30 Euros per night and you have to calculate additional coasts of electricity and eventually shower. Some campsites offer a year round service but usually they close or provide only cottage rent.