One of the greatest things in the North is the outstanding density of public fireplaces, shelters and wilderness huts. If you have never visited Finland or Sweden this concept will certainly amaze you.
All you need to know about kota, laavu, gapahuk and vindskydd in Finland, Sweden and Norway
No matter if you just want to stop by with your camper to grill that fish you caught or just headed off for your survival trip into the wild – Scandinavia got you covered if you know where to look. And we will show you exactly how to train your gaze.
Keep in mind that there are different places for different needs. The most elaborated places are open wilderness huts but often a simple shelter with a grill and fireplace will serve your needs more then enough. The majority of the places – exactly those that are not easy to find – are built mainly for the use of the local communities or as fishing huts. That does not mean that they can't be used but there are mostly no signs or map entries that prompt you in the right direction.
No matter if you are roaming Scandinavia by bike, by car or a camper, we'll provide you with the information you need to plan your trip or to stop by places you would otherwise miss. There are different types of huts and shelters all over the north – so here is a quick overview of the most important types.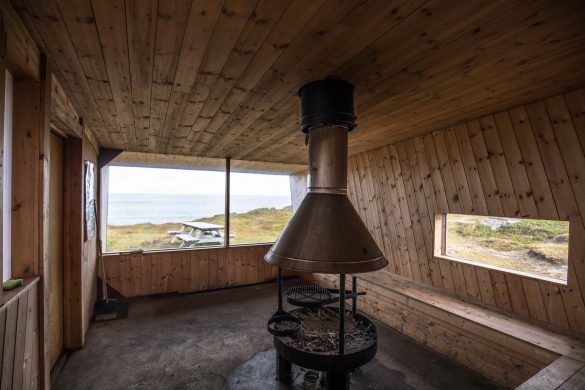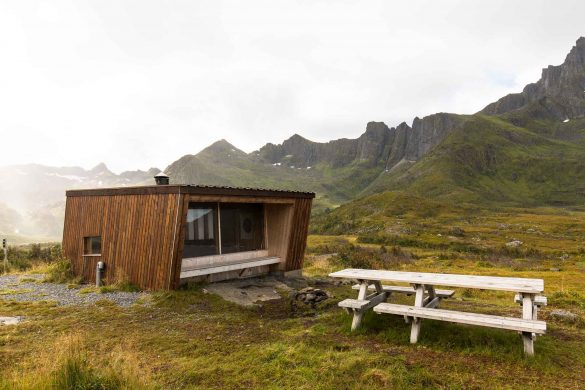 What kind of places are there?
Open wilderness huts
Open wilderness huts (fin.: autiotupa; swe.: raststugor; nor.: raststuga) are mostly simple wooden buildings meant for outdoor enthusiasts as a place to rest and to stay overnight. You can find them mostly in National parks throughout Scandinavia and especially in high season they can be crowded. Usually they are equipped with a table, benches, a fireplace and sometimes even with a gas cooker. They also have bunk beds so if you bring an insulated mattress you can make yourself a cosy night. In addition they have a dry toilet and usually an axe, saw and firewood. They are winter proof so you can even plan your backcountry ski trip. There are rules and etiquettes that you have to respect (e.g. non smoking).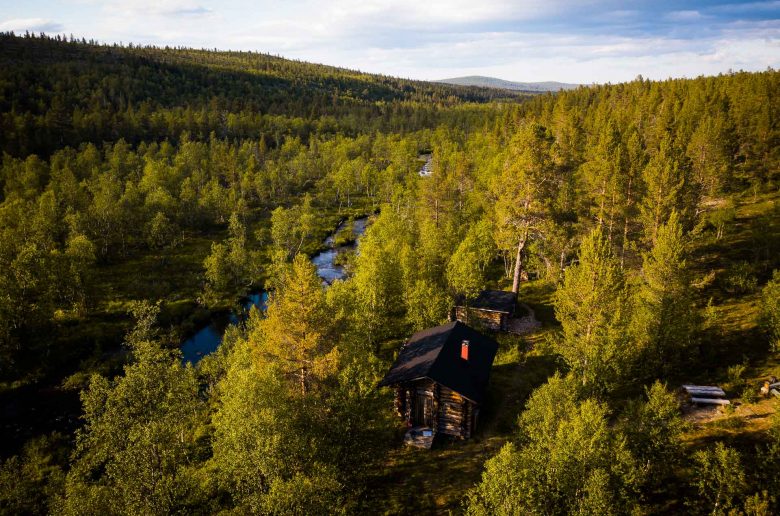 Day trip huts
Day trip huts (fin.: päivätupa; swe.: raststugor; nor.: raststuga) are basically the same as the wilderness huts but they are not meant for overnight stays as long as there is no emergency and there are no bunk beds. So you might want to bring your tent and stay outside. Most of them can be found on day hikes in and around National Parks.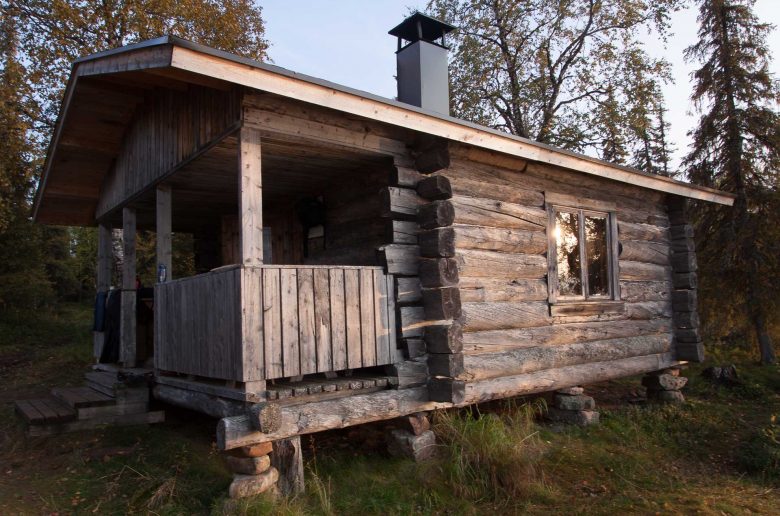 Closed shelter
A closed shelter (fin.: kota; swe.: shelter; nor.: nødby, gamme) is a fully closed structure that keeps you dry and protects you against wind and bad weather. Normally they feature a fire place or oven, axe and firewood to keep you warm. Depending on the country and region you are travelling in they can vary in size and features. While some are meant for pure survival others can be very comfortable. The majority of closed shelters is build very solid to give protection even during harsh winter times. They are often also built in places of public interest (e.g. bathing areas, fishing places or along hiking trails…).
Lapp hut
A lapp hut (fin.: kota; swe.: kata, shelter; nor.: kåt, nødby, gamme) is strictly speaking a hybrid form of an open and closed shelter. Usually it features a fireplace in the middle with benches around and has an opening at the top for the smoke to leave. However they can drastically vary in size, shape and comfort. They are good places to escape the weather, grill your fish, sausage or potatoes and they keep you warm usually even in winter. You can also sleep on the benches if you bring a sleeping mat with you. Lapp huts derive from Sámi culture and have originally also a smaller opening towards the bottom of the sides to support air circulation. However, nowadays they are very often fully closed structures and even insulated.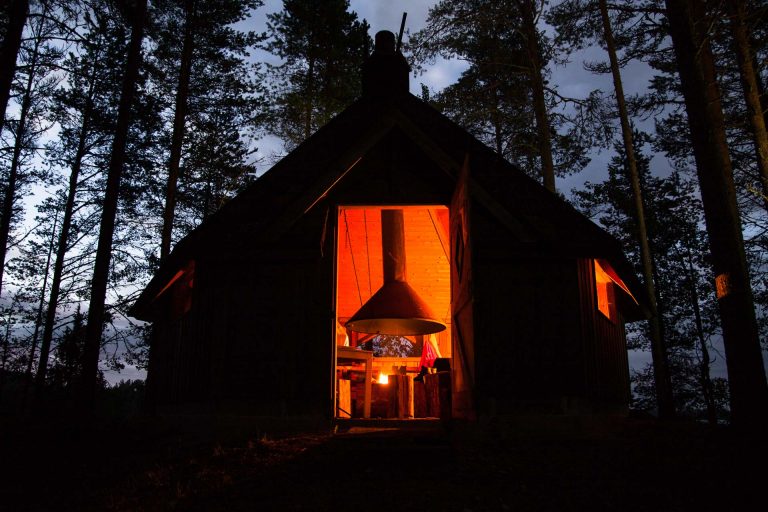 Lean-to shelter / open shelter
Lean-to shelters (fn.: laavu; swe.: gapskjul, vindskydd, shelter; nor.: gapahuk) are the simplest and most common type and protects you well against rain and also wind. They are an open structure, with or without floor usually closed to three sides with one opening towards a fire place. They are often provided with an axe, saw and firewood so nothing can spoil your barbecue.
Especially in Finland and Sweden they can be found very frequently along fishing rivers and in national parks along hiking trails. They are usually divided in open shelters meant for sitting only and those that feature a wooden platform/floor for sleeping.
You might want to bring some protective measurements against mosquitos and warm clothes though since the campfire will not heat the open structure. Keep also in mind that depending on the region you are traveling – this type of shelter can be very basic.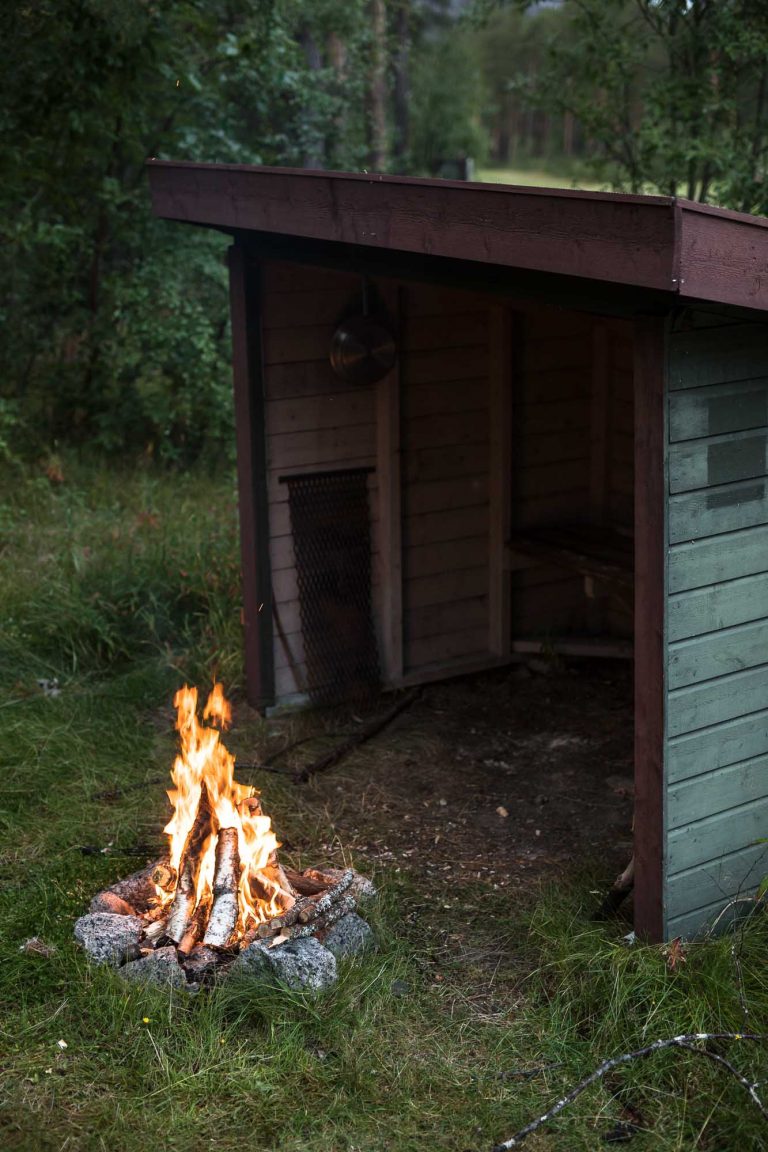 Fire places
Even though fire places (fin.: nuotiopaikka | rokailukatos, tulisija; swe.: eldplats; nor.: ildsted) are not shelters you will encounter them almost everywhere even in cities and they can be pretty useful. Often they are equipped with firewood and mostly feature a simple grill for your meal of choice. They are a very social place and if you want to get to know locals this is often a great place to get your conversation going.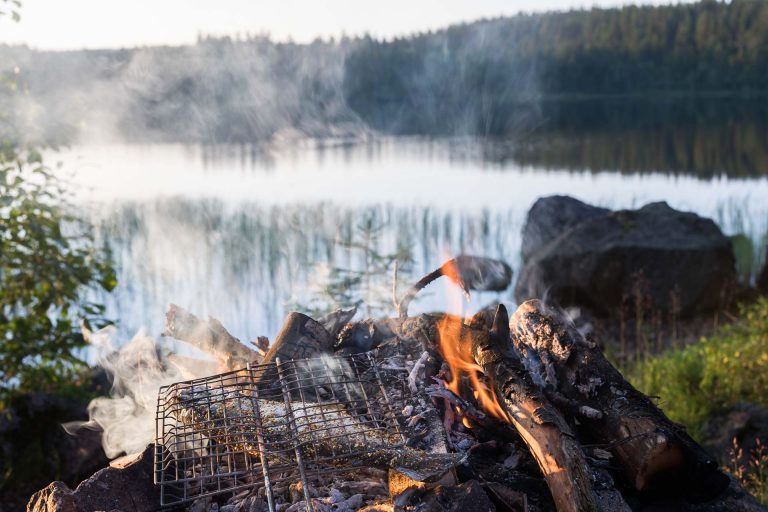 How to find wilderness huts and shelters (online)
There are various options to check if there are huts, shelters or even fire places in the region you are travelling. Depending on the country publicly provided information can often be rare, especially if you are not a native speaker. There is a handful of sites that map (more or less detailed) open huts, shelters and even fireplaces. The main problem is that all of them are in native language and some are tricky to navigate in addition too. Especially if you plan activities outside of National parks you can have a hard time.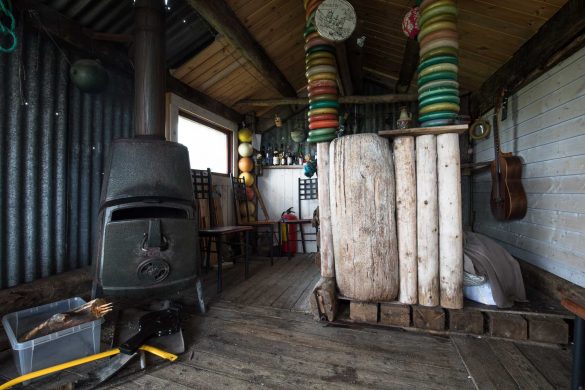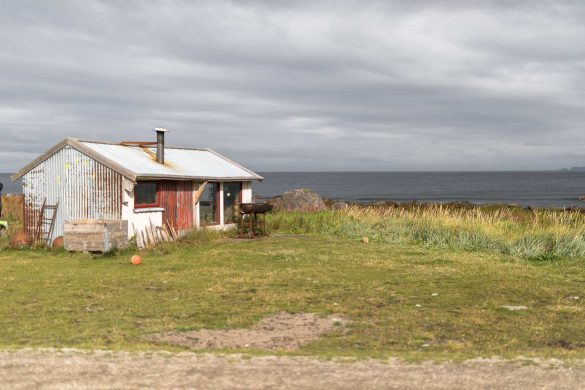 In our Northern shelter map you can get an impression of the vast amount of free wilderness huts and shelters throughout the North. This is a very simplified visualisation put together from more elaborated and detailed national mapping attempts that are discussed apart (Finland | Sweden | Norway | Denmark). These services are usually set up in the native language of the respective country and can be difficult to navigate so one aim of the map was to give also non-native speakers the possibility of an easy insight. Be aware that not all of the entries are verified and that you should never take this or similar maps as your only source of information when you set out into the wild. Currently we also do not have the ressources to keep the map up to date. That said this overview provides you with almost 10.000 entries that can give you a pretty good impression of what you can expect in your area of interest.
If you want to plan your trip more detailed we strongly recommend checking the specific national services and initiatives for in depth information sometimes including images and direct links to shelters. To overcome the language barrier we provide you with a detailed guide on how to use these sites (usually in native language).
Finland
Finland is in our opinion the best-covered place regarding free shelters in the northern countries and probably in the whole world. The kotas and laavus are literally all over the country, most of them open for the public. They are either maintained by the Finnish Forest administration (Metsähallitus) or privately owned and maintained by e.g. fishing associations or local communities.
If you want to plan a trip in a national park the "excursionmap" (retkikartta) provides an online map based on open street map featuring wilderness huts, shelters and other useful information for popular hiking areas and national parks. This can be a useful tool if you are planning trips in advance. The interface can be a bit nerve wrecking though and regarding shelters it is not so detailed as other options.
This site features an overview of public fire places in Finland. This includes laavus, kotas, open- and wilderness huts, observation towers and also normal fire places. The site is based on google maps and generally a great starting point if you cruising the country by car or travelling wider areas. There are currently over 4000 entries in the map. It has two huge downsides though. First, it is in Finnish only which means you have to learn the basic 10 terms to navigate. Second, the interface can drive you mad if you want to get further information about different places. The site brings you back to a total overview of Finland each time you go back from an item showing either all 4000 entries or those of a certain category at the same time. Especially on a mobile device this can be annoying if you want to check out many places. In regards to laavus and kotas there is also an even more detailed option.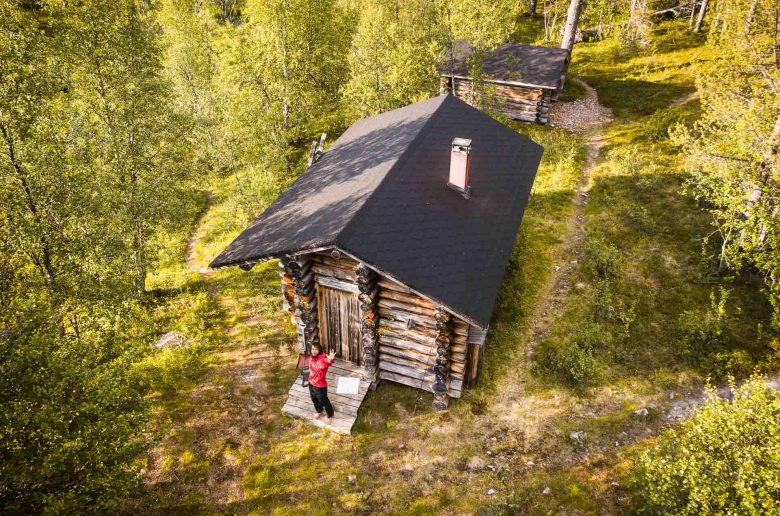 On laavu.org you can find thousends of lean-to and closed shelters all over Finland. In this regard the database is much more detailed then the tulikartta. There are currently over 3900 shelters listed and new entries are made on a regular base. The interface and information is Finnish only which makes it quite difficult to navigate. The easiest way to find out if there are shelters where you want to go is to browse (Selaa) them by area. If don't speak the language the whole experience of the site comes a bit down to trial and error.
You can find a more detailed guide to Finnish wilderness huts and shelters here – including maps
↓↓↓
Sweden
The number one site to find a shelter or open cabin in Sweden is the 'Vindskydd' map.
This is a google mymap based collection of free cabins as well as open and closed shelters throughout Sweden. There are thousands of entries and the map gets constantly updated. The provided information is Swedish only but it is easy to navigate and if you learn the basic terms for the different shelter the map is very intuitive. There is a dedicated community that constantly extends and refines this database. [Update: This great project became even better and has now moved to www.campwild.org]
If you are just interested in the South of Sweden you can also look at an other mymap project by sydsverige.dk that lists around 200 shelters in the South of Sweden. [Update: Currently behind paywall!]
You can find a more detailed guide to Swedish wilderness huts and shelters here – including maps
↓↓↓
Norway
This great shelter map of Norway features detailed information about lean-to and closed shelters and open huts throughout Norway. Even though there are not so much entries (currently around 1300) the provided information is detailed and very often you can find images and web links to the different objects. The provided information is Norwegian only and you have to learn the basic terms for the different types of shelters but otherwise it is straightforward. The project was found by Anka Nordenborg who updates the site constantly.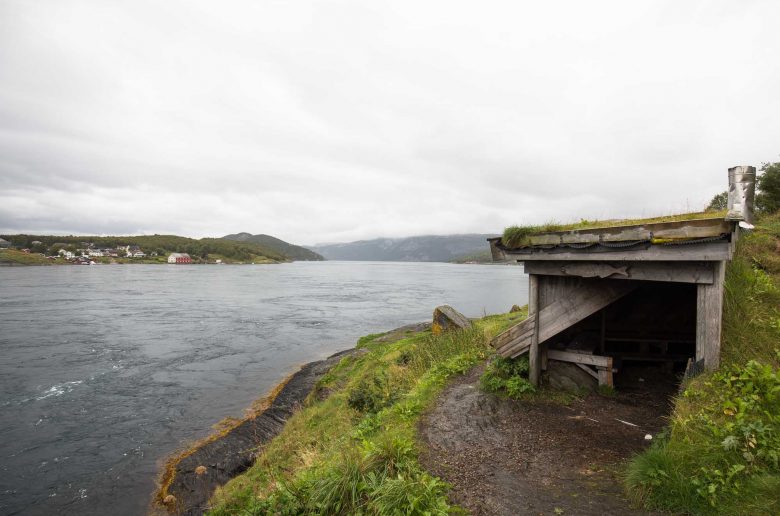 You can find a more detailed guide to Swedish wilderness huts and shelters here – including maps
↓↓↓
Analogue ways to find shelters and open huts
Detailed analog old school hiking maps are in our opinion still the best option if you travel in National parks. They usually provide all information regarding shelters and open cabins that you need. Once you know how to use them in combination with a compass you can find shelters and open huts even far away from the beaten path.
If you are in inhabited areas don't be shy to ask locals. They are usually all very friendly and open-minded and can point you in the right direction.
Ask in information centers
The staff working in information centers can usually provide you with all the information about a certain area you need. They will also tell you things that will not show up in maps if you explain them what you are looking for exactly (e.g. a fire place close bye).
Look on information points along the road
Most information points feature at least a map of the most important huts and shelters of the area you are currently in. Keep a look outr along the road to find them.
Believe it or not but sometimes it might just be the right thing to follow your guts. If you are in an inhabited area in Finland for example you can be pretty confident that there is at least a fire place and most probably also a basic shelter not too far away. Prominent fishing areas are usually also a save bet for fire places and lean-to shelters. The various fishing information points all over Scandinavia can be helpful in this regard since they very often feature a small but detailed map of the area you are currently at including also shelters.
If you want to live the bush craft spirit or happen to end up in an emergency situation it might be useful to know some basics about setting up a shelter in order to stay dry.
Important things to consider
Always treat the facilities you use with respect and clean up after your stay comes to an end.
Show respect to other visitors – just because you have been first does not mean that you are the only one who can use a place.
Never leave trash behind.
Follow the rules and guidelines for the respective place
Always be aware of wildfire warnings – there are times during summer where it is absolutely forbidden to start a fire in open fire places (includes also lean-to shelters).
You may also be interested in our guide on wild camping and the everyman's right
↓↓↓