Sweden has a very diverse aviafauna. Our meticulously designed poster showcases all the birds of Sweden. A welcome addition to the collection of any bird lover, Scandinavian fan, ornithologist, or nature enthusiast.
In total there are around 300 different and identified bird species on this poster. Beside all native bird species you can also find introduced species (I) and some rarely visiting species (A).
As reference we used "The Clements Checklist of Birds of the World, 2022 edition" and the Swedish names in parentheses are from the BirdLife Sveriges list.
The birds are arranged not only by species but also by families, making it easy to navigate and appreciate the interconnections between different bird species.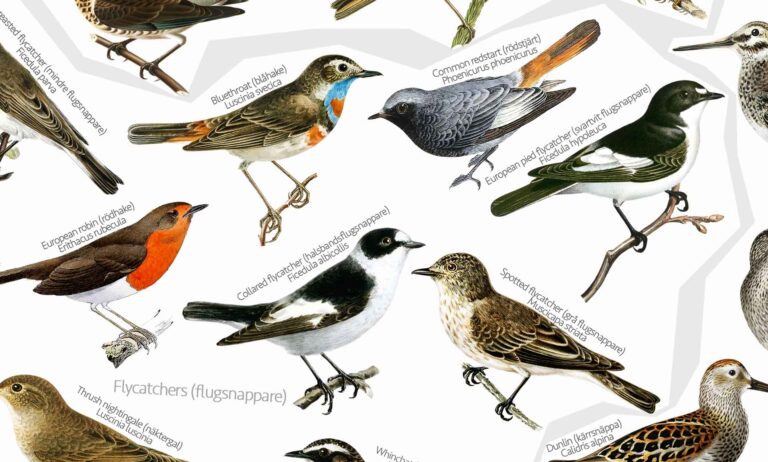 Each bird on the poster is meticulously labeled with its English, Swedish, and scientific name, demonstrating a level of scientific accuracy and attention to detail. Whether you're a beginner or an expert, this poster provides an excellent opportunity to learn about the different bird species in Sweden and the unique characteristics that make each one of them special.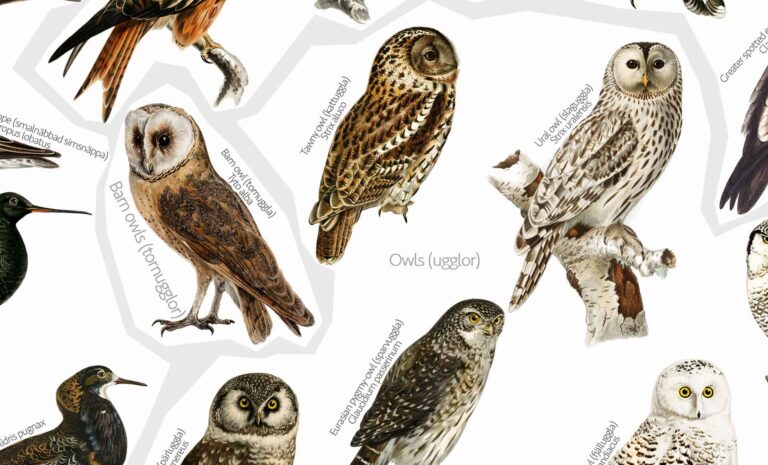 Poster dimensions
Our birds of Sweden poster is currently available for download in a DIN A1 size, measuring 594mm x 841mm (or 23.4 inches x 33.1 inches), which translates to a high-resolution digital image of 7016 x 9933 pixels at 300 ppi (pixels per inch). However, the poster is originally designed in DIN A0 (841mm x 1189mm | 33.1 inches x 46.8 inches) so if you need a larger print feel free to contact us.
 The large size of the poster makes it easy to see the finer details of each bird, making it a valuable tool for identification and study or simply as a decoratinoal element in your home, for your children, in classrooms, offices or where ever you want to put it. Whether you're studying bird species or simply admiring their natural beauty, the large size of the poster ensures that you can appreciate each bird's unique characteristics in stunning detail.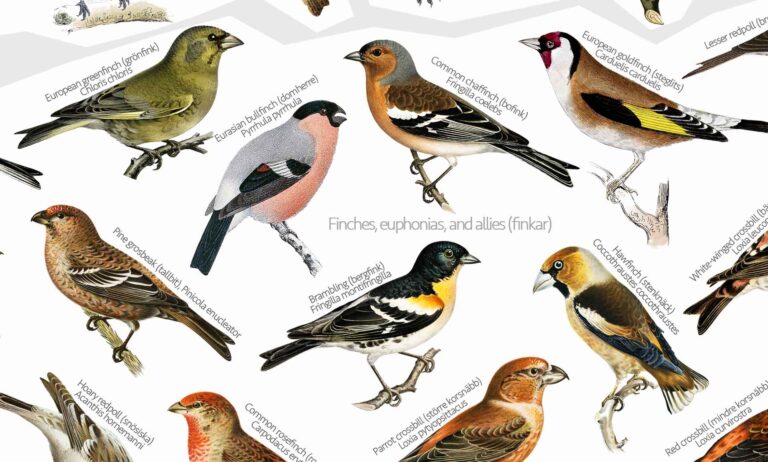 "digital foraging"
I recently started with what I call "digital foraging". There is an incredible amount of information on the Internet just waiting to be discovered and used.
The composition shown here was compiled from historical scientific illustrations and lithographic images. The sources are different, but they all have in common that they are available and can be used. Many of the images in this particular project were originally created by the Von Wright brothers Ferdinand and Magnus.
Of course, in order to get usable results, you need research and know-how to get the appropriate images in high resolution, convert them into the appropriate formats and then process them accordingly.
An essential point of research for such a project is also to identify the species shown. Many of the scientific names used are no longer listed today and the exact description of some individuals is more complex than one might think.
For me, hours of research in scientific databases and historical records from centuries past can best be described as "digital foraging". Looking for historical pictures of fish, mushrooms or the like awakens similar instincts here.