Norway boasts an incredibly diverse range of marine life, from majestic whales and dolphins to a variety of fish and intricate coral reefs. The country's long coastline, fjords, and offshore islands provide an ideal habitat for an array of sea creatures, making it a popular destination for nature lovers and marine enthusiasts.
To showcase the beauty and diversity of Norway's underwater world, we have created this poster featuring some of the most iconic marine species found in the region.
We have conducted extensive research to select some of the most iconic and fascinating marine species found in Norway, including some rare and hard-to-spot species. Each species is identified with its Norwegian, English, German, and scientific name, providing a comprehensive overview of the marine life in Norway.
About the 'Norwegian Marine life' poster
With its sleek design and large DIN A1 format in full resolution, this poster is sure to make an informative statement on any wall, whether it's in your home, office, classroom or as a small print in your mobile home.
The poster features an impressive range of 85 species, including mammals like whales, sea birds, starfish, crustaceans, mollusks, clams, mussels, fish, and sharks. The diversity of marine life in Norway is remarkable, with a wide range of habitats and ecosystems, from shallow coastal waters to the deep, cold waters of the Norwegian Sea. The country's extensive coastline and unique geography provide ideal conditions for marine life to thrive
With so many species to discover, the marine life poster for Norway is a fascinating and informative way to explore the rich underwater world of this beautiful country.
Norwegian Marine Life
Marine wildlife in Norway is incredibly diverse and complex. The country's long coastline, fjords, and offshore islands create unique habitats for a wide range of marine species. Norway's marine wildlife includes mammals such as whales, seals, and otters, as well as a wide variety of fish, crustaceans, mollusks, and other invertebrates.
Whales
One of the most impressive marine animals found in Norwegian waters is the sperm whale. These magnificent creatures are the largest toothed whales and can grow up to 20 meters in length. They are also known for their deep diving abilities, reaching depths of up to 3,000 meters in search of food. The waters around Norway are also home to several other whale species, including humpback whales, orcas, and fin whales.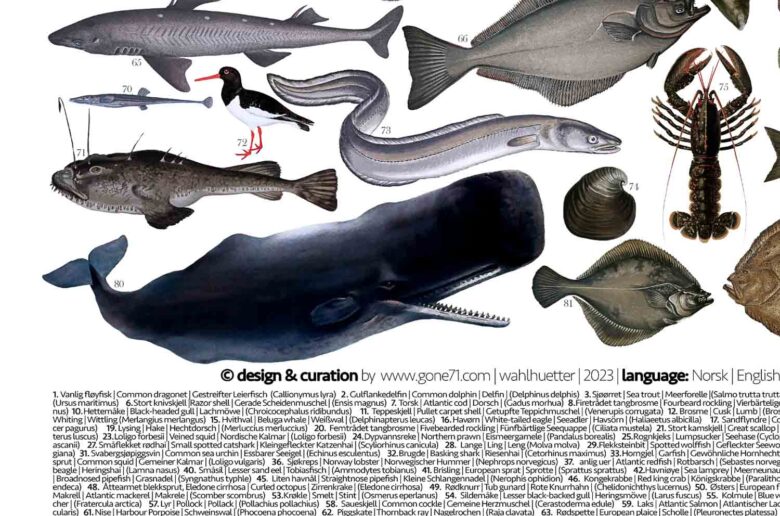 Seals and semi-marine mammals
In addition to whales, Norway's waters are home to several species of seals, including the harbor seal and grey seal. These animals can be seen basking on rocks along the coastline, or swimming in the water hunting for fish. Otters are another mammal found in Norway that can adapt to a marine lifestyle. These adorable creatures can be seen playing in the water and hunting for their favorite food, fish and crustaceans.
Fish species
Norway's waters are also home to a wide variety of fish species, including Atlantic salmon, Atlantic cod, and halibut. The country's famous fjords provide a unique habitat for these species, with nutrient-rich water and sheltered areas for breeding and feeding. Several shark species can also be found in Norwegian waters, including the basking shark and the Greenland shark.
Invertebrates
Norway's marine invertebrate life is equally impressive, with a wide range of species such as starfish, crustaceans, mollusks, clams, and mussels. The waters around Norway are particularly rich in crustaceans such as lobsters, crabs, and shrimp, which are important commercial species. Norway is also home to several species of scallops and oysters, which are prized for their delicious meat.