Finland is a travelers dream when it comes to free shelters and open wilderness huts. No matter if you are just rushing through with your caravan or taking a hiking trip through the whole country ­­– Finland got you covered.
There are thousands of shelters distributed over the whole country in all shapes and sizes. And the best thing is, they are easy to find if you know where and how to look for them. And this is exactly what we are going to show you here including an interactive map with over 5000 entries.
Types of shelters
There are four main types of shelter in Finland and it is good to remember them by their native Finnish names.
Laavu or lean-to shelter is the most common type of shelter in Finland and very basic. It is usually closed to three sides with one side open towards a fireplace. Normally laavus are also provided with prepared firewood and an axe. Many feature a wooden platform for sleeping but you might want to bring some protective measurements against Mosquitos. Since they are open you also can't heat them so make sure your sleeping bag is warm enough if you stay overnight.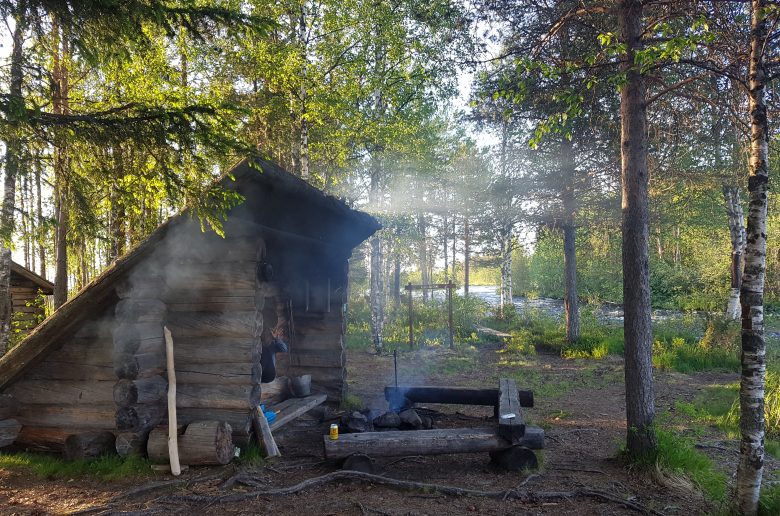 Kota or lapp hut is a form of more or less closed shelters. They are equipped with benches around a fire place in the middle. As the name suggest lapp huts derive from Sámi culture and characterized by its round (pole tent like) shape as well as an opening in the roof and at the bottom beneath the benches towards the sides to support air circulation. Nowadays they are often fully closed and insulated and very protective against harsh weather conditions even in winter (not always though!). The term kota is in Finland synonymously used for other types of closed shelters but they always feature a closed fire place as a minimum feature. The benches can serve as minimalistic sleeping place beside the fire if you bring your own sleeping mat.
Päivätupa or day huts are mostly blockhouses and can mostly be found in and around national parks. They are meant as day trip huts and not for overnight stays except for emergencies. Usually päivätupas are equipped with a stove, a table and benches as a minimum. Additionally they have a dry toilet and firewood including axe and saw.
Autiotupa or wilderness hut is the most elaborated form of shelter you can find in Finland. It is similar to the day huts but has additionally bunk beds or similar sleeping place. Often you can also encounter a gas stove and cooking equipment. IAutiotupas are meant as a resting place but also to stay overnight. Keep in mind that they can be very crowded in popular areas during high season. Similar to the päivätupas they are mostly found in and around national parks throughout Finland. They are winter proof so you can also plan your backcountry ski trip in the deepest winter with them.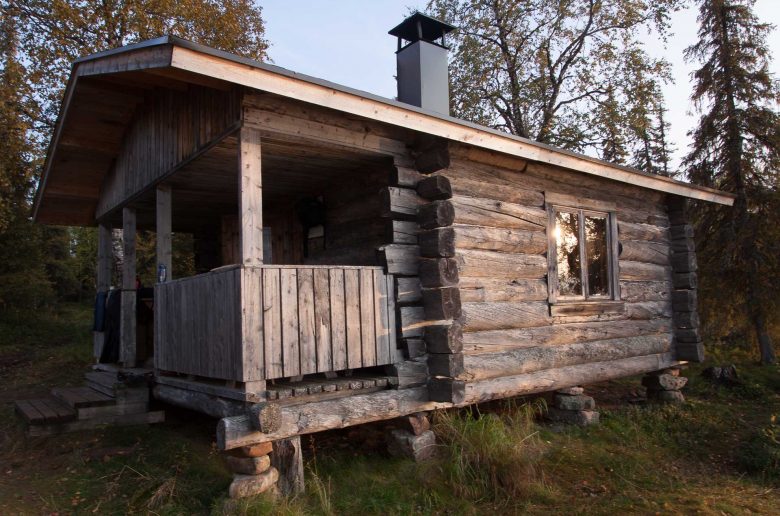 Nuotiopaikka is a public fire place and not a shelter. However you can encounter such fire places all over the country probably at least one in every community, sometimes much more. They are sometimes even equipped with firewood and mostly feature a simple grill. If you want to make contact with the native Fins this is a great place to do so since they are popular grilling places among the locals.
They are either maintained by the Finnish Forest administration (Metsähallitus) or in the majority privately owned and maintained by e.g. fishing associations or local communities.
How to find shelters and wilderness huts in Finland
There are two websites that can help you a lot if you are looking for a shelter or even a fireplace during your stay in Finland – especially if you are visiting places apart from national parks. The problem with both is that they are in Finnish and are not among the user-friendliest sites out there. But hey, someone took a lot of effort to create them and they are free to use. So instead of complaining we will show you how to use them and which Finnish terms you should know by hard.
The literal translation of tulikartta means fire map, which is exactly what it is – a simple map that shows you all sorts of public places where you can make a fire. That includes shelters and huts as well as regular fireplaces and even observation and bird watching towers. There are currently short over 4000 entries. The sheer amount of entries that pops you in the eye when you first open the map can be overwhelming but once you zoom in more closely into the area of your interest things get clearer. In order to navigate the map you need to understand the basic Finnish terms for the different types of shelter (you remember them, right?). To refresh your memory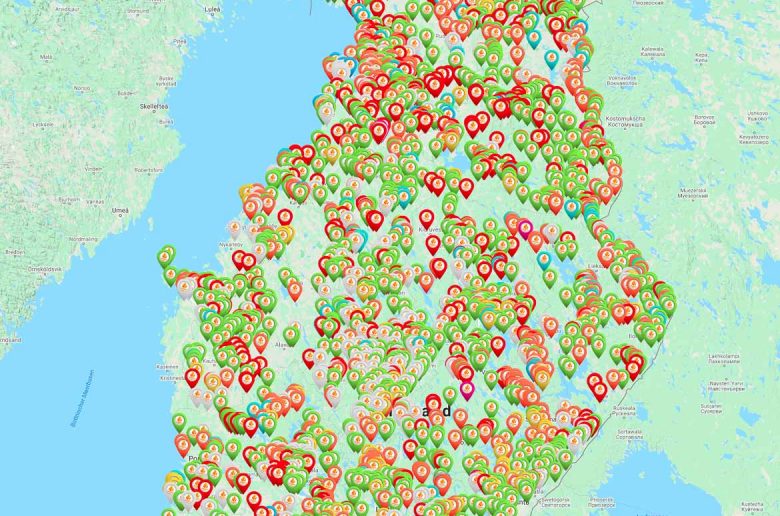 green = laavu (lean-to shelter)
red = kota (closed shelter)
light blue = autiotupa (wilderness hut)
light blue = porokämppä (reindeer hut) & varastupa (storage room)
dark blue = päivätupa (open hut)
orange = nuotiopaikka (public fire place)
yellow – ruokailukatos (dining pavillion)
grey – lintutorni (bird watching tower)
grey – nähtävyys (attraction)
These entries are listed under the tab Tullipaikat (fire places) and you can single them out by category. Under the tab Maakunnat (province) you can single out the different provinces. That's all you need. The other tabs provide you either with a detailed list, statistics or enable you to make your own entries.
If you have found a point of interest it provides you with further detailed information of the object and detailed coordinates. In Finnish only of course so you might want to save some time since the application will always redirect you to the total overview after visiting an object and you have to search for your area of interest again. Especially on mobile this can be very annoying.
All in all it is a great visualisation that can be immensely useful on your trip to Finland. However, regarding shelters and wilderness huts it is by far not the most complete database.
This site features currently short under 4000 shelters alone, so pretty much the double of the Tulikartta. The navigation needs some practice though. Under the tab Selaa (browsing) you can pick one of the 19 Finish regions. Lappi for example refers to Lapland and will highlight all shelters in the north. By clicking on one of the icons in the map you will be provided with further information as coordinates and more. This is the most important tab and probably the one you will need most for now.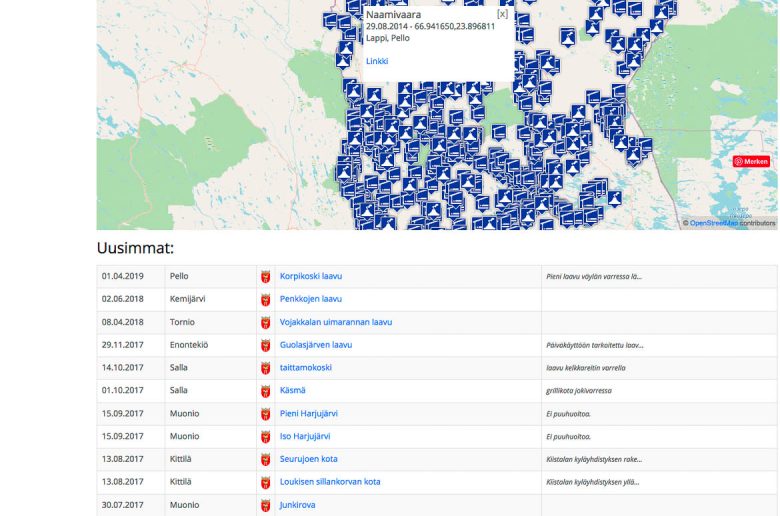 Under Haku (search) you can search for specific shelter names. Lisää (more) leads you to an upload page for own entries and Lataa (gpx) provides you with the possibility to download all the data as a .gpx file for personal use either by region or all at once. To download all simply press on Kaikki in the drop down menu.
Now if you look carefully you'll encounter the tab Autiotuvat (wilderness huts) to the far right. If you click on it the heading of the site changes to the database of the wilderness huts with over 600 entries. You can use the menu in the same way as before and also download a .gpx file for the huts.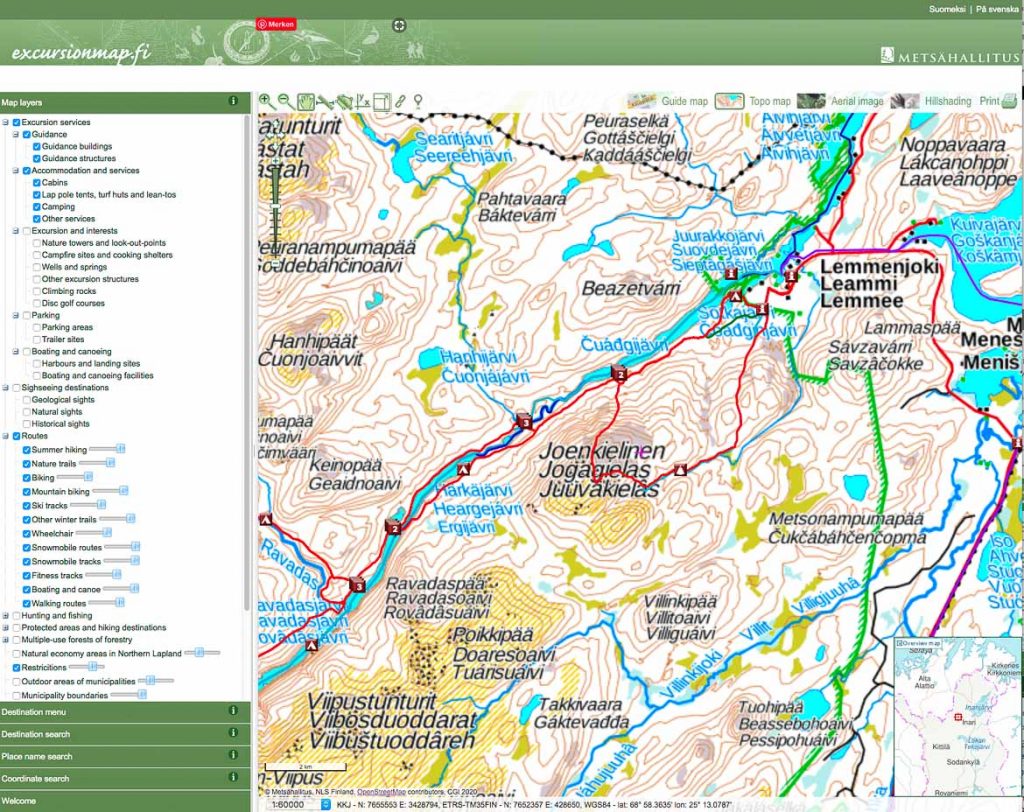 If you plan a trip in a national park the "excursionmap" (retkikartta) features an online map based on open street map where you can also opt for wilderness huts, shelters and other useful information for popular hiking areas. This is the official site of the Finish forest administration (Metsähallitus) and provides services in English. The navigation is a bit bulky though and it shows only a fraction of the shelters and huts from the Tulikartta and Laavu.org. To use it zoom in to an area of interest click on the tab 'Map layers' and tick all boxes you want to have highlighted in the map. For hiking trips to national parks it can be useful since it provides many other information.
We took the liberty to create a simple but detailed overview of available shelters, wilderness huts and fire places in Finland. Since all avialable sources are in Finnish we thougth this solution would give also non native speakers easy access to available facilities. There are currently shy under 6.000 entries on this map. For more detailed information in the respective native language you should visit the local sites. The service basically provides the Coordinates for a shelter without little or no further information. The degree of accuracy respective coverage can vary so be advised to not take the map as the only means by which you plan your trip. Not all date is verified and in some cases the coordinates might lead you to the wrong place. That said, in most cases it is a great and simple way to get an idea what you can expect in an area.
Useful things to bring to Finlands wilderness
Despite a standard repertoir of propper clothing you should consider some of the things from the following list that we deem very useful:
A proper wilderness axe will help you to get your campfire going. Furthermore, you can use it as a hammer or do rough carving jobs with it. It's a great tool that might come very handy, especially if you spend time in wilderness areas.
A proper outdoor knife is the Nr.1 thing to have and your tool for everything. If you do not have one already you can also visit one of the Northern knife factories (e.g. Marttiini) for yourself or save up for that original Sámi knife.
If you come by car or camper a really great way to experience the North is by bringing a Canoe, Kayak or other swimming vehicle. If space is an issue you can opt for an inflatable or folded canoe.
If you like to eat and/or catch fish you definitely should to bring your fishing gear along. The Northern countries feature the best fishing grounds in Europe and should not miss out on this opportunity.
A proper repellent against mosquitos can save your sanity. Some northern parts can be pretty unpleasant during summer. Our weapon of choice is actually a technical repeller device.
f you consider longer outdoor activities in problematic areas you might want to get yourself a mosquito hat. Especially if you do not like rubbing your head in chemicals this can be a great way to keep your sanity.
Other things to consider when looking for shelters in Finland
Be aware that the Tulikartta and Laavu.org are no official sites and that you cannot take their services as 100 percent accurate. In rare cases it can be that a wilderness hut or shelter is locked, damaged or does not even exist on the position it is mapped. Keep that in mind when planning your trip so you do not get yourself in trouble.
You should also be aware that many places are built by local communities or associations e.g. as fishing shelters. Mainly locals who know where to find them use these shelters and there are usually no official signs that prompt you in the right direction.
Don't be shy to ask some locals for help. Even though Finns have a reputation for being reticent and introverted you will be surprised how friendly and helpful they will be if you make the first step towards them.
A detailed analog hiking map is always a recommended thing if you prepare for more extensive adventures. Some wilderness huts are so far off that a compass and a map are the minimum requirements to reach them.
You can always ask in tourist centers for detailed information on various topics.
Let your intuition guide you. If you are in an inhabited area in Finland you can pretty certain that there is at least a public fireplace and probably also a basic shelter somewhere close bye. It's also a recommended thing to look out for laavus along rivers and streams where they are often built for fishing purposes.
Use all facilities that you encounter with greatest respect and don't take these excellent services for granted. We have first hand witnessed instances where shelters where closed permanently due to misbehavior of individuals. So take that very serious to give others the chance to take advantage of these places too.
Don't leave any trash behind if there is no designated place for it.
Always follow the rules and guidelines and treat other visitors with respect. To be first on a spot does not mean that you have special privileges.
Be aware that it is absolutely forbidden to make an open fire during a forest fire alarm. This includes all fire places that are not in a closed shelter.
Got it all? Still remember those Finnish terms for shelters? Great so you can now start to plan and enjoy your trip properly.
Find more inspiration in some of our other poster designs
↓↓↓
For detailed information on shelters and wilderness huts in other northern countries look here: