Norway features one of the largest wilderness hut systems in the world run by the Norwegian Trekking association (DNT) and other initiatives maintaining more than 1000 official facilities. That is the good news.
The downside is that they are often not free to use. Some of them are even locked and can only be opened with a special key that every member of the DNT can obtain. However the DNT along with other associations and community initiatives run also a number of open day huts and shelters, which are open and free to everyone.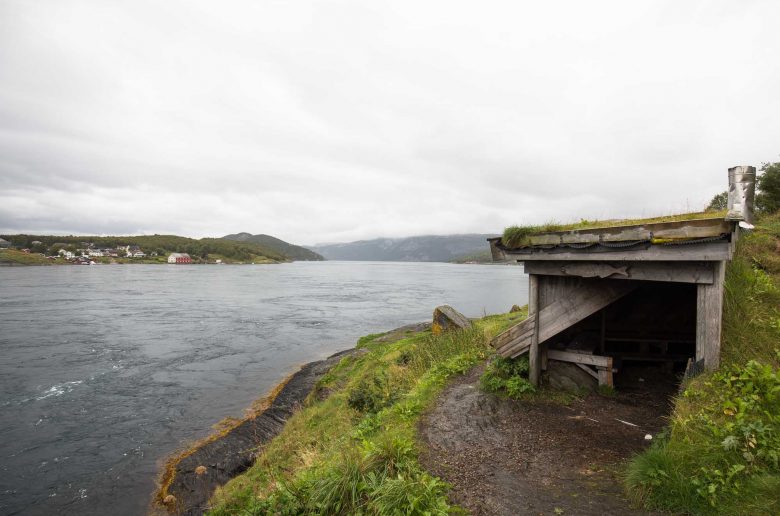 There are different types of shelters and you should know their local names in order to identify them and get along.
Gapahuk describes a lean-to shelter and is the most common form of shelter to find. Basically it is a roofed structure with three walls and one opening. They are usually equipped with a fireplace outside the structure. Gapahuks can come many different forms and shapes and while some are very basic others can be almost luxurious. They can be equipped with a bench or wooden platform for sleeping. In certain areas you might want to be sure to bring some protective measurements against Mosquitos if you want to stay there longer. Since they are open you also can't heat them so make sure your sleeping bag is warm enough and your sleeping pad isolated if you stay overnight.
Gamme or Køta refers to a closed shelter similar to a lapp hut. They are equipped with benches around a fireplace in the middle. As the name suggest lapp huts derive from Sámi culture and characterized by its round (pole tent like) shape as well as an opening in the roof and at the bottom beneath the benches towards the sides to support air circulation. The benches can serve as minimalistic sleeping place beside the fire if you bring your own sleeping mat.
Koie is usually a closed shelter or a small hut. They are very protective in bad weather conditions and are usually equipped at least with a small stove to cook basic things.
Nødbu or different type of *bu's (e.g. steinbu) refer usually to an emergency shelter. They can be very similar to a Koia or Gamme but are built with the intend to keep you safe in harsh conditions instead of being used as day trip huts.
Hytter (hut) is used in various combinations and can refer to different types of open and wilderness huts. The term refers to everything that features four walls and a roof but usually the term refers to more elaborated structures as solid day- or wilderness huts. Unlike in Finland, you have to pay for a majority of open- and wilderness huts.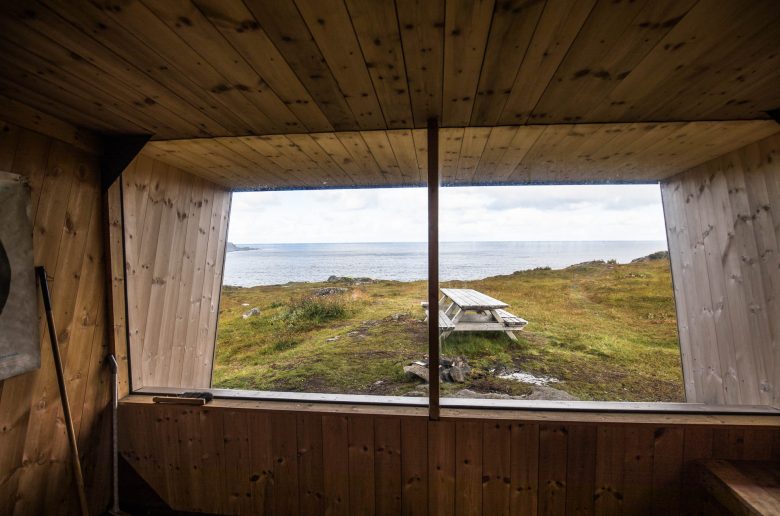 UT.no (Touring planer)
The website ut.no is a touring planer featuring more than 1200 huts and shelters around Norway. You can find detailed information in Norwegian along with pictures that can give you an impression about each facility. Select the tab "kart" from the menu and filter the map for your needs. Select the slider "hytter" (huts) and unselect everything else if you want to show only shelters and cabins. The map will show you red and blue facilities. The red ones are run by the DNT and blue means all others. You can filter them to colour. A triangle mark usually lean-to and emergency shelters that are free of charge for everyone. The other facilities are staffed lodges, self-service cabins or wilderness huts. Some of them require the DNT or a special key to be entered. This is usually outlined in the hut description besides the key symbol.
DNT-nøkkel ­ = DNT-key required
Special nøkkel = special key required
Ulåst = Unlocked (no key required)
Be aware that unlocked does not mean, that the hut is free of charge. Prices vary but to give you an idea of the fees. Lodging at self services DNT cabins for 2020 is around 400 NOK (40 Euros) in the Oslo area for an overnight stay or 90 NOK (10 Euros) if you just use it during the day.
An other option to look for shelters and open huts is the private initiative that maps open (again not necessarily free!) shelters and wilderness huts in Norway.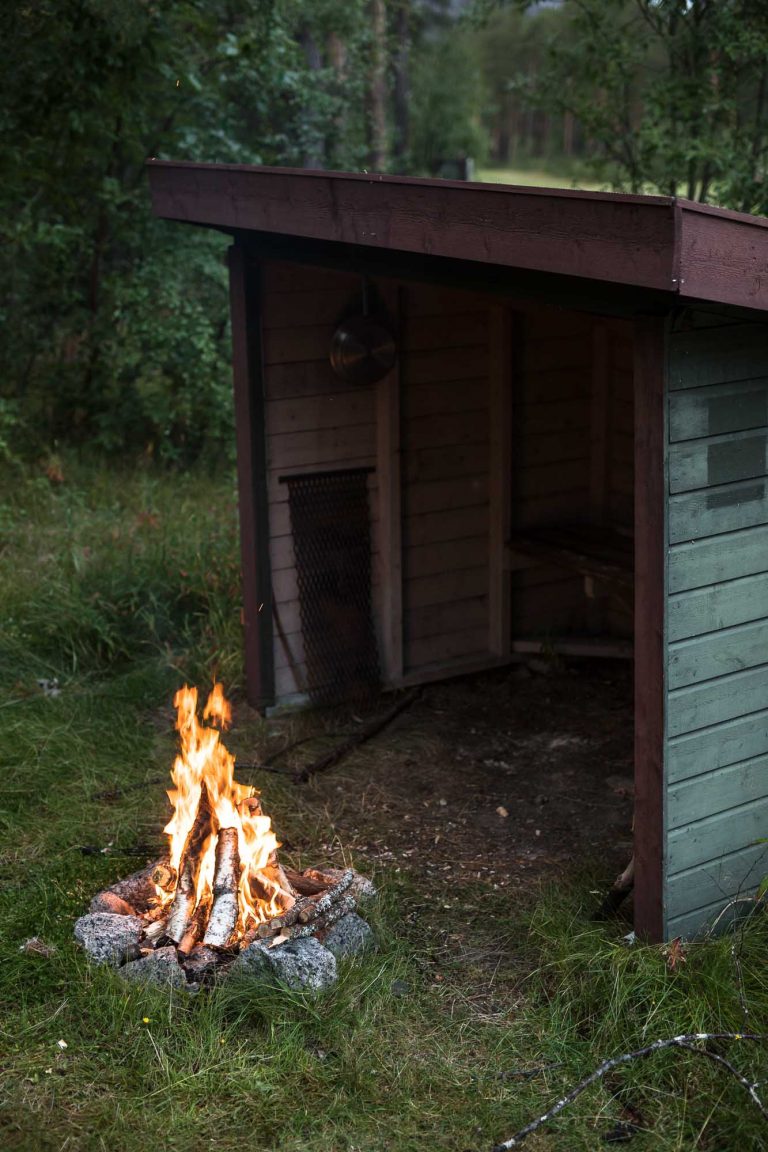 Find more inspiration in some of our other poster designs
↓↓↓
Overnattingsgapahuker Norge (shelter map)
This great Google map based shelter map of Norway features detailed information about lean-to and closed shelters and open huts throughout Norway. There are currently more than 1800 entries on this map. The provided information is very detailed and very often you can find images and web links to the different objects and facilities. The provided information is Norwegian only and you have to learn the basic terms for the different types of shelters but otherwise it is straightforward.
Please note that we are not the creator of this map, nor do we know the persons behind it. We also do not have any saying in which huts and shelters are maped on it. We provide solely an explanatory blogpost about this (awesome!) project. If you have recommendations or complaints for which huts should be added or removed, please contact the respective site owner/administrator –>  At the time of writing there are information and contact details about the persons behind the project in the 'map details'.

Always treat the places you visit with respect. Note also that these cabins are not intended for long-term stays! The "Statskoghytten" (state forest cabins) have e.g. a maximum overnight stay of 2 days. If a place is closed (locked), it is usually so for a reason and you have to respect it.

You can browse the map, click on the different icons, see images of the facilities and follow the respective link to get further information (mostly in Norwegian). Different colours and different icons refer to either different types of shelter or to different associations linked to them. E.g. a green pin refers to a lean-to shelter (gapahuk) while green or orange hut icons refer to closed resting shelters or lapp huts (gamme).
Over all the density of shelters and open huts across the country is far less than in the neighbouring countries but there is still a respectable amount of facilities that can be used for free.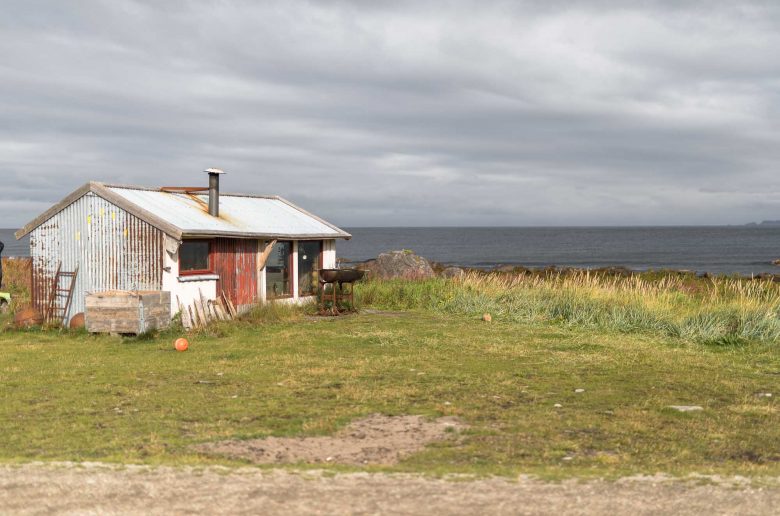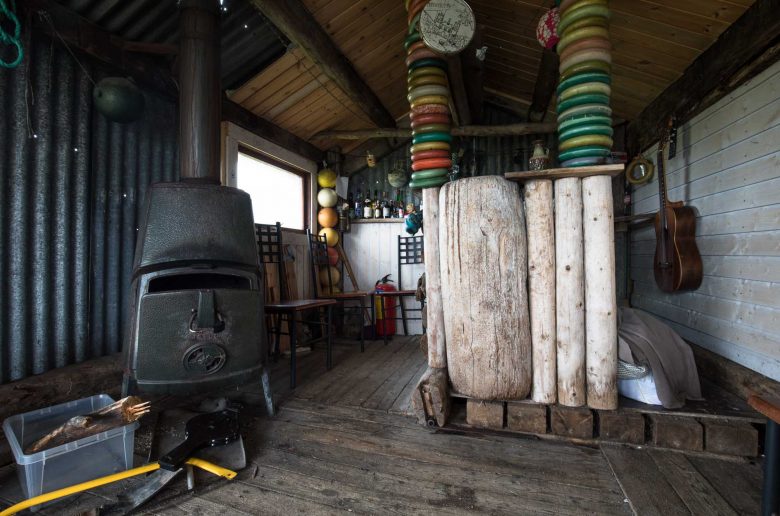 Other things to consider when looking for shelters in Norway
Be aware that Overnattingsgapahuker Norge is no official service and that you cannot take their services as totally accurate. In some cases it can be that day huts or shelters are locked, damaged or not even existing on the position they are supposed to be. Keep that in mind when planning your trip so you do not get yourself in trouble.
You should also be aware that many places are built by local communities or associations e.g. as fishing shelters. Mainly locals who know where to find them use these shelters and there are usually no official signs that prompt you in the right direction. Treat these facilities with respect and be grateful that you are allowed to use them.
Don't be shy to ask some locals for help. You might be surprised how friendly and helpful they will be if you make the first step towards them.
A detailed analog hiking map is always a recommended thing if you prepare for more extensive adventures. Some wilderness huts are so far off that a compass and a map are the minimum requirements to reach them.
You can always ask in tourist centers for detailed information on various topics.
Let your intuition guide you. If you have no idea where to look for it is always a good start to watch out along rivers or lakes since a huge part of them are built for fishing purposes close to the water.
Use all facilities that you encounter with greatest respect and don't take these excellent services for granted. We have first hand witnessed instances where shelters where closed permanently due to misbehavior of individuals in various places of Scandinavia. So take that very serious to give others the chance to take advantage of these excellent facilities too.
Don't leave any trash behind if there is no designated place for it.
Always follow the rules and guidelines and treat other visitors with respect. To be first on a spot does not mean that you have special privileges.
Be aware that it is absolutely forbidden to make an open fire during a forest fire alarm. This includes all fireplaces that are not in a closed shelter. One spark is enough to light up a whole forest! Act responsible.
We hope you have found some useful information on this blog. Stay save out there and enjoy your adventures!
For detailed information on shelters and wilderness huts in other northern countries look here
↓↓↓