Salmo trutta trutta (nor.: sjøørret; swe.: havsöring; fin.: meritaimen; dt.: Meerforelle)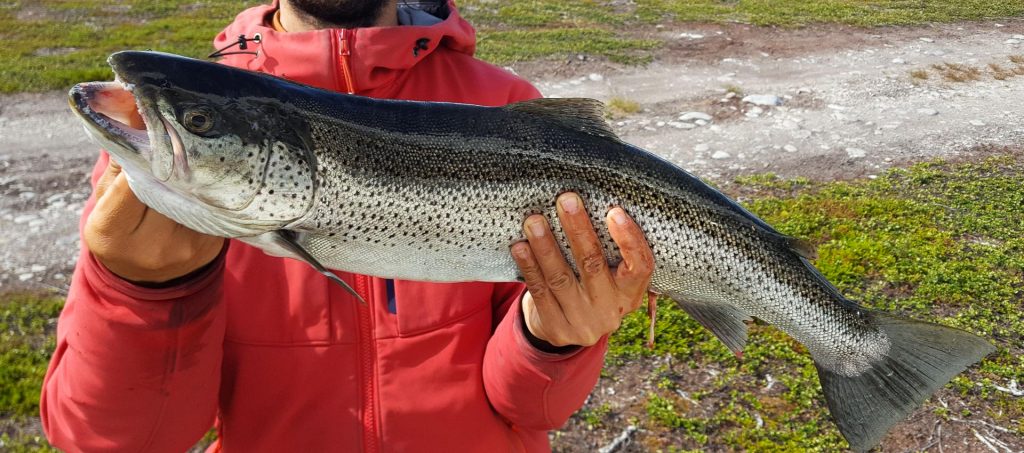 Sea trout is actually a freash water fish and basically a form of brown trout that converted to an anadromous lifestyle (migrates on a regular basis between river and sea).
It is not an easy catch BUT since you can catch it from all coastal shores it is free and you do not need a license – great news! Be aware though that there is also a minimum size ( usually around  35cm) required in order to keep your catch. Otherwise you have to carefully release it. Sea trout have a very similar look to salmon and grow much bigger than their river dwelling counterparts. On a quick glance you might even mistake them for a salmon but there are some distinct features that can tell you the difference (straight tale fin, position of the eyes). However they are actually ordinary trouts that have adapted their feeding habits. They can be caught all year round but usually spring and early autumn are the best times.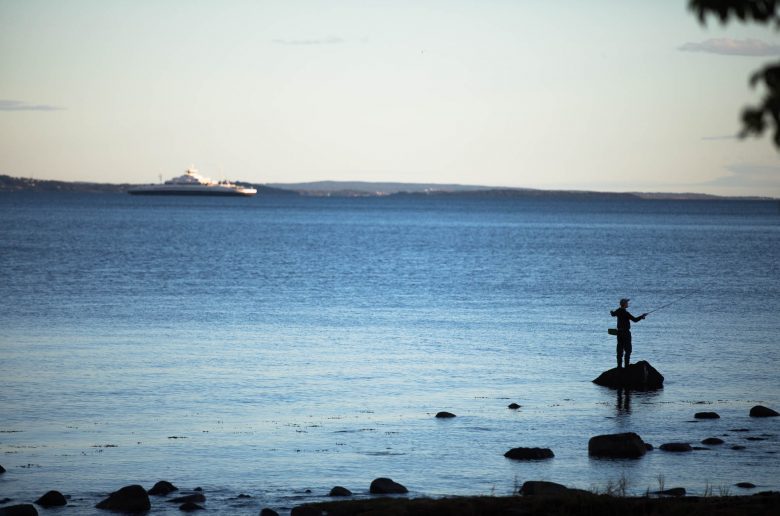 Fishing and Fishing Methods
Brakish coastal water with low salt content is usually the place to be. Sea trouts up to 4 kg are considered a normal catch in certain parts and they can grow even bigger. They are a great game for spin fishing, fly fishing and trolling alike but a spinning rod is the most common way to catch them from shore. Sea trouts are well known torpedoing out of the water catching insects. For more experienced anglers this can be a great opportunity unwrapping their fly rod.
Depending on the waters and your gear a 10g – 30g range of lures along with a rod, reel and line should be sufficient to get you started. There is sheer infinite number of lures to choose from and we had great success with Toby, Zigge from Abu Garcia. However, it might be wise to switch through your stack until you find something that works best for you.
They have a similar red meat like salmons and are a very delicious fish, not too far of from salmon. All the Fjord areas of Norway are suitable to go after sea trout but the most promising areas are those close to the rivers. Be aware though that there are regulations of how close to a river you can fish. Usually the estuary is off limits. If you are in the far north, a great (inside) spot for tackling this fish is the coast area in Kunes (70.350202, 26.506585). Stay away from the river mouth of the Austa river (Austaelva) though since this is a popular salmon river. We had some great results close to the boat houses and trouts up to 4kg are common.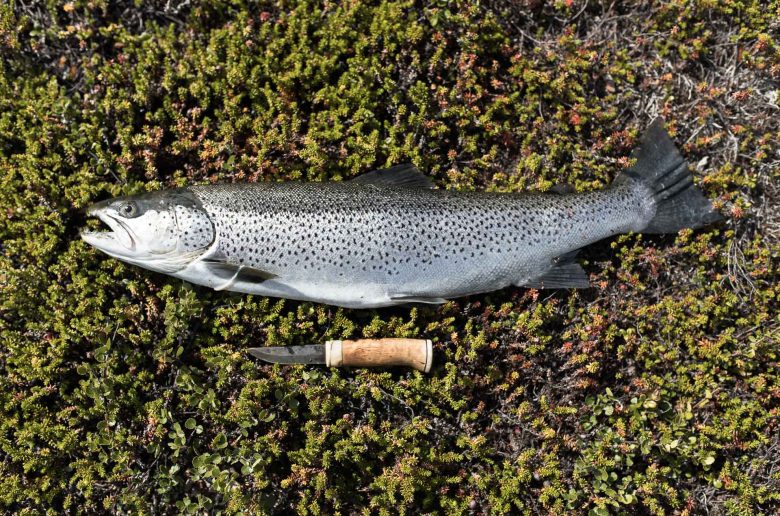 Angling Record
Finland: 13,1 kg
Sweden: 15,2 kg
Norway: ~13 kg (inofficial)
Description
Sometimes it can be difficult to distinguish sea trouts from salmon. In addition to a smaller, sharper head and a thinner tail stem, the notch in the salmon tail is usually much deeper than that of a sea trout. Similarly, in salmon, the upper jaw extends approximately to the edge of the eye, while in sea trouts it goes well behind it. On salmon flanks, dark spotting rarely extends below the rib line, whereas in sea trout, this spotting is common all over the body. In addition, salmon has clearly fewer teeth than sea trout.
Further information
Since sea trout is a form of brown trout you can find other information under the trout section.