Saltstraumen is the strongest tidal current in the world and the place to be for world record fishing. Here is home to the large coalfish, cod and halibut. As the countless fish move through the narrow passages of the fjord, a considerable number of tourists and fish enthusiasts come to this place every year to enjoy the natural spectacle and to compete with the big fish. Those who hunt for large fish usually use a boat to fish deeper waters. In Saltstraumen, however, big catches can also be made from the shore. Shore fishing is more the rule than the exception and this place is especially known for the gigantic coalfish. Both the world record for the largest coalfish and the largest cod from the shore were made here.
Regardless of whether you make a quick stop in transit or stay for a long-term fishing adventure at the campsite or in one of the numerous cabins – the Saltstraumen makes fishermen's hearts beat faster.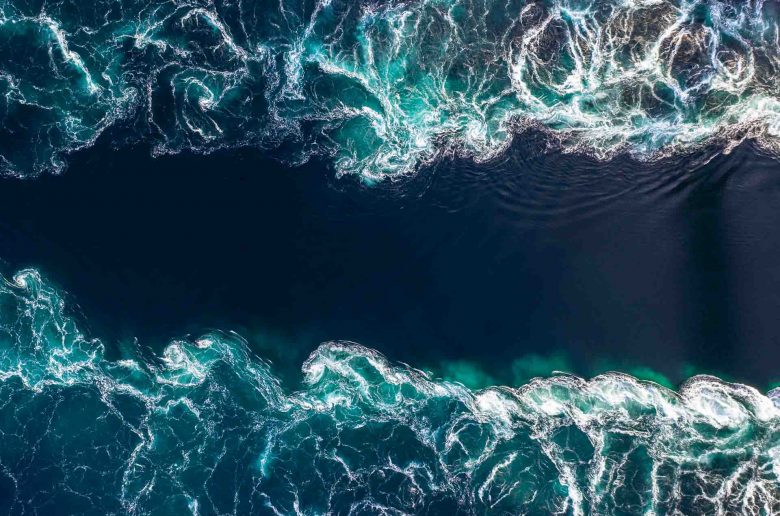 Which fish can I catch
Saltstraumen is all about big coalfish, huge cod and gigantic halibut. Currently, the shore fishing world records for all three fish species have been set here. The real giants are usually caught in winter, but there are big fish all year round. In addition to these three main species, wolffish, haddock and even sea trout are not unknown in these waters.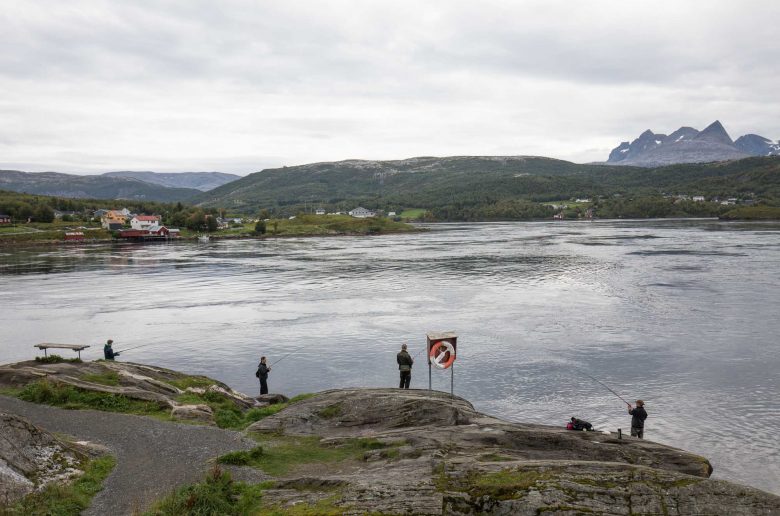 The strong current drives an immense supply of food through the bottleneck several times a day and the big predators simply have to wait for the right bite and help themselves without any particular effort. Also the otherwise deep-loving halibuts are to be caught from the shore, especially in the cold season, before they go back to the deeper areas. So if you go fishing in this area during the cold season, you should prepare accordingly for big catches when choosing your equipment.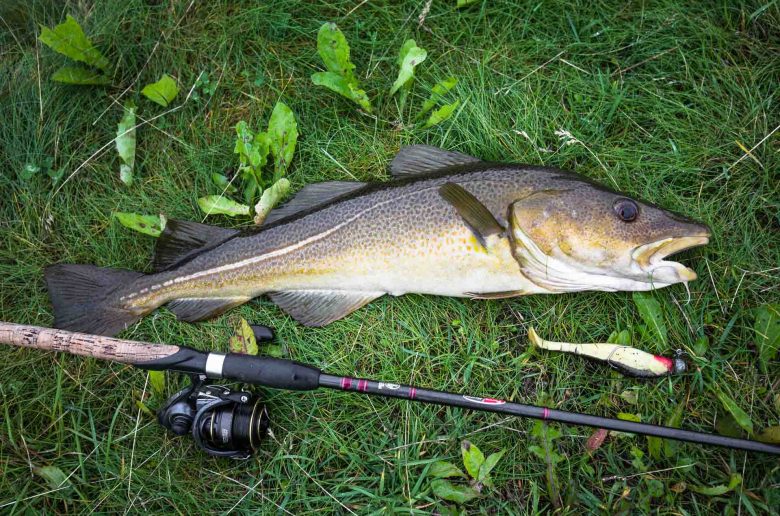 Shore Fishing World records Saltstraumen
Coalfish shore record: 22,7 kg
Cod shore record: 30,16 kg
Halibut shore record: 69,7 kg (?)
The best shore fishing spots
There is certainly no lack of opportunities and access to water here. However, especially for travelers passing through, the question often arises where one has the best chances and how best to approach this place.
The saltstraumen bridge (east side)
The most famous place that you should at least pay a visit is directly below the Saltstraumen Bridge (east side). Here you are right at the narrowest point of the fjord where the current is strongest. There is a car parking pretty close bye. Coalfish live in strong currents and so it is no surprise that the Saltstraumen is an excellent habitat for these fish.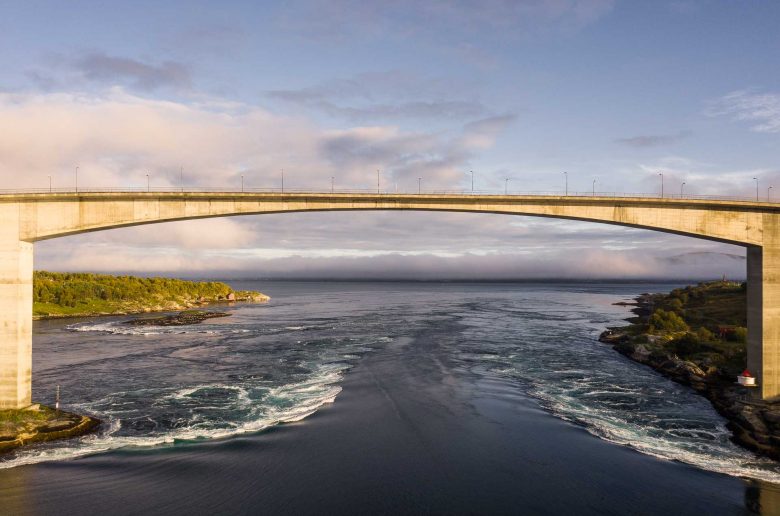 Fishermen can be found here even on bad weather days. On good days, the anglers often crowd here to try their luck. There are more than enough fish here, but if you want it a little quieter, you can also try other places.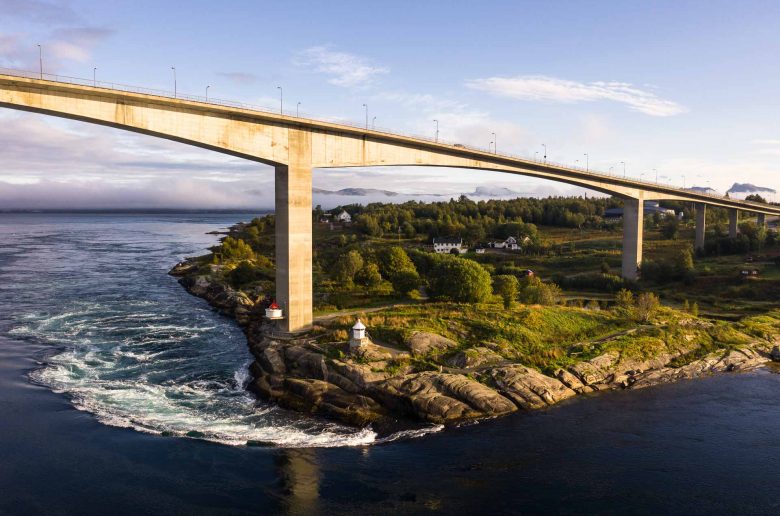 Saltstraumen bridge (west side)
There are plenty of good fishing spots right on the other side of the bridge just over the small Storholm Island. You can either walk over the bridge which is an experience by itself or you can park close to the small super market on the other side of the bridge.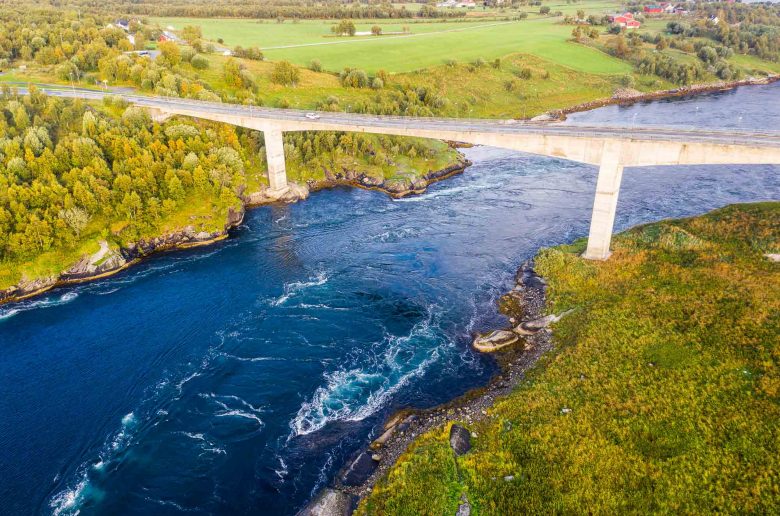 Westside (direction second bridge)
If you orient yourself south along the shore in the direction of the second, smaller bridge, there are a number of good fishing spots. At Oksbåsen there is even a small shelter (67 ° 13'35.9 "N 14 ° 36'50.9" E) with a fireplace, where you can prepare your catches right away. However, you have to bring your own firewood.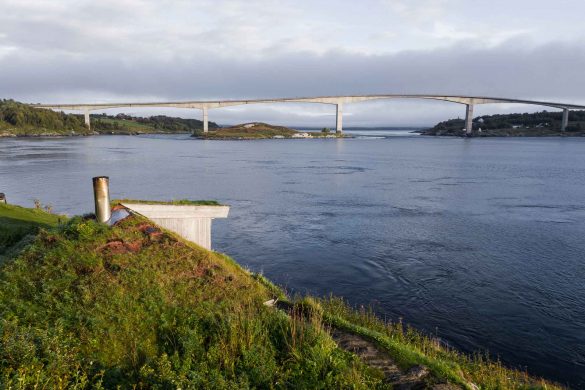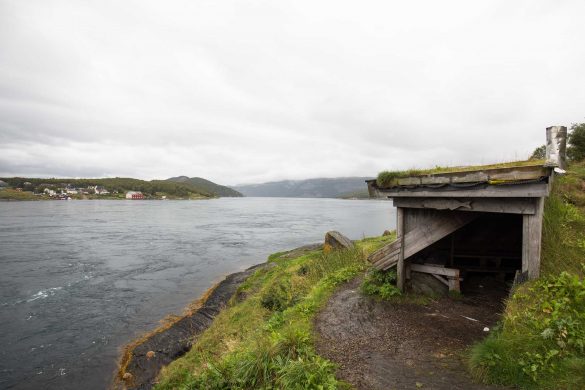 Rundholmen – Barrierfree access
A couple of hundred meters further right before the small island Rundholmen is even a barrier-free fishing spot with a wonderful view of the Saltstraumen Bridge and the fjord. The rush of fellow fishermen is also very high here. Especially since the place can be reached directly by car (not for large mobile homes, 6m+ though). Most visitors usually stay near the small platform (67 ° 13'31.8 "N 14 ° 36'59.4" E). In our experience, the shoreline at the end of the street after the small island was very productive for big fish.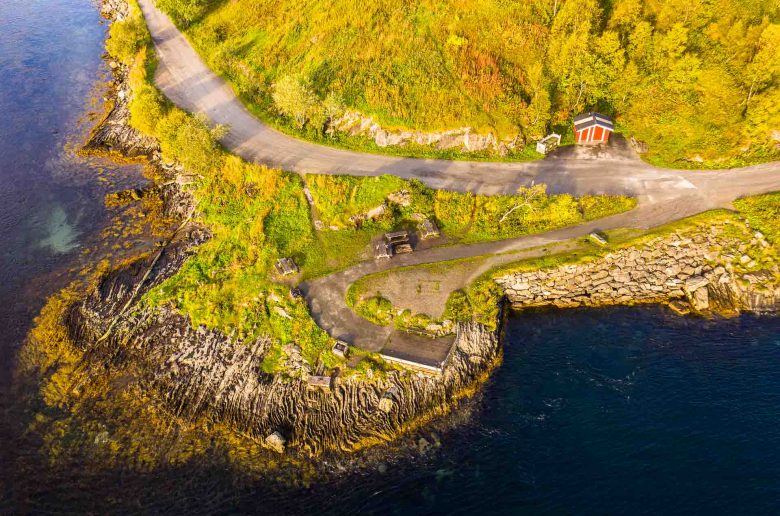 Rundholmen
Especially those who are interested in halibut can try their luck here. Especially the upstream sandbank on the south-western tip of the island is also a valued spot among the locals. In the summer months you shouldn't expect large halibuts here, but smaller specimens as well as coalfish and cod up to 10 kg are frequent. Bigger fish are always possible too though. We had the best results here with sheds (soft rubber bait), 50–100 grams, 12–16 cm. However, halibut is usually fished with small coal fish as bait. You can fish them yourself right on the spot with small pilks or a paternoster setup.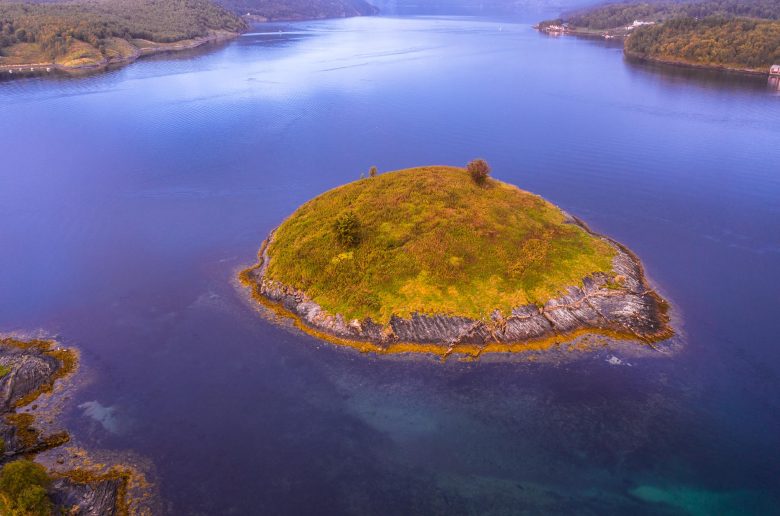 The area arround this second smaller bridge is ususllay considered as very productive some even consider it as superior to the actual Saltstraumen bridge. In reality there are probably a lot of great spots and fish in excess are everywhere anyway.
We could even wittness whales passing bye here while fishing in the later hours of the evening.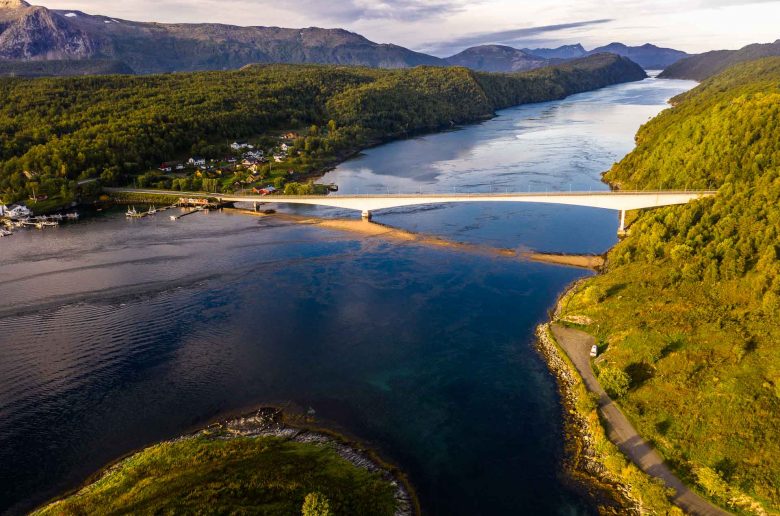 Saltstraumen Brygge cabins
In principle, the whole area around the Saltstraumen is designed for tourism and fishing. Those who want to be particularly close to the water can, for example, rent a cabin at 'Saltstraumen Brygge' directly across from Rundholmen. The jetties and boat docks right in front of the complex are ideal for fishing from the bank.
Saltstraumen Elvegård-camping
Anyone staying at Elvegård campsite can go straight to the shore from there and catch their dinner.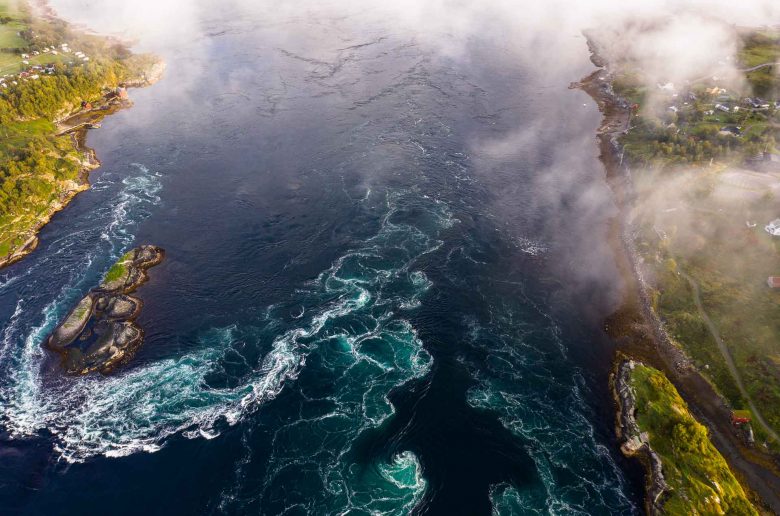 Other places
Fish can be caught on all sections of the bank around the Saltstraumen. If you don't care about the hustle and bustle, you can check out the known places here. Those who like it quiet and lonely can also orientate themselves on the less overcrowded bank sections. The western part of the Skjerstadfjorden (Indre Sunden) is particularly promising. This area can be reached primarily by boat. But if you are adventurous and don't shy away from walking, you might find some access.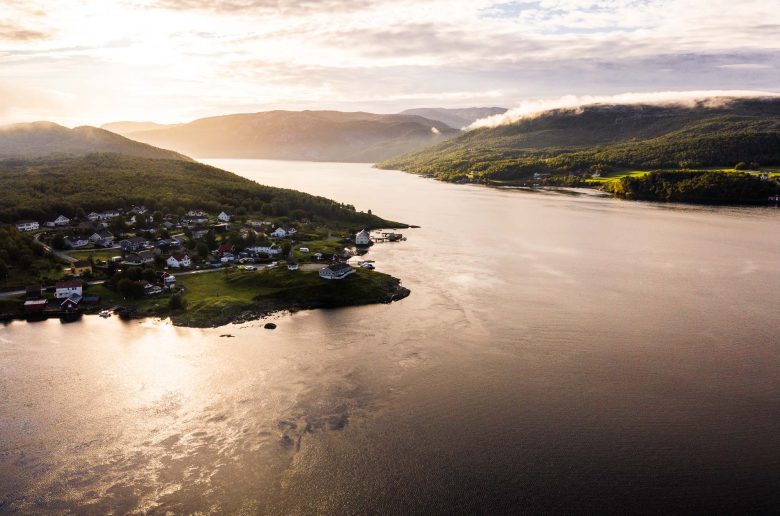 Nautical map
If you want to do your own research the nautical chart is a very good instrument to get a good estimate of the water depth for the areas you are looking for. The map is in Swedish but self explanatory –> Nautical Map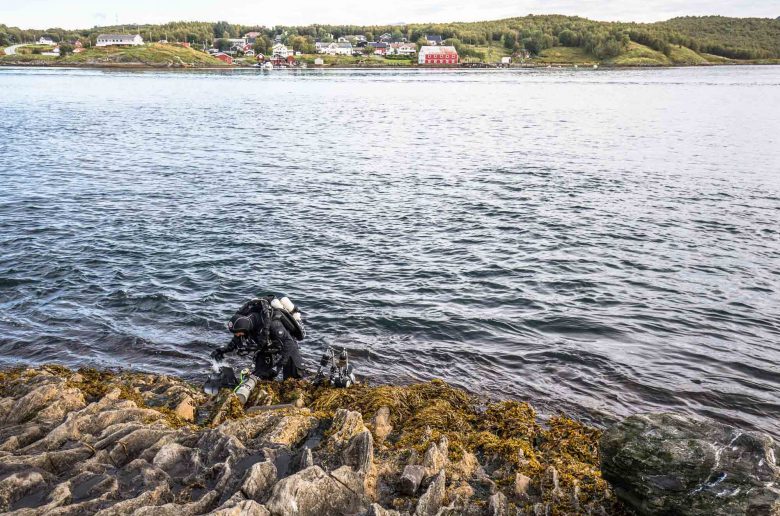 Ask the locals
Anyone staying at one of the local campsites or other accommodation will probably be able to get good tips from there. But those who are passing through with their own camper or mobile home often do not have these points of contact. When we bought firewood, for example, we got into a conversation with a very nice employee of the local hardware store who could tell us a lot about halibut. Don't be shy but of course always respect the community.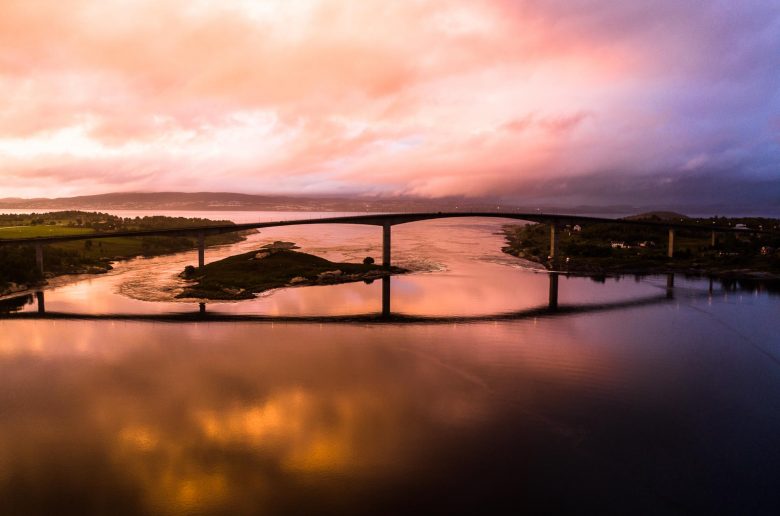 Tide table
Every 6 hours the straumen changes its direction of flow. During the tide change, around 400 million cubic meters of water flow through the strait. A table with the current tide situation can be found here:
A live stream from the Saltstraumen bridge shows the current conditions.
What gear to bring
The standard equipment for shore fishing at Saltstraumen are pilks, spoons or sheds in the range of 40 to 100 grams. That does not mean, that some heavier equipment can't come handy but as a starting point this range is quite good and probably the most used. That said, this lures are usually cheap and quite efficient to catch something and many people comming here do not have much knowledge about fishing. That's totally ok of course but hence it is only logic that a vast quantity of lures flying arround are of this type. From our point of view, color is less important than bait control. We were quite successful with beige colors with small amounts of orange or red to catch big coalfish and cod.
When the current gets to its strongest every 6 hours, it is usually difficult to fish deeper down in certain spots (e.g. directly at the bridge) so in these cases heavier gear can come handy. We had by far our best results with soft rubber fishing lures arround 15 cm and larger in the range of 50 to 90 grams. Size depends of course on what you are looking for but if you want to get fish from 5 kg upwards, don't be shy with size (and weight). Especially on the places with a lot of kelp, the single hook rubber lures can be an additional advantage.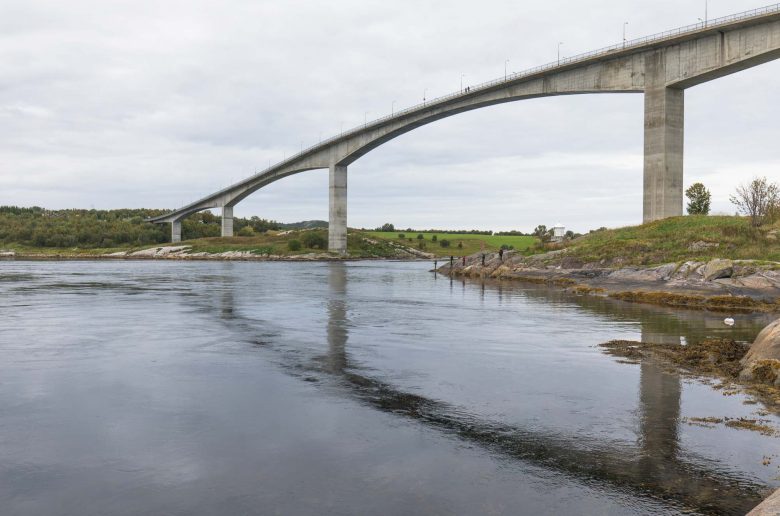 Precautions
Some places have the problem that when the water is low you stand 2-3m above the water and you cannot get your catch out of the water with a normal landing net. Gaffs or corresponding nets are indispensable in many places, especially for big catches.
In view of the strong current, special care is required. Rocks can be very slippery when wet or icy. The current reaches a flow speed of up to 40 km / h with strong underwater vortices. If you fall into the strong current in the heat of battle, you will instantly find yourself in a struggle for survival. A life jacket is certainly not a disadvantage.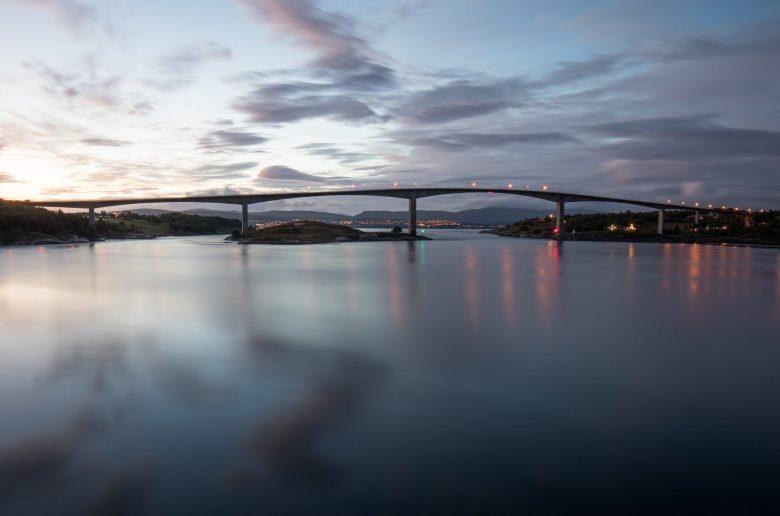 If you want to share your experiences or know about other places let us know in the comments or in a DM.