When it comes to fishing, Lofoten is defenitely one of the places to be. Record fish are caught here every year. The Lofoten are particularly known for their huge Atlantic cod and coalfish. The annual world cod championship also takes place in Lofoten with regular catches fo 30 kg+ specimen. However, these fish are almost always caught from boats. In addition, there are also excellent places for shore fishing in Lofoten that are accessible to everyone. Almost everything can be caught here, from cod to sea trout to halibut and salmon. In addition, fishing in Lofoten is free of charge from the shore of the coastline.
On top of it you are in the middle of one of the most impressive areas on earth. Spectacular cliffs, narrow fjords, picturesque sandy beaches and huge fish – what more could you want. If you pay a visit to Lofoten and like to catch fish or would like to catch a meal during your campingtrip, you have a multitude of options in Lofoten.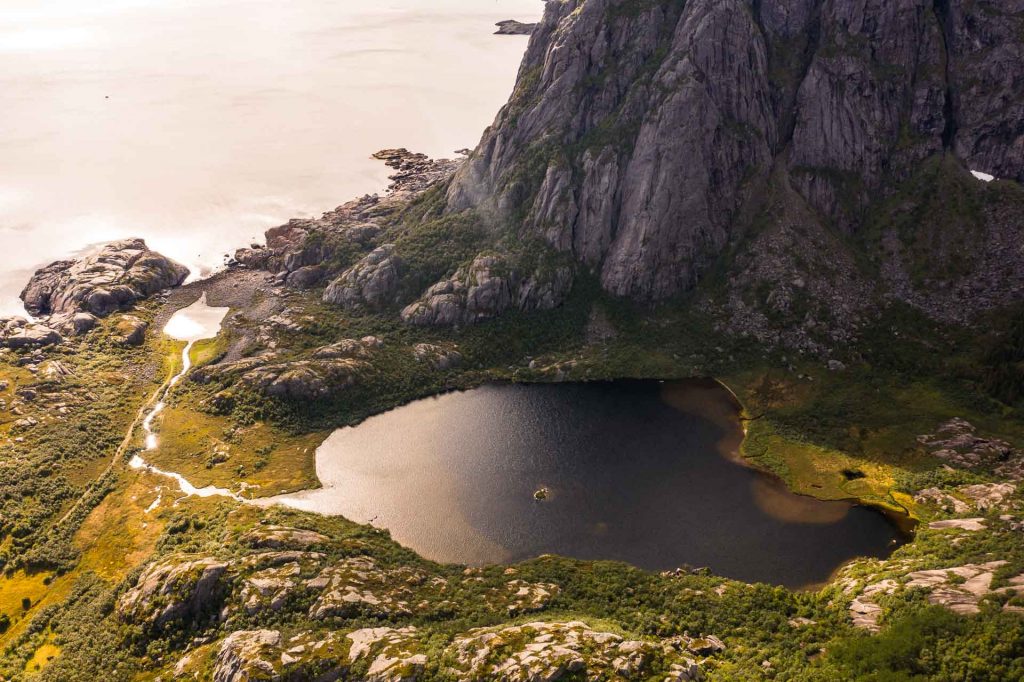 What is the best time of the year?
The main fishing season for large coalfish and cod and halibut is winter or the beginning of spring. So if you want to go to Lofoten around this time of the year, you must of course prepare for the appropriate weather. In the warmer summer months, the capital fish are usually long back in the depths of the Atlantic, but if you are looking for fish for a meal or would like to try your luck with sea trout and salmon, you will also get your money's worth at this time of the year.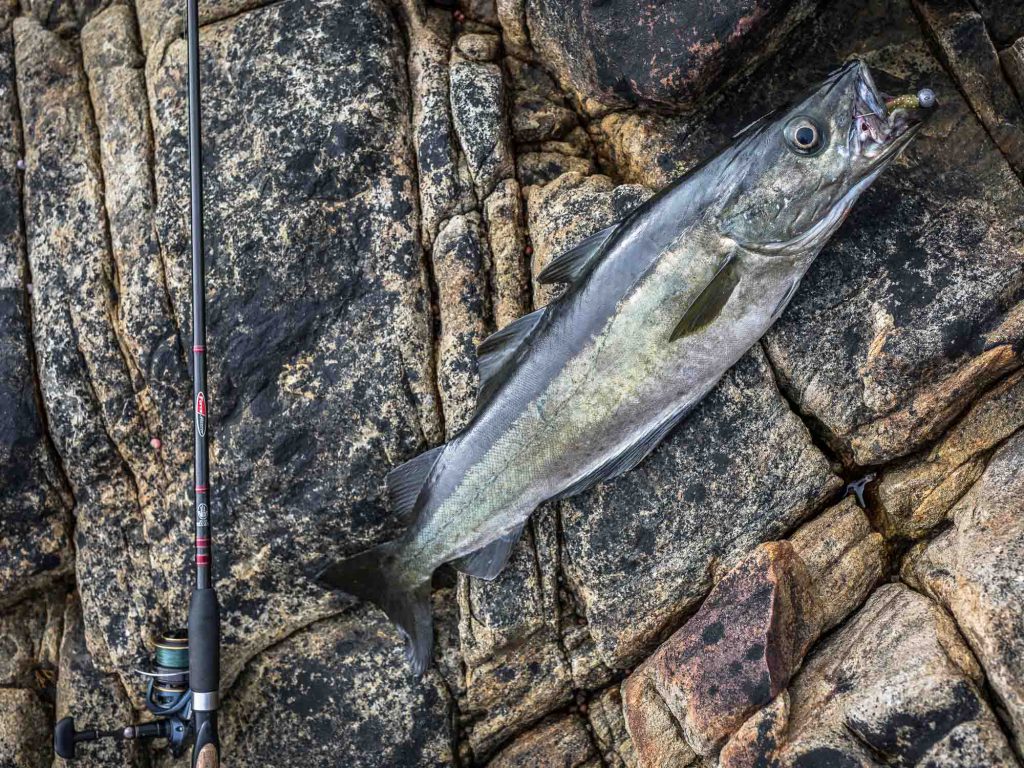 If your goal is to catch a heavy weight beasts you have to come in spring (March, April, May) when huge flocks of Atlantic cod come closer to the shore for spawning season. That's the time when Lofoton bulds up its actual reputation as fishing hot spot. This is also the time of the year where it gets serious for the locals to bring in their catches of Atlantic cod for the season. The end of winter arround February is also halibut season where big specimen enter the fjord system from the deep waters. For the average fishing enthusiast and traveller this is very probably neither the right experience nor the right time to visit Lofoten but maybe it's just the right thing for you.
Do I need a license?
In principle, you can fish anywhere along the coast and no license is required. On the other hand, fresh water lakes in the interior of the island can only be fished with a license like everywhere else in Norway. However, along the extensive coast there are more than enough opportunities for a good catch.
Shore fishing – more than just an alternative
Fishing from the shore is definitely more than just an alternative in Lofoten. Of course, for the boat-enthusiast some bad weather days with rough seas can be saved with a shore adventure. But many people nowadays come only to experience the fishing marks on the spectacular coast of Lofoten.
What fish can I catch in Lofoten?
In principle, pretty much anything a fisherman's heart desires can be caught in Lofoten. Pollack, coalfish, cod, plaice and mackerel are particularly productive from the shore. Sea trout and salmon can be caught in some narrow passages with strong tidal currents. With a little luck and preparation even big halibuts are possible from the shore.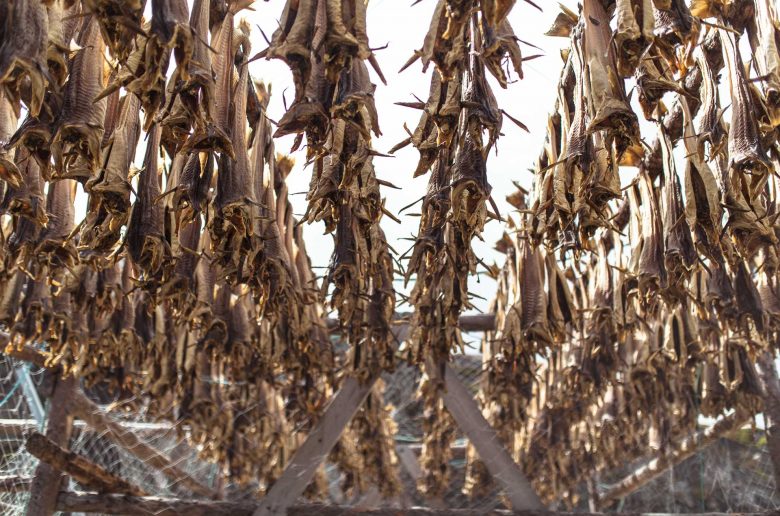 What gear should I bring?
Pollack, coalfish, cod and mackerel
If you just want to grab a quick bite on the drive through, a simple spinning rod and a basic range of perks will most probably fill the table. The most frequent fish you'll catch with such a setup is pollack followed by coalfish, cod and mackerel. By far our favorite lures in this regard are decent sized rubber sheds (~15 cm+ / 40 –70 grams). They have a great lively action and are very versatile. You can let them sink all the way to the bottom for cod or fish them more in the the middle layers or closer to the surface for pollack and coal fish. Don't be shy when it comes to lure size. Fish from the codfamily can swallow huge junks.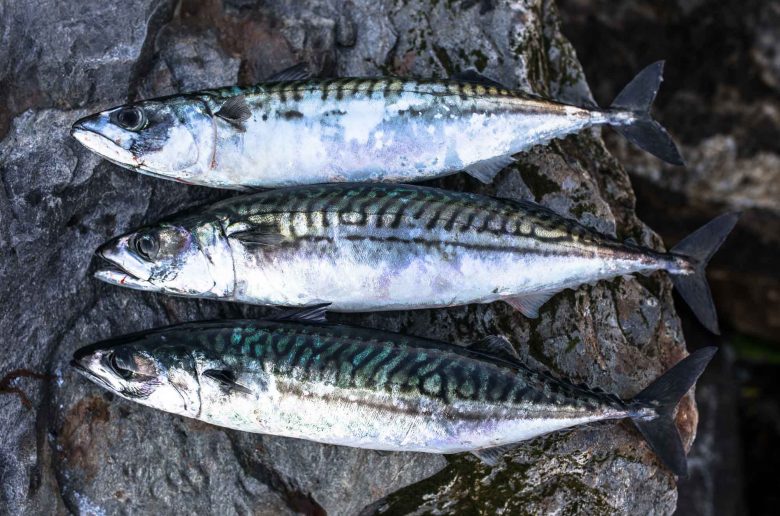 Halibut
However, if you want to try your hand at halibut or large cod, you have to deal with your setup in more detail. Large fish are usually caught from the bank with fish as bait (mackerel, herring, coalfish) and require a different and, above all, much stronger setup. Never underestimate the power of a halibut and always be prepared for a giant! Catching a halibut is the dream of many anglers and even in good spots it takes many hours or days until one is actually there. You should be prepared accordingly for this one chance. A usual setup will consist of a Pulley rig with a double hook set up e.g. size 6/0, a 20lb line and much stronger shock leader. Don't worry if this sounds intimidating. Fishing halibut is a whole other level and requires an article of its own. There are planty of other fish on Lofoten you can catch first and who knows, maybe you are lucky.
Sea trout and salmon
Sea trout and of course also salmon are much more demanding when it comes to the choice of bait. Own seatrout or salmon lures (e.g. spoons) with special colouring and often holographic patterns can be worthwhile here. These fish are much more difficult to catch than cod-like fish and whoever does not bring the right lure to the party will be even more likely to go home empty handed. The advantage of such special baits is that they can also be used to catch other fish such as pollack and especially mackerel. So if you know already that you want to try your luck with these fish it is worth to bring some sizeable spoons for this purpose. A good size can be 25 – 30 grams. Colourwise we had very good experiences with silver/blue as well as copper/red. Some locals have sworn in pure silver as the optimal color for salmon. Probably a mixture of superstition and self-fulfilling prophecy, but still an interesting clue.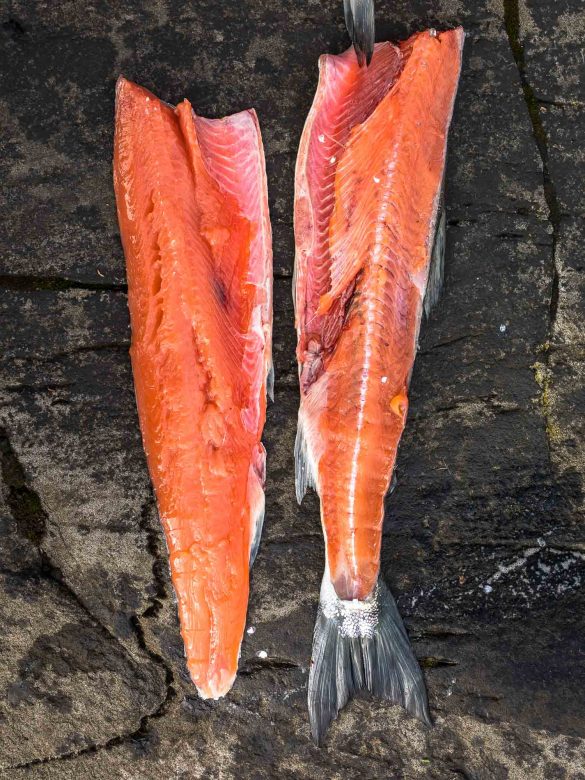 Which spot for which fish?
Of course, a good shore fishing spot always depends on the fish you want to catch. If you are primarily interested in catching something for dinner, things are usually quite simple. There are enough pollack, cod and mackerel all around Lofoten. A good starting point is to orientate you on jetties or harbor walls. The waters are usually quite deep and the chance of larger fish 5 kg + increases rapidly. A great spot is e.g. the pier in Kabelvåg. Svolvaer also has some good spots.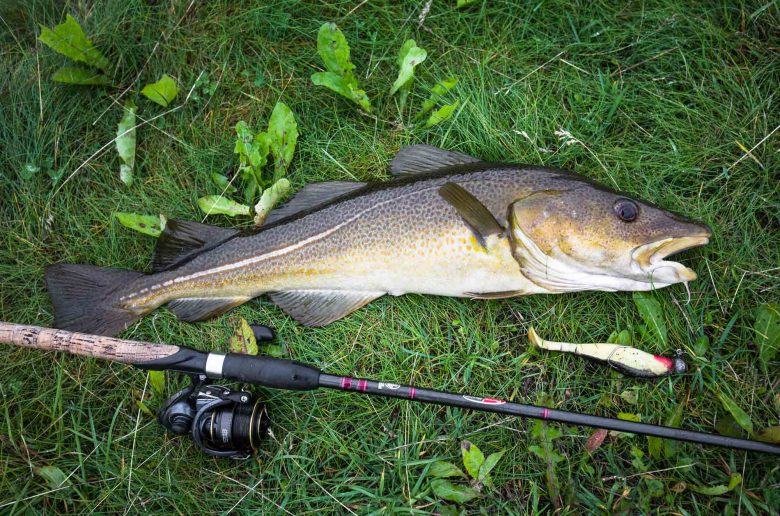 On salmonids such as sea trout or salmon, you can best try your hand at bottlenecks where the tides create a strong current. These spots include the bridge near Svolvaer Airport or the Vatterfjord Bridge on the E10. With a little luck, large specimens can also be caught in these places and they are also very popular among locals. Stories of 17 kg of salmon are making the rounds here. You can also catch mackerel very well there and due to the easy accessibility, a short stopover makes total sense if you are passing through anyway.
The Nappstraumen outside of Leknes is a great place to go for big halibut from February to April. Smaller specimen are theoretically possible all year round with a drastic increase in size and number from autumn onwards.
A helpful tool – the nautical map
If you want to do your own research the nautical chart is a very good instrument to get a good estimate of the water depth for the areas you are looking for. The map is in Swedish but self explanatory –> Nautical Map
Selection of good fishing spots in Lofoten
Nice cliff fishing at the end of the fjord. Good place to spend the night. We caught decent sized Pollack and had first hand encounters with a group of orcas!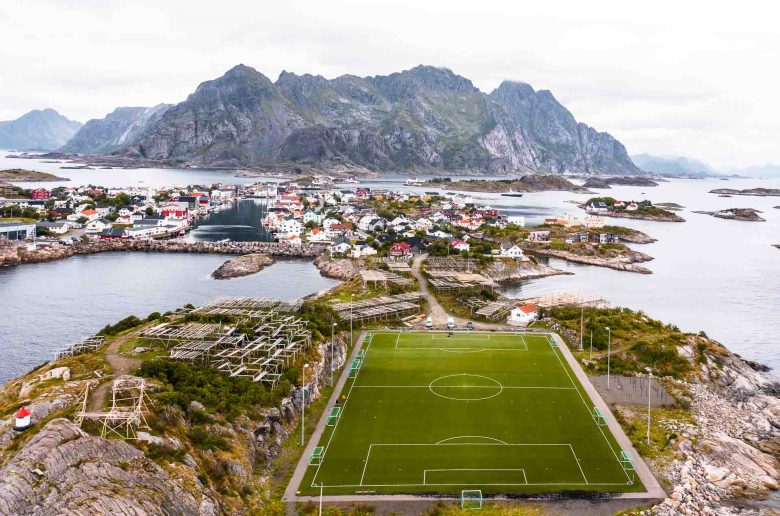 The harbour wall in Kabelvåg
Good place to catch big pollock, coalfish, cod as well as other species as dabs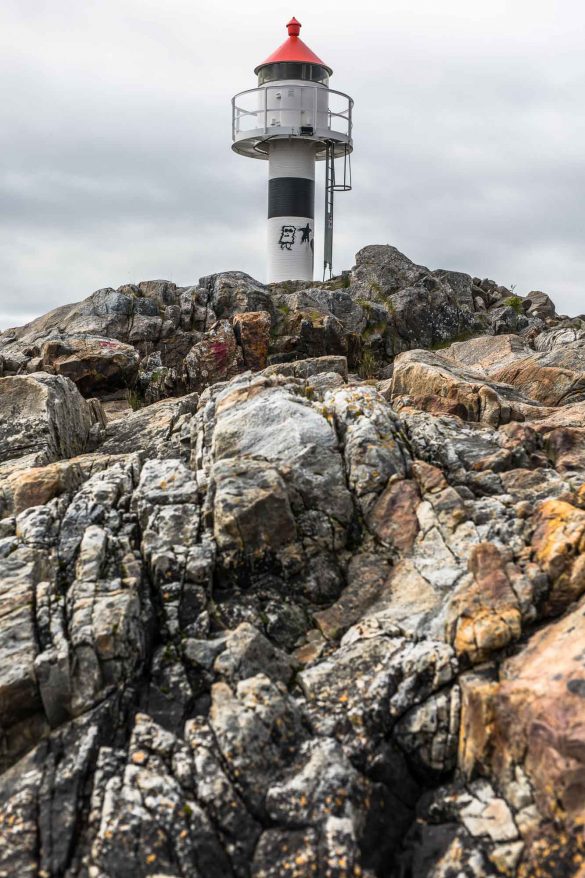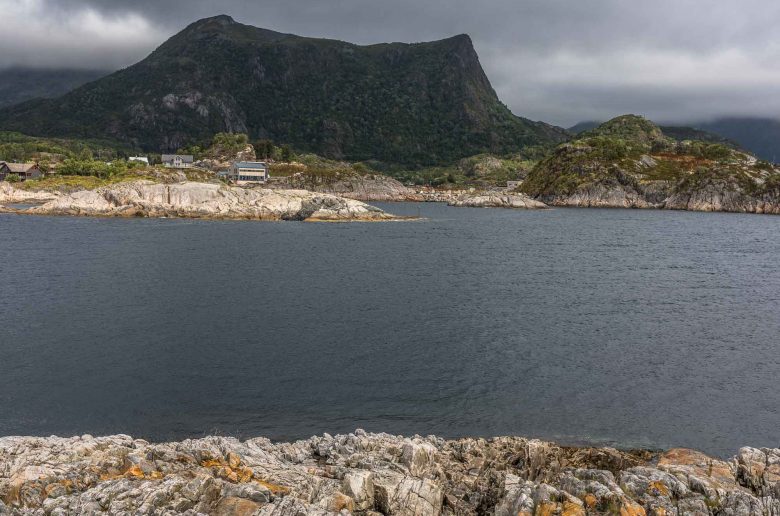 There are several good fishing spots directly in Svolvaer as the harbour wall, the Starburet Kai. Waterdepths can reach here between 10 an 20 meters. A common catch is cod, coalfish, pollack, dabs and plaice. Eventually even halibut are possible.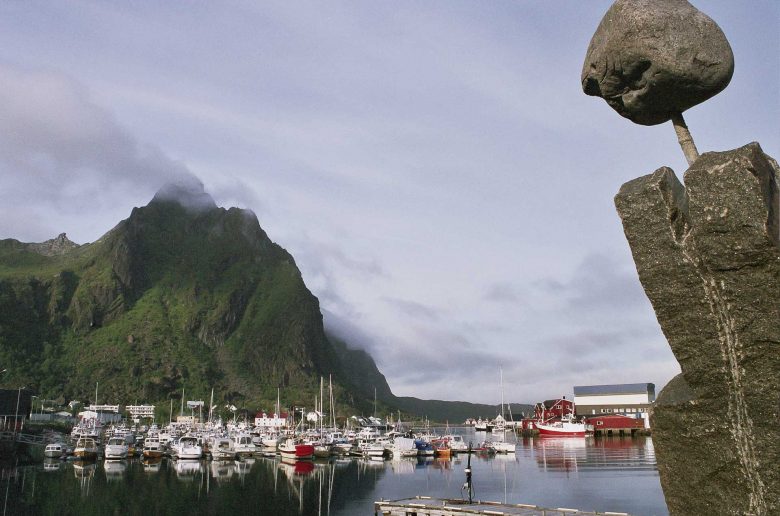 Airport bridge (E10) close to the Svolvaer airport
This is a good place for sea trout but also cod coalfish and mackerel are common catches.
Good spot for salmon, sea trout, mackerel and flat fish. You can often see big seatrouts standing in the water if you look down from the bridge.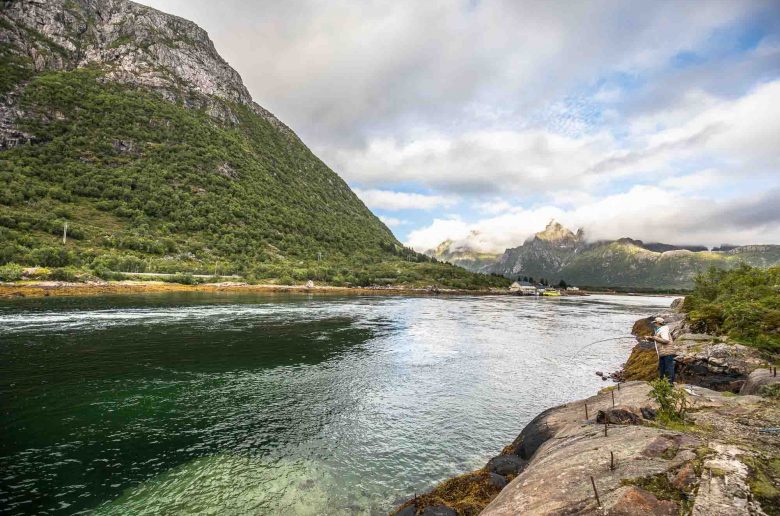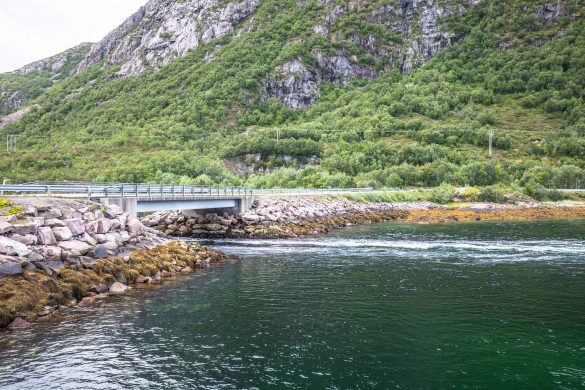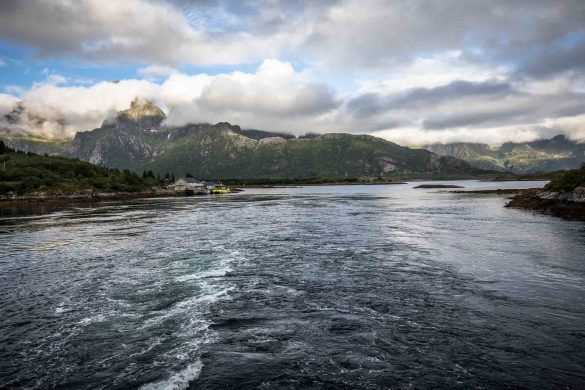 Good for seatrout, salmon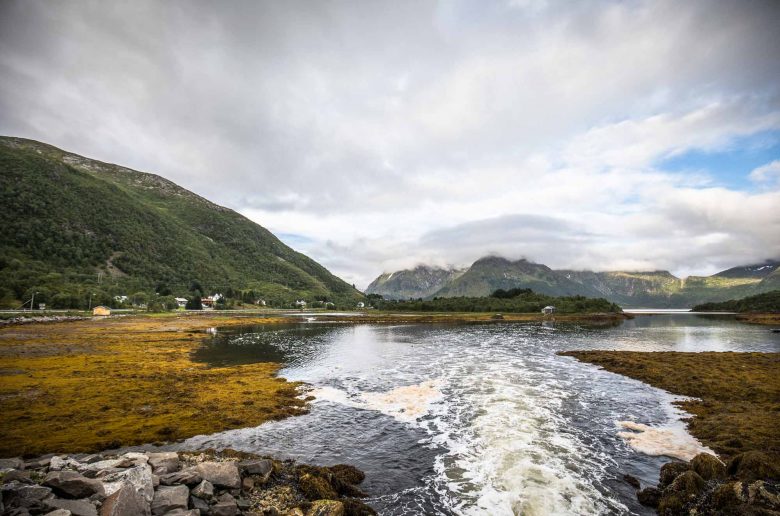 Right after the tunnel exit (from Svolvaer) is a car parking to the right with access to a good fishing mark.
Harbour wall | Norlense | Fiskebøl & Rundholmen
Good spot for cod, pollack, coalfish
If going to or coming from Senja this is also a good spot for all sorts of cod fish. If you cast straight out into the open sea depths can reach down to 20 meters.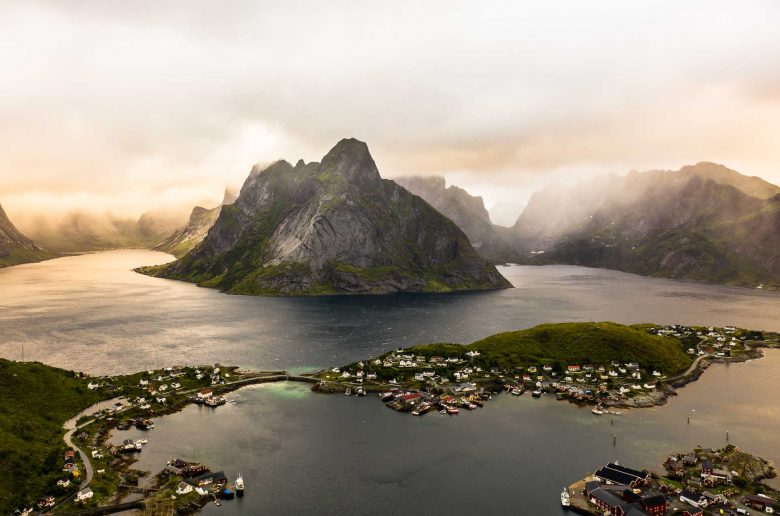 There are many great places all over the island and this is just a selection of some productive and easy to reach spots.
If you have any other suggestions or experiences you are welcome to share them in the comments and we'll happily add them to our map.