swe.: hästhov | nor.: hestehov | fin.: leskenlehti | dt.: Huflattich
Coltsfoot with its striking yellow flower is one of the first flowering plants to be seen after winter. In some places you can find coltsfoot as early as February. This plant is best known for its medicinal properties and has a long tradition in folk medicine – especially its soothing effects on coughs. Tea or syrup is usually made from the flowers but some parts, as leaves are also edible and used in the kitchen.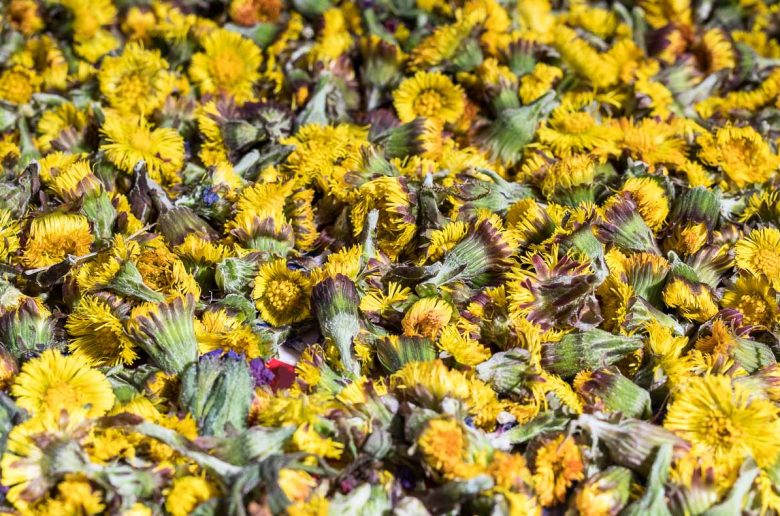 About coltsfoot
The perennial plant usually grows in large groups along roadsides, country lanes, quarries and similar locations. Due to their resilience, the plants are difficult to get rid of. Once established, they can usually be found in the same location for many years.
The name coltsfoot derives from the shape of the leaves. The Latin name Tussilago ('against coughs'), on the other hand, refers to one of its medicinal uses. The flowers collected are usually consumed as an infusion drink and have a soothing effect on coughs and other respiratory diseases.
But not only the flowers are used in traditional medicine. The young leaves are used in ointments and applied externally to wounds. They also contain a lot of vitamin C and, like the other parts of the plant (above ground), can be eaten raw as a salad addition until early summer.
Coltsfoot appearance
Depending on the location, Tussilago grows up to 30 cm high, with the leaves only developing after flowering. The sunny yellow flower bears a certain resemblance to the dandelion. The robust scaly stem and the smaller flowers are a clear distinguishing feature. The leaves are white-felted underneath. Viewed from above, however, they are classic green. The flower stem also has felty properties and a scaly appearance. Coltsfoot is found throughout Europe and grows from late winter to spring.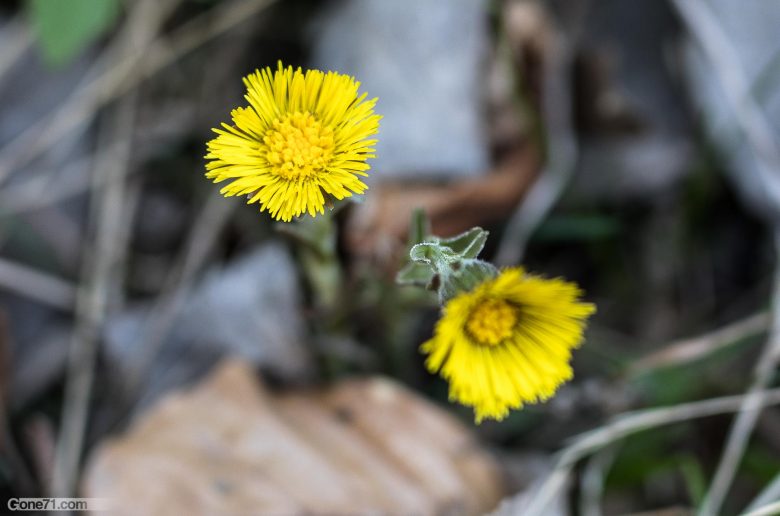 Therapeutic applications & tea
Other therapeutic applications are foot baths, bronchitis, sore throats, coughs, tracheitis, loss of voice, abrasions, sprains and other. It has been used for centuries to treat lung problems and is also mentioned as a medicinal plant by Hildegard von Bingen and other medival herbal literature.
Find more inspiration in some of our other poster designs
↓↓↓
Foot baths with coltsfoot Add 100 g of dried coltsfoot leaves to 1 liter of water. The leaves must steep for 10 minutes. To treat sweaty, damp feet, take a bath in the lukewarm infusion once a day.
Tea with coltsfoot (sore throat) Put 50 g of coltsfoot flowers in 1 liter of boiling water. The tea used to treat coughs must steep for 10 minutes.
Coltsfoot for Sprain Crush a sufficient amount of freshly collected daisy or coltsfoot leaves. The compresses are soaked with the plant juice.
Tea with coltsfoot (sore throat, loss of voice) Put 60 g of coltsfoot flowers in 1 liter of boiling water. The flowers must steep for 10 minutes.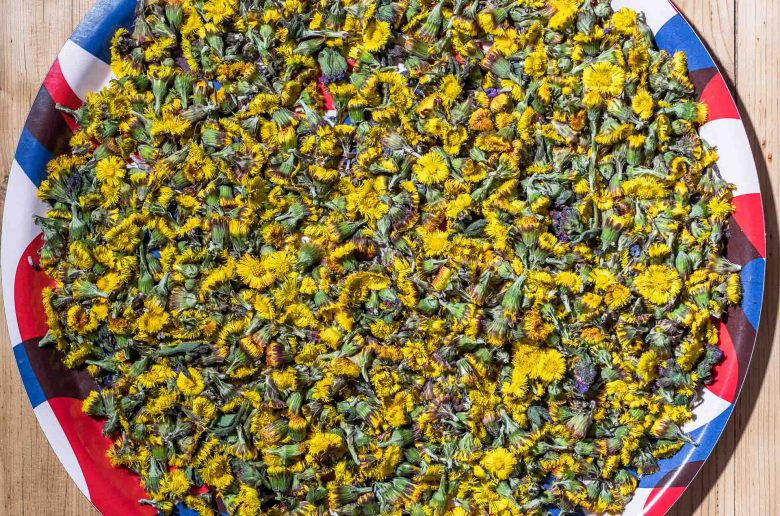 Note on tea:
If you want to make coltsfoot tea yourself, you should make sure to filter the fine hairs of the flower before consuming it. Otherwise, irritation of the throat may occur.
Coltsfoot in the kitchen
Similar to vine leaves, this leaves are very suitable for stuffing in the kitchen. One of our recipe ideas is stuffed coltsfoot leaves.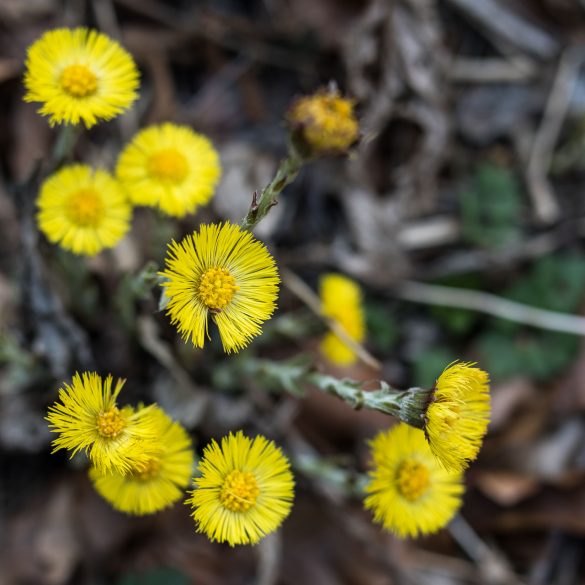 Ingredients
100g ham or bacon (in small cubes)
2 cloves of garlic
1-2 eggs
3 carrots
bread crumbs
salt pepper, nutmeg, thyme
600 ml vegetable broth
1 tbsp starch/flower
olive oil
Instructions
Finely chop the onions and sauté in a little olive oil. If you like it more intense in taste, you can also briefly fry small cubes of bacon or ham.
Finely grate the carrots.
Put the minced meat in a bowl together with the egg(s), two crushed clove of garlic, onions and ham, breadcrumbs, nutmeg, a pinch of thyme, pepper and salt.
Mix well until it becomes a homogeneous mass.
Blanch about 20 palm-sized coltsfoot leaves in water and pat dry.
Form the mass into small rolls and place them on the leaves and roll them up. Then tie with a thread.
Now the small roller shutters can be lightly fried on all sides in a little oil.
Pour in the vegetable broth and simmer, covered, for about half an hour.
Take out the finished rolls.
The remaining liquid can be cooked with a little flour or starch to thicken it into a sauce. You can pour it over your dish before serving.
Potatoes or rice are excellent accompaniments.
Notes
Alternatively, you can make the coltsfoot leaves with a mixture of risotto rice, minced meat, egg, chopped garlic, and onion. Spice with salt, pepper and thyme.
Find some inspiration in other recipes