swe.: Tallblodriska | nor.: Furumatriska | fin.: Männynleppärousku | dt.: Edelreizker, Kiefernreizker | eng.: syn.: Red pine mushroom
"You choose specimens that are not quite big yet, wash them off but don't peel them off or remove the flakes, put them between pea straw and salt and add some water. In this way it lasts for a long time, is taken out for use, washed off and eaten with vinegar and some oil. (Lanz, Othmar H., 1831)" [old German recipe]
Saffron milk caps are the stuff mushroom foragers dreams are made of. They are  traded as some of the best edible mushrooms in Southern European countries. With their reddish milk, their captivating taste and their juicy, firm meat, they are an enrichment for all mushroom enthusiasts.
To some people the orange liquid might seem intimidating. However, it is precisely this red milk that makes the appeal. In addition, it is an unmistakable distinguishing feature: all orange to red milky milk caps are edible.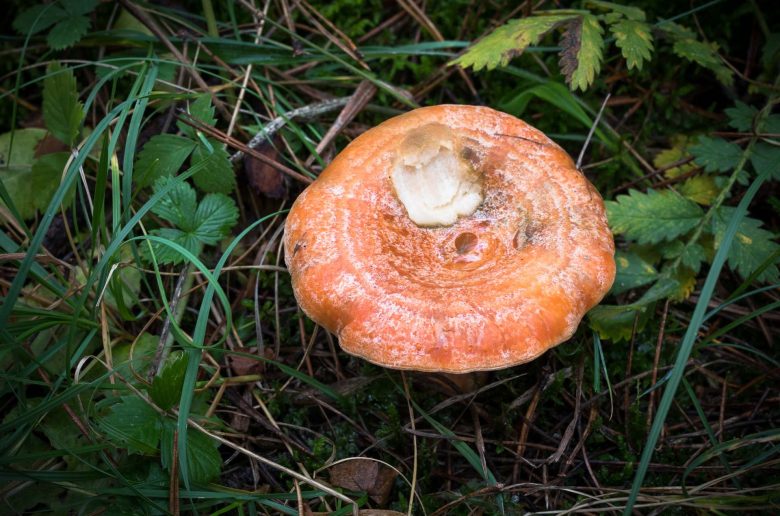 Appearance and habitat of saffron milk cap

diameter: 4 – 10 cm
months: summer til late autumn
colour: reddish, orange with ring-shaped zones
habitat: only in symbiosis with pine trees
characteristic: red milk
Its symbiosis with pines makes the saffron milk caps strictly bound to these trees. The light orange cap is strongly arched in the young stage and has a clearly ring-shaped zoning. These mushrooms grow from summer until late autumn.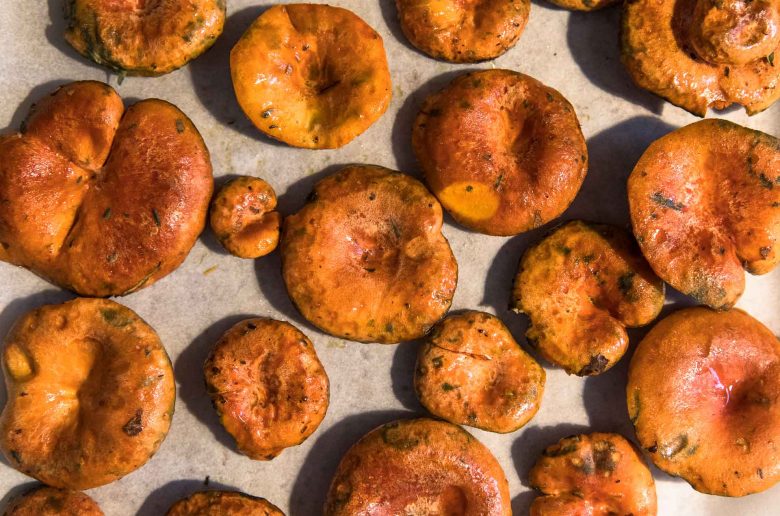 Lookalikes
Different milk caps are often difficult to distinguish from one another. But if you can at least determine the genus of milk caps (Lactarius) properly, the milk-color can be checked at any time. It can be confused with the poisonous birch milkling (Lactarius torminosus). But this one has a very shaggy hat and its milk is white. This doppelganger is very hot in taste.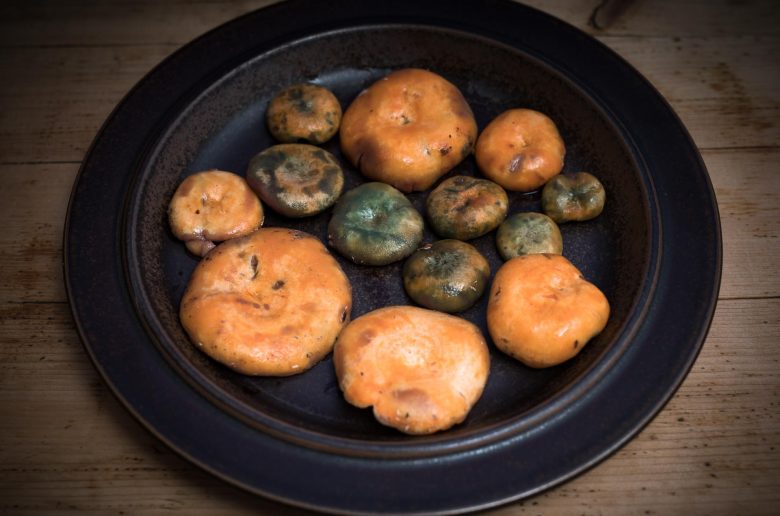 The orange zoning allows saffron milk caps to be distinguished from the other species as Lactarius deterrimus (False saffron milk cap) and Lactarius salmonicolor (Milky agaric). Both of them are excellent edible mushrooms with a little less intensity in taste.
It is easier to confuse it with the also zoned and rare wine-red Bloody milk cap (Lactarius sanguifluus) which is just as delicate in case of doubt.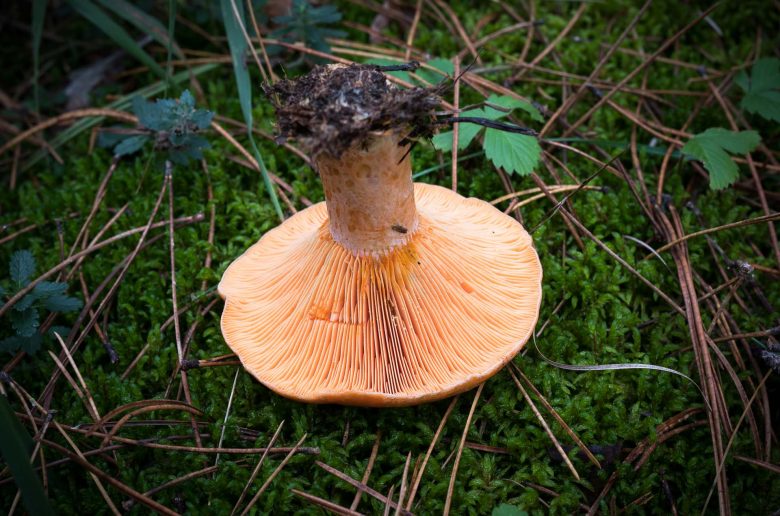 Recipes
In more recent cook books, milk caps are mainly traded as fried mushrooms. Centuries-old recipes, however, refer to a long tradition of different preparation options in different European countries. The quote mentioned at the beginning is just one example of how this mushroom was used in the folk kitchen in the past.
We actually prefer to eat saffron milk caps simply fried or baked in the oven. But that shouldn't detract from the fact that it's also suitable for numerous other types of preparation. The simple recipe described here comes from my mother-in-law.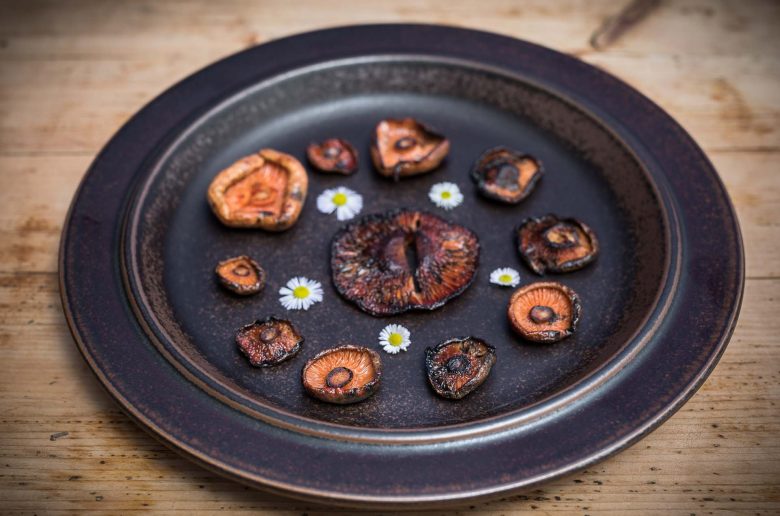 Notes for cooking
Young mushrooms where the cap is still tightly rolled up are particularly suitable for preparation. They have a very firm meat that retains its crunchy consistency even under various preparation methods. Older specimens are often brittle and can be a little crumbly. In terms of taste, these specimens are still very good, but should the choice arise, we recommend that young people take precedence in this case.
Notes on medicinal use
In folk medicine as well as TCM, saffron milk caps are considered medicinal mushrooms due to their ingredients and their high vitamin and mineral content. They should not be cut when collected so that they do not lose their milk and dry out until preparation.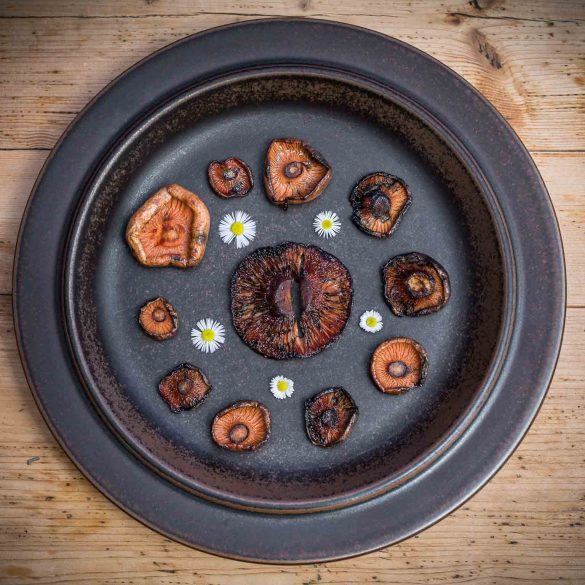 Ingredients
500g fresh saffron milk caps
1 to 2 onions
olive oil
1 teaspoon cumin
salt, pepper
1 teaspoon savory
Instructions
Clean the fresh saffron milk caps until they are ready to cook. rinse with a little water only if necessary.
Finely chop the onion.
Heat the olive oil in a pan and sauté the onion.
Cut the saffron milk caps into strips and add to the onions in the pan.
Add the cumin and salt.
Fry the mushrooms briefly and let them steep in their own juice.
After about 5 minutes add the savory and cook briefly.
Goes very well with a slice of homemade bread.
Notes
This recipe is originally prepared with pork lard. If you like to cook with lard, you should replace the olive oil with it.
We have compiled this overview with the best of knowledge and belief, but do not claim to be complete and reserve the right to make errors.
Learn more about poisonous mushrooms and mushroom poisons here
↓↓↓
Find some inspiration in other mushroom recipes
↓↓↓