swe.: violgubbe | nor.: fiolgubbe | fin.: pölkkysieni | dt.: Schweinsohr, Violetter Leistling]
Pig ears are excellent edible mushrooms that like to grow in calcareous soils and mountainous regions. Unfortunately they are rather rare in Europe. Its violet appearance has also earned it another name – Violet Chanterelle. Despite its similarity, these fungi are not directly related to regular chanterelles (Cantharelus cibarius).
Appearance and habitat of the pig's ear
height: up to 14 cm (usually 3-7 cm)
months: early summer to late autumn
colour: violet, when older brownish
habitat: mixed forest, calcareous soils
characteristic: violet colour, usually in groups
The pig's ear has often a symbiosis with beeches. But it can also be found in coniferous forests esecially near spruce trees. The fungus is very fond of lime and usually grows at higher altitudes. But we have also found pig's ears in the lowlands.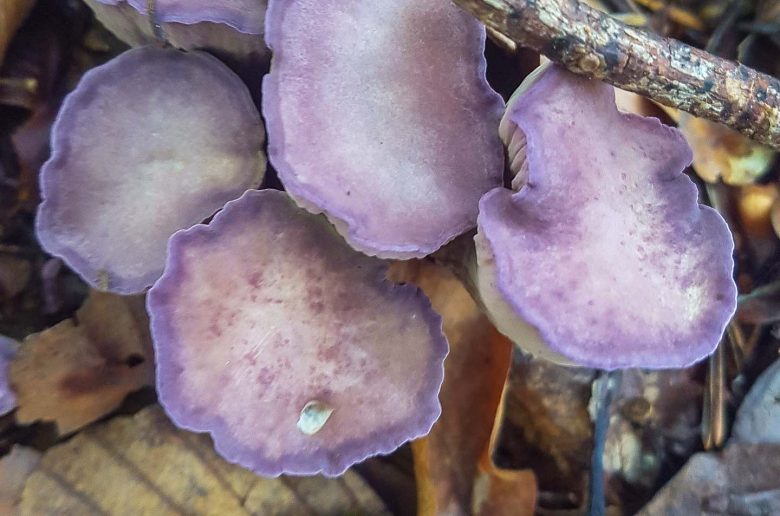 Foraging pig's ears
In Central Europe, the mushrooms are often very rare and protected in many countries. In addition, there is a relatively high radiation exposure from Chernobyl. So find out beforehand whether your region is radioactively contaminated. Some countries offer their own radiation maps in which you can identify affected areas. Depending on the foraging area, the mushroom should possibly only be collected in smaller quantities or not at all. These mushrooms are often infested with parasites and should therefore be carefully inspected for unwelcome residents when collecting.
Look-alikes of pig's ears
The young violet fruiting bodies are not to be confused and have no doppelgangers. With increasing age, however, the mushrooms increasingly lose their color and often turn slightly brownish. Much more caution is required at this stage, but the mushrooms are usually too old to eat anyway. At this stage, some authors mention the Giant club mushroom (Clavariadelphus pistillaris) as a potential possibility of confusion. However, since this mushroom is also edible, there is no danger here.
We have compiled this overview with the best of knowledge and belief, but do not claim to be complete and reserve the right to make errors.
Learn more about poisonous mushrooms and mushroom poisons here
↓↓↓
Pig's ears in the kitchen
Similar to chanterelles, it is best to cut the pig's ear very thinly. In principle, you can use it for all common mushroom dishes such as sauces, goulash or risotto – also as a mixed mushroom. It can also be eaten as an omelet with egg chanterelle-style.
Pickled pig's ears
The firm flesh is good for cooking and frying, it is also excellent as a pickled mushroom. Its lilac violet coloring makes it a beautiful dish to look at despite the great taste.
Drying
Unlike the chanterelles, the pig's ears are well suited for drying.
Find some inspiration in other mushroom recipes
↓↓↓