nor.: Rabarbrasopp | swe.: Rabarbersvamp, Rödgul slemskivling | fin.: Rusakkonuljaska | dt.: Kupferroter Gelbfuß | eng. syn.: brown slimcap
The copper spike or brown slimecap (Chroogomphus rutilus) is a little-known mushroom, but it has excellent eating qualities. The curious thing about this mushroom is that it turns purple when cooked and develops a slightly sweet, perfume-like note, very similar to the Wood blewit (Lepista nuda). For those who like the taste, it is an excellent edible mushroom. We love it.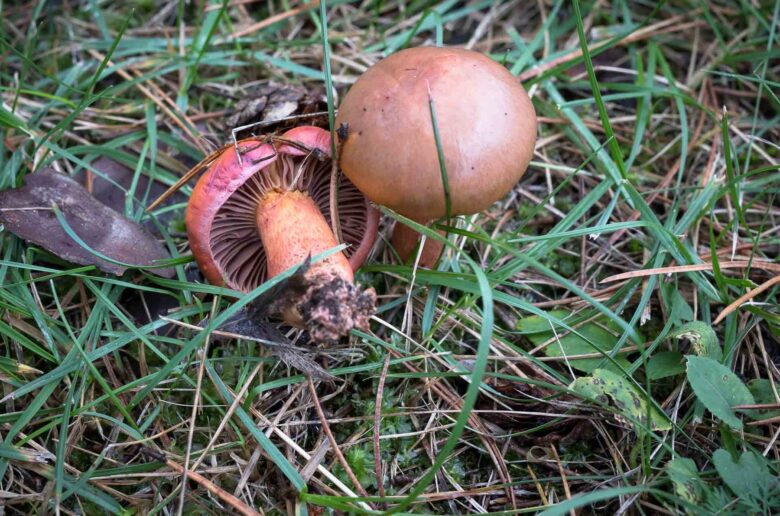 Appearance & habitat of the copper spike (Chroogomphus rutilus)

cap diameter: up to 8cm
height: up to 12cm
months: June – November (Central Europe)
colours: orange brown to grey brown cap, yellow-orange stalk, purpur to yellow orange lamella
habitat: pine trees
odour: neutral
consumption: cooked
Copper spikes are mushrooms with a mild taste and a brown to orange-brown cap that is slimy when moist. Its flesh is yellow-orange and firm, with a reddish tinge when injured. The stem is slender, tapering towards the base, and also turns red when injured. The mushroom has distant, purplish-brown gills that run down the stem. It is commonly found growing under pine trees during the summer and autumn months.
Copper spike is edible and highly recommended for those who enjoy the parfumed taste it develops when cooked. It is also worth noting that Copper spike grows in close proximity to various root truffle species, and is thought to be a parasitic fungus on truffle mycelia.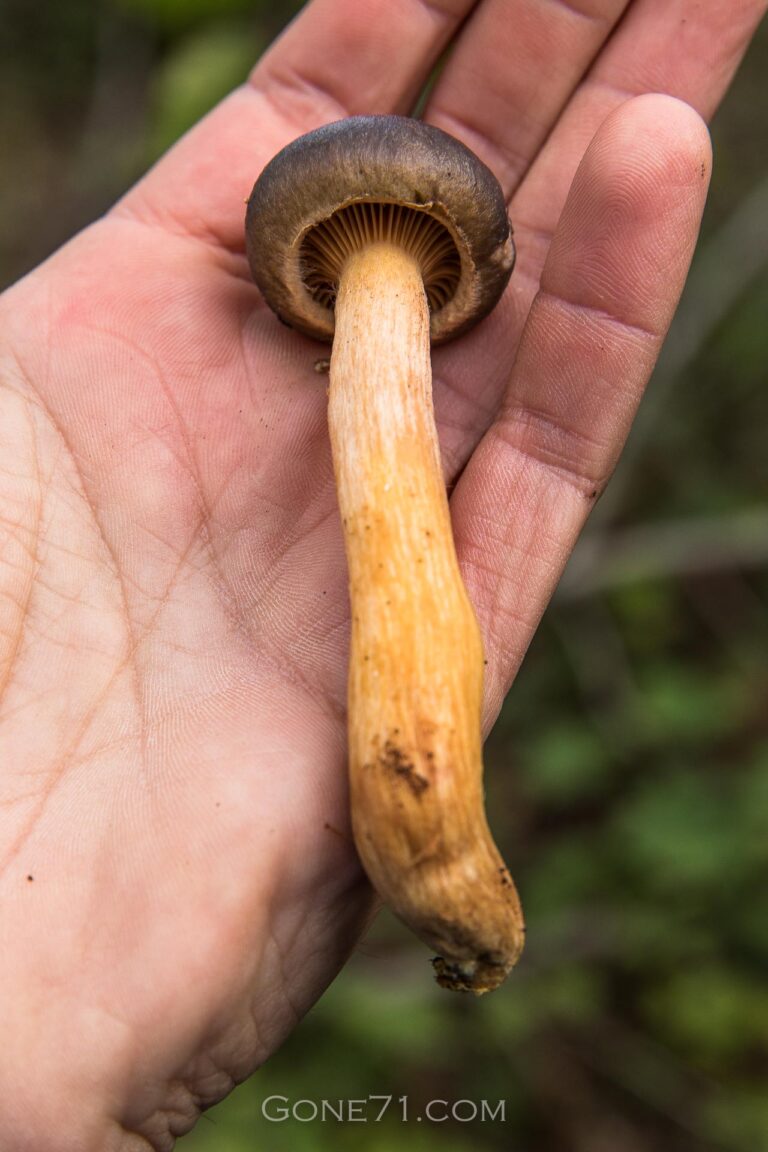 Look-Alikes of the copper spike (Chroogomphus rutilus)

As with almost all mushrooms, there are of course doppelgangers and confusion partners. A very close relative in Central Europe is Chroogomphus helveticus (dt. Filziger Gelbfuß) which, however, usually grows in company of spruce and is just as edible.
A potentially deadly and in any case very dangerous confusion partner is the deadly webcap (Cortinarius rubellus) which can also have many orange-brown shades and is also often found in the company of spruce trees.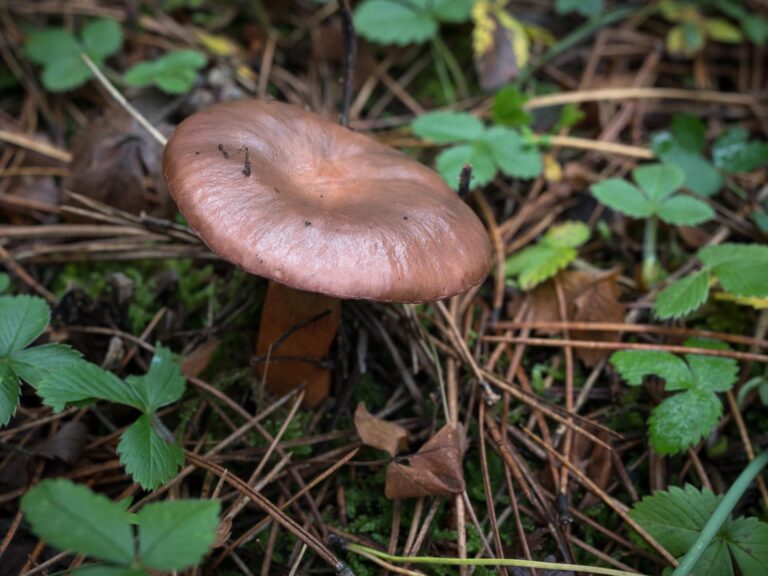 Caution: Mushrooms Are Not Guesswork!
Only harvest mushrooms that you can identify with 100% certainty! The consequences can be life threatening if you are wrong. If you have the slightest doubt: do not eat the mushroom! This is not a mushroom guide! For correct identification consult a mushroom expert.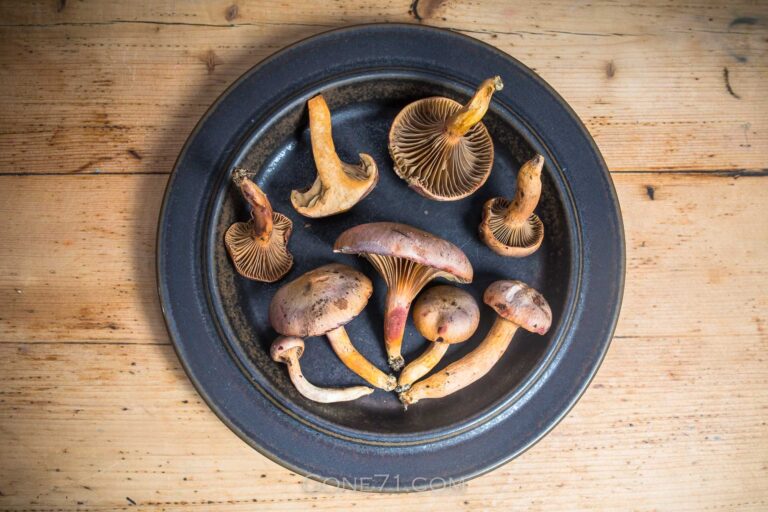 Copper spike (Chroogomphus rutilus) in the kitchen
As already mentioned at the beginning, the rather intense taste of this mushroom is not everyone's cup of tea. We think it is great and anyone who finds this mushroom and can clearly identify it should definitely try it.
One of the most unique features of copper spikes is that they turn violet-brown when cooked. This can make them to a visually pleasing addition to your meal. Their subtle sweet flavor is often described similar to wood blewit but we think it is even more intense and interesting.
Copper spikes can be used in many different ways, including sautéing, roasting, grilling, and even pickling. Since we usually do not find this mushroom in great quantities, we use it often in mixed mushroom dishes.
Copper spike (Chroogomphus rutilus) recipe ideas
Copper Spike Mushroom Risotto – In this classic Italian dish, copper spikes are sautéed with garlic and onions before being added to the risotto. The mushrooms add a rich, meaty flavor to the dish, while the violet-brown color provides a beautiful visual contrast to the creamy rice.

Grilled Copper Spike Mushroom Skewers – Cut copper spikes into bite-sized pieces and thread onto skewers with other vegetables, such as cherry tomatoes and bell peppers. Grill until tender and lightly charred for a delicious and healthy summer meal.

Copper Spike Mushroom and Potato Soup – In this hearty soup, copper spikes are sautéed with onions and garlic before being added to a creamy potato base. The mushrooms add a rich, meaty flavor to the soup, while the violet-brown color makes for an interesting visual contrast.

Pickled Copper Spike Mushrooms – For a unique and flavorful snack or garnish, try pickling copper spike mushrooms. The mushrooms are sautéed before being packed into jars with vinegar, garlic, and herbs. They can be served on their own, or used to add a tangy and flavorful kick to sandwiches and salads.
Ingredients
1 pound of Copper Spike mushrooms, sliced
4 medium-sized potatoes, peeled and chopped
1 large onion, chopped
3 cloves of garlic, minced
4 cups of vegetable or chicken broth
1 cup of heavy cream
2 tablespoons of butter
Salt and pepper to taste
Instructions
In a large soup pot, melt the butter over medium heat. Add the chopped onion and garlic and sauté for about 3-4 minutes, or until the onion becomes translucent.
Add the sliced Copper Spike mushrooms to the pot and sauté for about 5-7 minutes or until they are lightly browned and tender.
Add the chopped potatoes to the pot and stir well to combine with the mushrooms, onion, and garlic.
Pour the vegetable or chicken broth into the pot and bring to a boil. Once boiling, reduce the heat to medium-low and let the soup simmer for about 20-25 minutes or until the potatoes are soft and fully cooked.
Remove the pot from the heat and use an immersion blender or a regular blender to puree the soup until it is smooth. If you do not want to mix the mushrooms into the soup, you can set them aside after sautéing and add them later with the cream.
Add the heavy cream to the pot and stir well. Season the soup with salt and pepper to taste.
Return the pot to the stove and heat the soup over medium-low heat for about 5 minutes, or until it is heated through.
Ladle the soup into bowls and serve hot. Optionally, garnish with additional sauteed Copper Spike mushrooms and a drizzle of olive oil.
We have compiled this overview with the best of knowledge and belief, but do not claim to be complete and reserve the right to make errors.
Learn more about poisonous mushrooms and mushroom poisons here
↓↓↓
Find some inspiration in our illustrations
↓↓↓
Find some inspiration in other mushroom recipes
↓↓↓