nor.: Sleipsopp | swe.: Citronslemskivling, Citrongul slemskivling | fin.: Limanuljaska | dt.: Kuhmaul, Großer Gelbfuß
The spike cap or slimy spike cap (Gomphidius glutinosus) is a good edible mushroom, similar to the copper spike but without the sweet flavour. However, it is best to peel off the cap in the forest, as otherwise black discolouration (oxidation) can occur in the mushroom basket in combination with other mushrooms (e.g. chanterelle). Although not poisonous, it is visually not very appealing.
The characteristic yellow foot and the slimy cap usually make this mushroom easy to identify.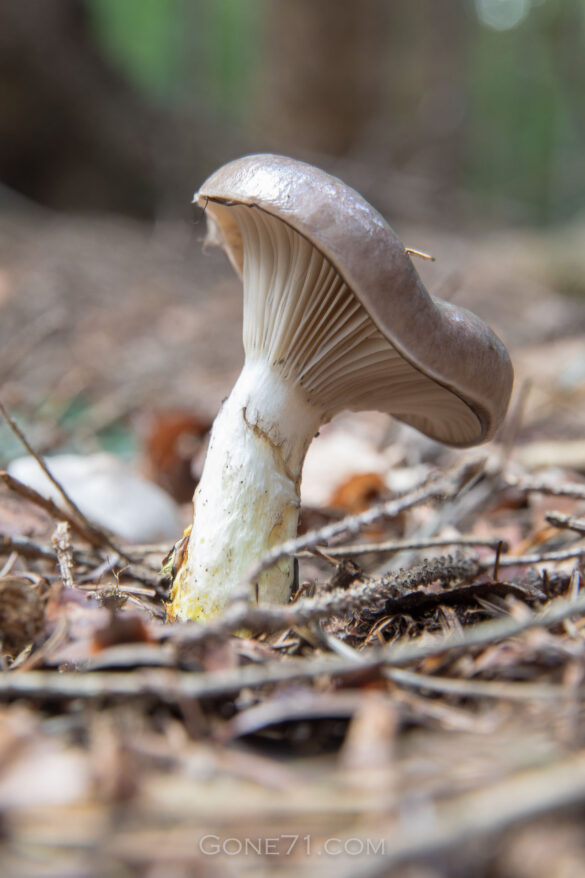 Appearance & habitat of spike cap (Gomphidius glutinosus)

cap diameter: up to 20cm
months: Juni – October (Central Europe)
colours: brown-purple cap, white stalk with intense yellow colour in the base, white flesh
habitat: coniferous forests (spruce)
odour: neutral
consumption: cooked
The Spike Cap (Gomphidius glutinosus), is a mushroom with a mild taste and neutral odor. Its cap can grow up to 20cm in diameter and is slimy, often with black-brown spots. The flesh is white, turning gray with age, and yellow in the stem base. The stem is white with a yellowish tip and very slimy. The thick, waxy, and easily removable gills start off white and mature into gray-brown. This edible mushroom is commonly found in coniferous forests on acidic soil, forming a symbiotic relationship with spruce trees.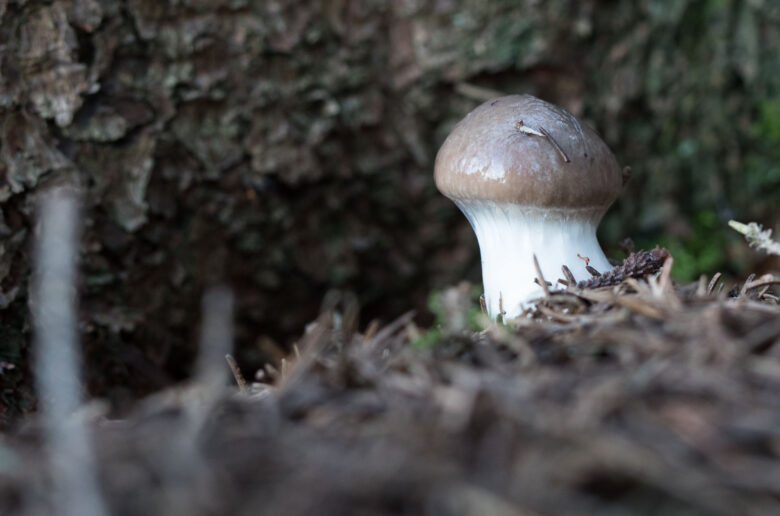 Look-Alikes of spike caps (Gomphidius glutinosus)

With its yellow colouring at the base and its slimy cap, the spike cap is usually an easy fungus to identify. It can be confused with other Gomphidius species (e.g. G. maculatus, G. roseus). The copper spike is also similar in appearance. These mushrooms are all edible.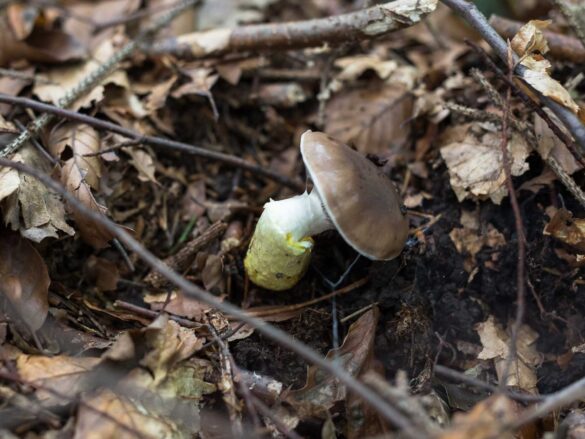 Caution: Mushrooms Are Not Guesswork!
Only harvest mushrooms that you can identify with 100% certainty! The consequences can be life threatening if you are wrong. If you have the slightest doubt: do not eat the mushroom! This is not a mushroom guide! For correct identification consult a mushroom expert.

Spike caps (Gomphidius glutinosus) in the kitchen
Spike caps are not usually collected by many people, which is of course all the better for die-hard foragers because no one else will take them. They are actually very good mushrooms with a meety texture and a mild taste.
When collecting spike caps, it is advisable to peel off the slimy cap to prevent neighbouring mushrooms (e.g. chanterelles) in the basket from turning black due to oxidation.
Spike caps (Gomphidius glutinosus) recipe ideas
Sautéed Mushroom Side Dish: Sauté spike caps in butter with shallots and garlic until they're tender and golden brown. Serve as a side dish with roasted meats, vegetables, or pasta.

Mushroom Risotto: Use sautéed spike caps in place of or in addition to other mushrooms in a classic risotto recipe. The earthy, meaty flavor of the mushroom pairs well with the creamy, cheesy rice.

Mushroom Gravy: Make a rich and flavorful gravy by sautéing chopped spike caps with onions and garlic, then adding flour and stock to thicken. Serve with mashed potatoes, roasted meats, or vegetables.

Mushroom Pasta: Toss cooked pasta with sautéed spike caps, garlic, olive oil, and parmesan cheese for a quick and easy weeknight dinner.

Mushroom and Potato Casserole: Layer sliced potatoes, sautéed spike caps, onions, and cheese in a baking dish, then bake until bubbly and golden brown.

Mushroom Omelet: Add sautéed spike caps to your favorite omelet recipe, along with cheese and herbs for a hearty and filling breakfast.

Mushroom and Cheese Tart: Top a puff pastry crust with sautéed spike caps, caramelized onions, and grated cheese, then bake until crispy and golden brown.

Mushroom and Goat Cheese Crostini: Top slices of toasted baguette with sautéed spike caps, crumbled goat cheese, and a drizzle of balsamic glaze for an elegant and flavorful appetizer.
Ingredients
1 baguette, sliced into thin rounds
1/2 pound spike cap mushrooms, cleaned and sliced
2 cloves garlic, minced
2 tablespoons olive oil
Salt and pepper to taste
4 ounces goat cheese, crumbled
Balsamic glaze for drizzling
Fresh parsley for garnish
Instructions
Preheat the oven to 375°F. Place the baguette slices on a baking sheet and brush with olive oil. Bake for 8-10 minutes or until golden brown and crispy.
In a large skillet, heat the olive oil over medium-high heat. Add the garlic and sauté for 1 minute until fragrant.
Add the sliced spike cap mushrooms to the skillet and sauté for 5-7 minutes until they are tender and slightly browned. Season with salt and pepper to taste.
Top each crostini with a spoonful of the sautéed mushrooms and a sprinkle of crumbled goat cheese.
Drizzle each crostini with balsamic glaze.
Garnish with fresh parsley and serve immediately.
We have compiled this overview with the best of knowledge and belief, but do not claim to be complete and reserve the right to make errors.
Learn more about poisonous mushrooms and mushroom poisons here
↓↓↓
Find some inspiration in our illustrations
↓↓↓
Find some inspiration in other mushroom recipes
↓↓↓