swe.: Tegelsopp | nor.: Rødskrubb | fin.: Koivunpunikkitatti | dt.: Birkenrotkappe, Rotkappe
Orange boletes were anchored in the minds of several generations by the children's book author Otfried Preussler (The Robber Hotzenplotz) as a particularly tasty dish. A good choice in our opinion!
Orange birch boletes can be recognized very well by the black-grey scales on the otherwise whitish stem and the brown-red cap. Older specimens often have a cap diameter of 20 cm, in rare cases even 30 cm. However, the white, firm flesh of young mushrooms becomes softer with age, which means that large specimens are usually no longer suitable for consumption.
height: 15 – 25 cm
cap diameter: 10 – 30 cm
trunk diameter: 1 – 3,5 cm
months: June – October
colours: orange cap | white-grey trunk (black scales)
habitat: birch forest, mixed forest
smell: mild, pleasant
consumption: cooked
Appearance & habitat of orange birch bolete

As the name indicates the orange birch bolete is a close relative to the brown birch bolete featuring an orange cap. There are several different species in the Leccinum family like the also very common orange oak bolete (Leccinum quercinum). Orange boletes are considered tastier than their brown relatives.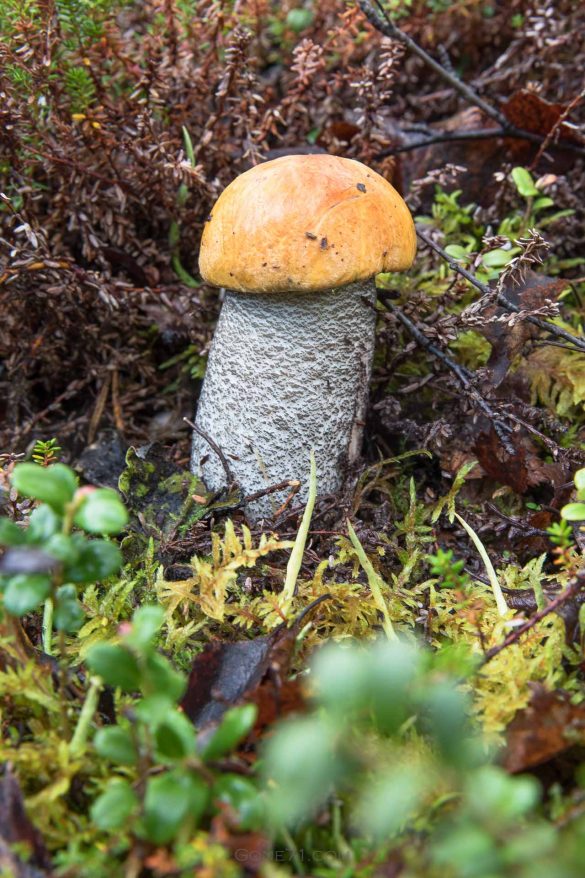 Appearance
The mushroom features a firm stem with characteristic black scales. The pores are greyish in younger specimen but grow lighter when older. The caps can grow up to 30 cm in diameter with the biggest specimens being also the most bleach ones.
The mushroom turns black upon cooking and is considered slightly toxic if consumed raw so proper cooking (15 minutes plus) is required. However, they make for a tasty meal and since they are so common they make for some of the most important mushrooms for foraging in the northern countries. They are very mild in taste and can be used along with other mushrooms like chantarelles in sauces, soups or fried.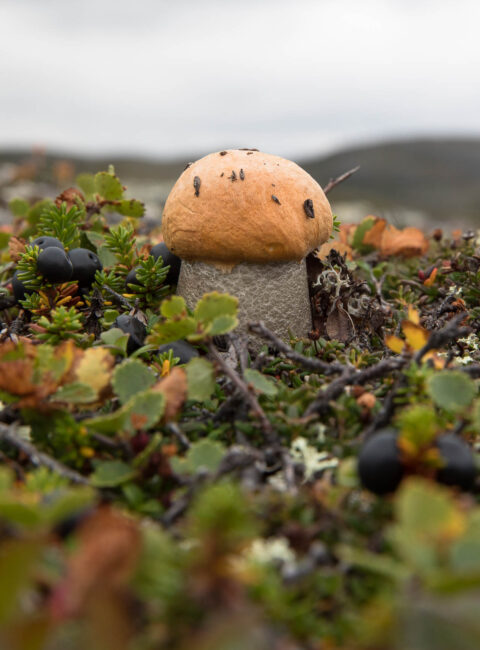 Orange birch bolete in Scandinavia
This fungus is particularly common in Northern Europe and Scandinavia. So if you have no luck in your home forest, you should pay more attention to this during your next stay in Scandinavia.
Types of orange boletes
Oak bolete (Leccinum quercinum): stalk scales reddish, reddish brown, flesh: white, turning pink-grey-violet when cut. (Oaks, rarely beeches and other deciduous trees). In appearance very similar to the Red-capped scaber stalk and often described as the same species.
Red-capped scaber stalk (Leccinum aurantiacum): scales on stalks orange-brown, flesh: white, turning grey-purple to grey-black when cut. (aspens, poplars)
Orange spruce bolete (Leccinum piceinum): stalk scales black | Flesh: White, turning bluish-purple when cut. (spruce, blueberries)
Foxy bolete (Leccinum vulpinum): stalk scales reddish brown, flesh: turning pink to brown when cut. (pines, pines)
Orange birch bolete (Leccinum versipelle): scales on stalk are grey or black | white flesh turning black when cut. probably the most common orange bolete, especially in Scandinavia.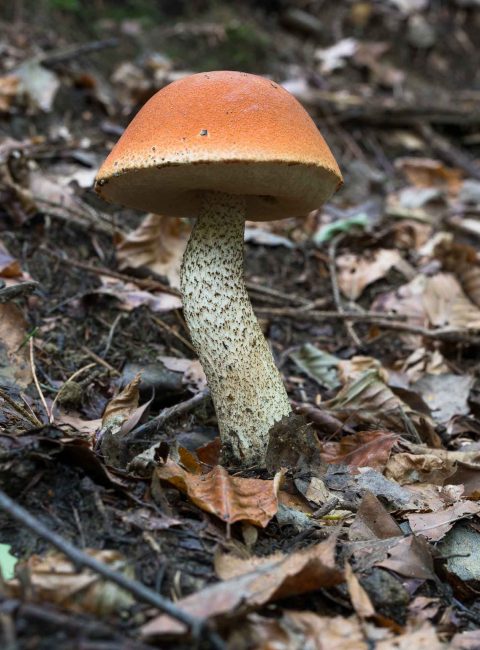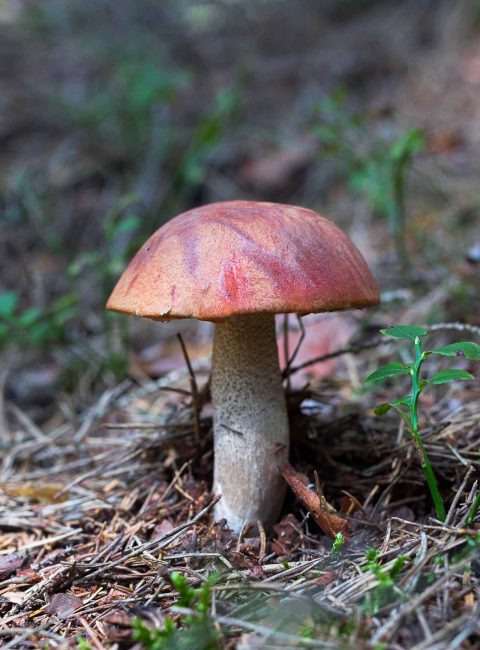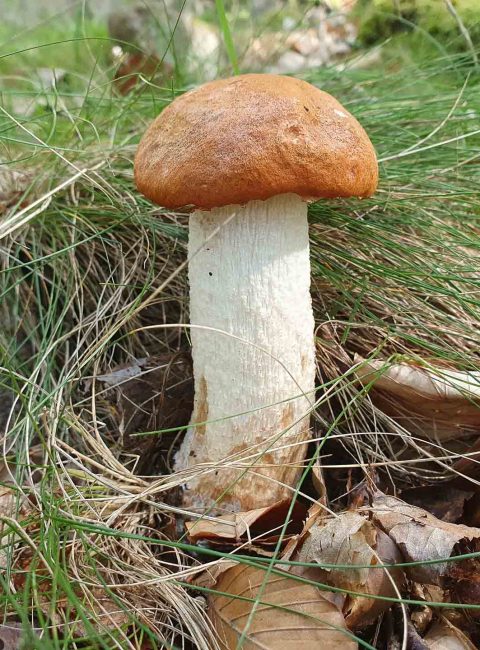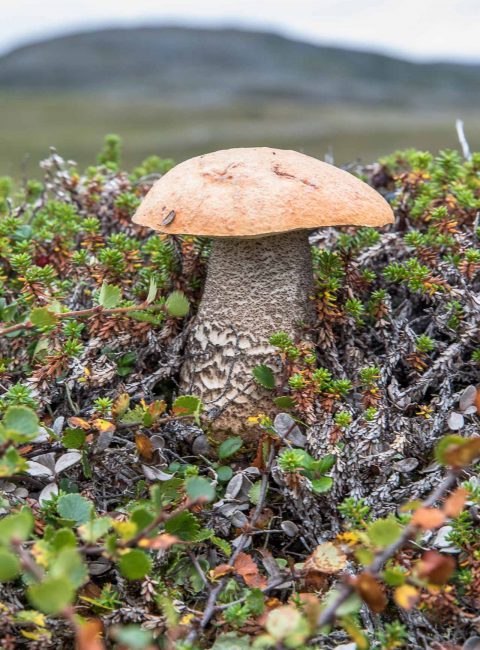 The different types of orange boletes are considered equal in taste. Depending on where you live in the world, one or the other species might be dominant.
As the name suggests, these are species whose symbiotic partnerships are attributed to different trees. Visually, the species differ quite a bit from each other and individual specimens are best identified by the color of the scales and the overall appearance.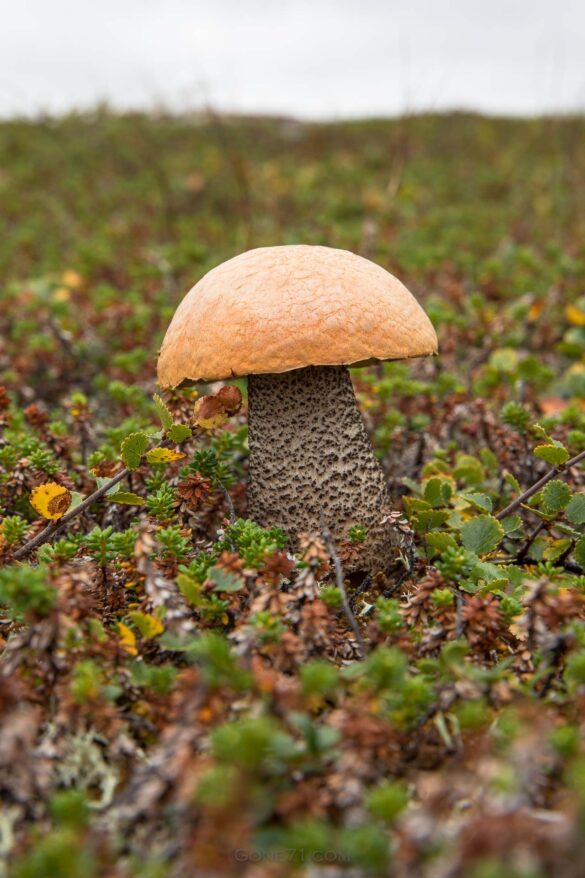 Lookalikes
Orange birch boletes are easily identifiable fungi that are most likely to be confused with other orange boletes (edible) or scabber stalks such as the common birch bolete (Leccinum scabrum).
Very similar species to the orange birch bolete that differ slightly in appearance and usually form a symbiosis with different types of trees like, spruce, oak or aspen are: Leccinum piceinum, Leccinum vulpinum, Leccinum quercinum and Leccinum aurantiacum. They are all edibel and equal in taste.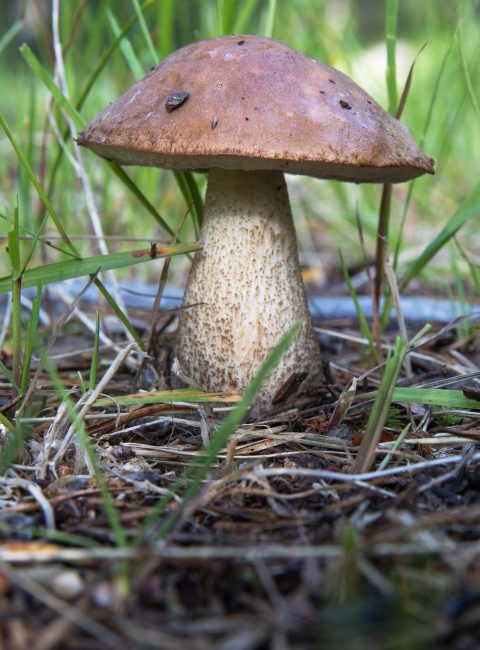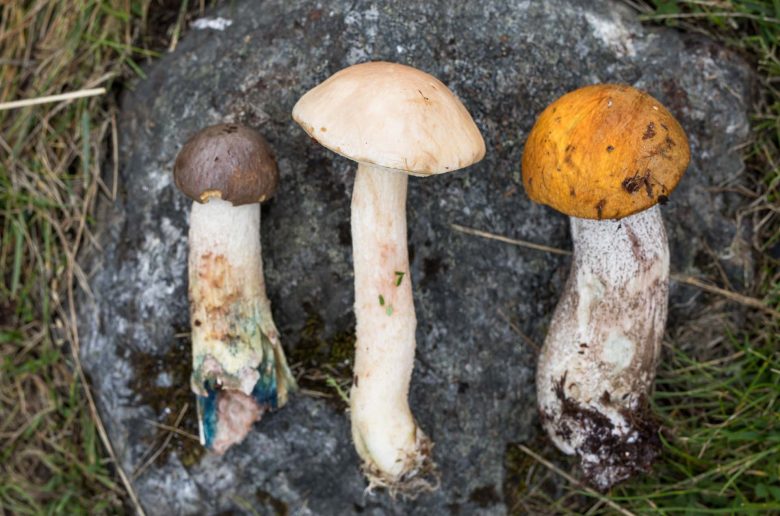 Orange boletes in the kitchen
Their firm consistency and mild flavor make them an excellent mushroom to use in the kitchen. We love them fried, but their firm flesh is also great in soups or sauces.
If you are cooking orange boletes for the first time, don't be alarmed if the fresh mushrooms in the pot or pan suddenly turn dark – orange birch boletes turn black while cooking. However, this does not affect the taste. Like all mushrooms from the genus Leccinum they are not suitable for consumption raw and are slightly poisonous. Many mushroom books give a minimum cooking time of 15 minutes.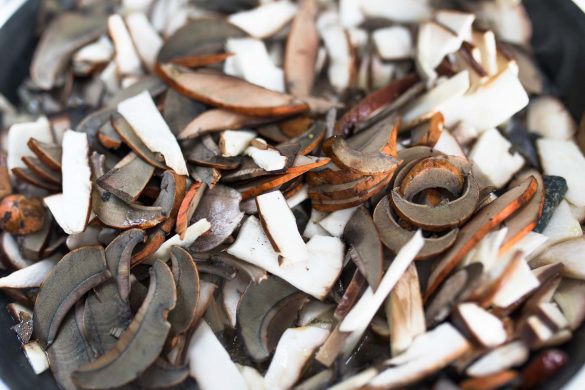 Since boletus species tend to form slime when they come into contact with water, water should not be used when cleaning orange boletes. Dirt can be wiped off with a brush. Bigger areas can be rubbed off with a cloth or scraped off with a knife. We only use young specimens for kitchen use, which have a firmer flesh after cooking.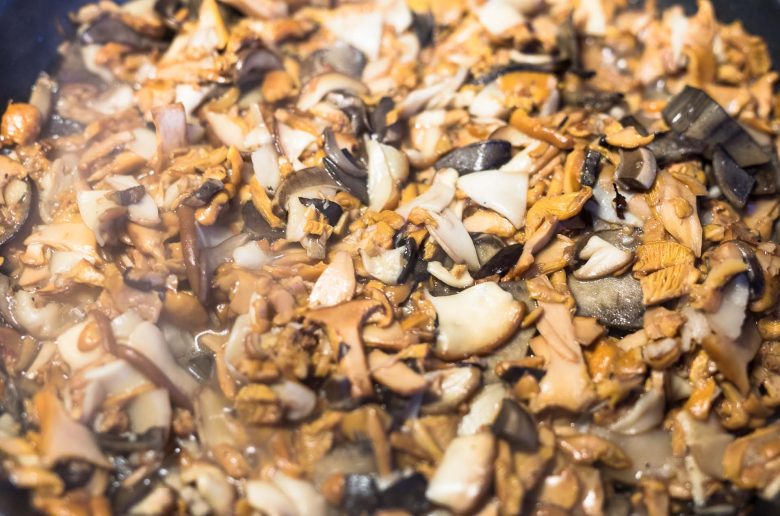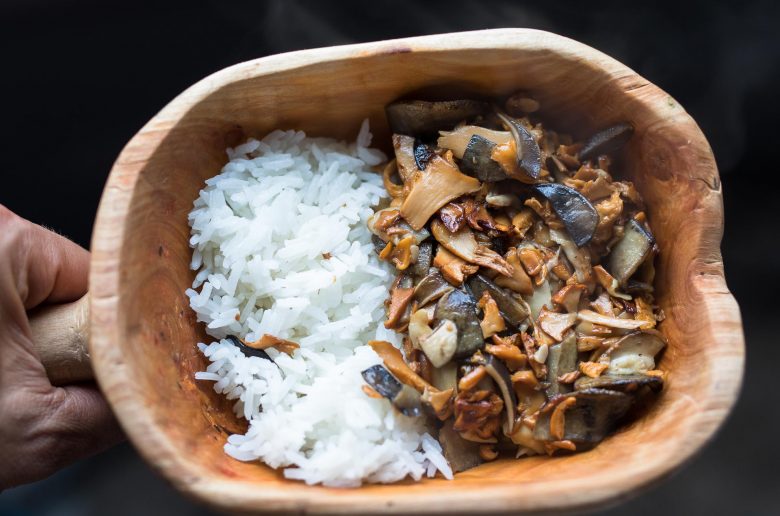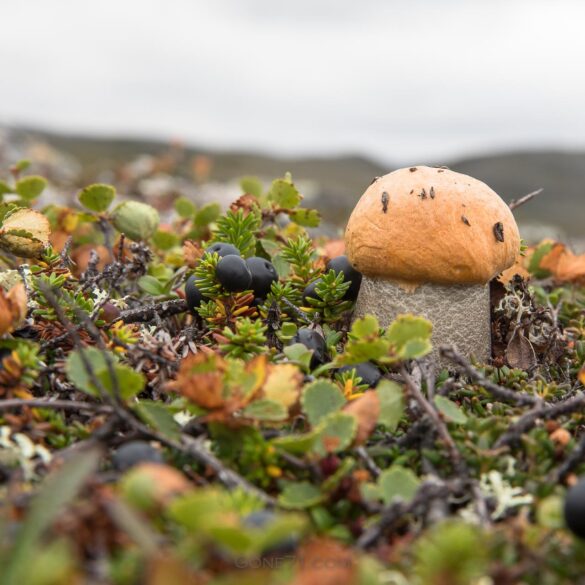 Ingredients
500g mixed mushrooms (Orange birch boletes, porcini, chanterelle...)
olive oil
salt pepper
300g rice
Instructions
Orange birch boletes are great in mixed mushroom dishes.
For our purposes we use porcini mushrooms, chanterelles and orange birch boletes. But you can also safely mix other mushrooms in with it.
As a recipe, this dish is a bit spartan, but we prepared it directly in nature on one of our outdoor adventures and it tastes great.
Clean the mushrooms with a knife. Do not use water or the orange birch boletes and porcini will become slimy.
Cut all mushrooms into thin slices.
Fry in a pan with some olive oil.
Do not salt the mushrooms right at the beginning, otherwise they will lose all their water and there may be too much liquid in the pan.
Cook the mushrooms for at least 15 minutes.
Salt and pepper the mushrooms to taste towards the end.
Serve the mushrooms with rice, a slice of fresh bread, or whatever else you have available.
Notes
All mushrooms from the Leccinum family are edible and many are appreciated in kitchens throughout Europe. However, newer studies suggest that they should be cooked/heated for at least 15 minutes or otherwise raw consumption can lead to (severe) digestion problems and nausea.
We have compiled this overview with the best of knowledge and belief, but do not claim to be complete and reserve the right to make errors.
Learn more about poisonous mushrooms and mushroom poisons here
↓↓↓
Find some inspiration in other mushroom recipes
↓↓↓