syn.: common hop | swe.: humle | nor.: humle | fin.: humala | ger.: Wilder Hopfen
Hop is an extremely versatile plant. As a component of beer, we probably all consumed it. Few people know, however, that certain parts of the plant can also be used excellently in the kitchen – the hop shoots.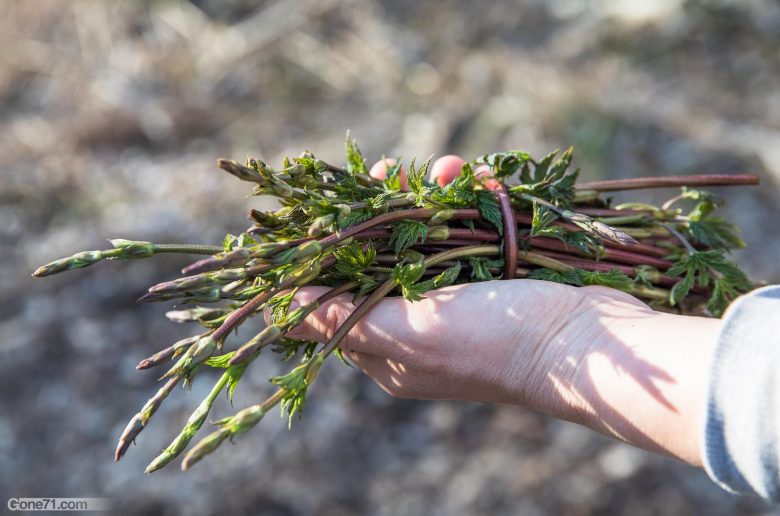 How to find hop shoots
Hop shoots are the young shoots of the plant that thrive in spring, especially in riparian forests. The hops often create a real jungle feeling and in certain areas they overgrow everything that gets in their way. When it has spread there is no getting through during summer months. In the winter, the thin brown tendrils of the plant remain, on which the new hop shoots climb up again in spring. This also makes identification easy, as you can simply use the old plant remains as a guide and look for young shoots close to the ground during springtime. The thin shoots have fine hairs with which they can anchor themselves very well. If you want to catch them young you have to hurry though as they grow around 10cm a day.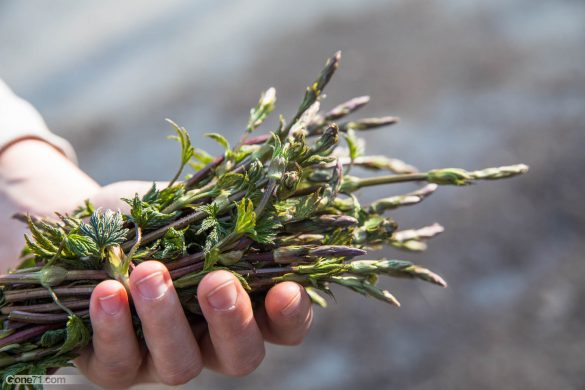 Foraging hop shoots
In contrast to beer, where the fruits of the female plants are used for flavouring and preparation, the tips of the young shoots are harvested for eating. To do this, cut them off in a length of 15 to 20 centimeters. In most cases, wild hops grows in big numbes at certain localities, which usually makes it easy to collect larger quantities. The hop shoots look very similar to asparagus, but are much thinner and occasionally have small leaves. The plant belongs to the same family as hemp (Cannabaceae).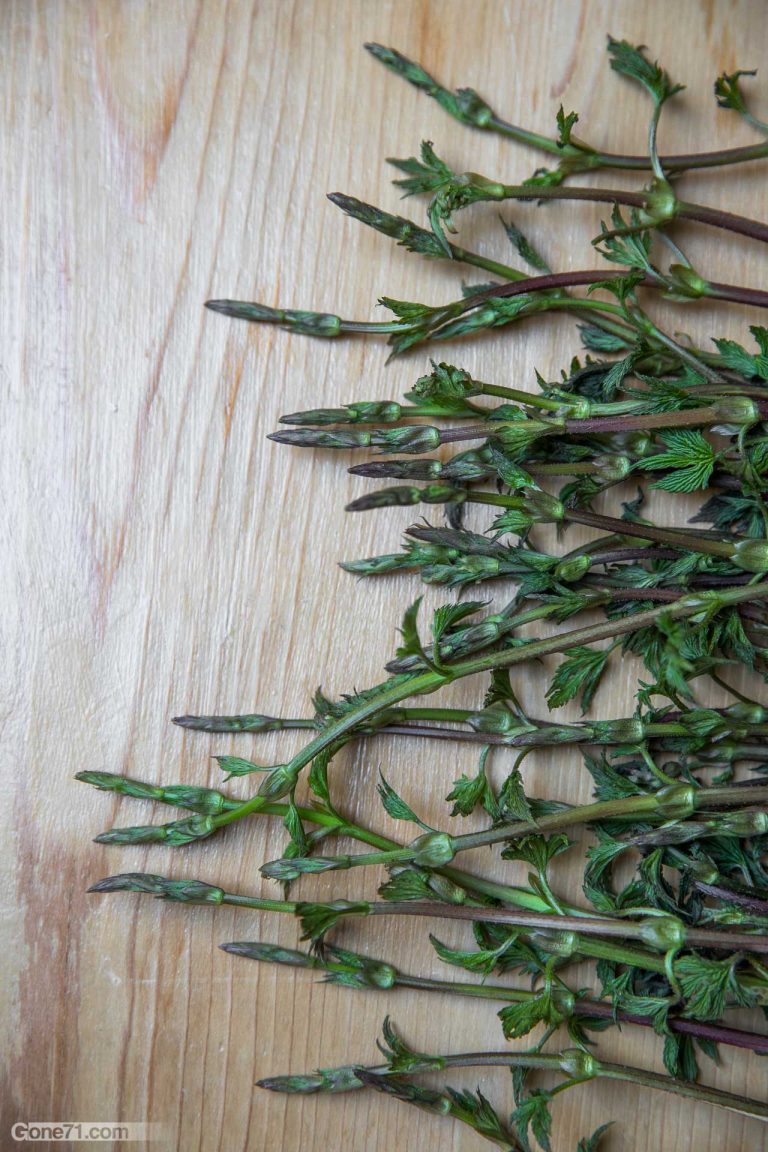 Hop Shoots in the kitchen
The classic preparation of this wild delicacy is fried, steamed or briefly boiled in salted water. If the sprouts are already fully grown and no longer quite tender, we recommend preparing them in salt water. If you find larger quantities, you can also prepare them wonderfully as a main course. But classic dishes are spaghetti with hop shoots, fried with eggs, as risotto or together with fried potatoes to name a few. They also taste great in spring- and vegetable soups.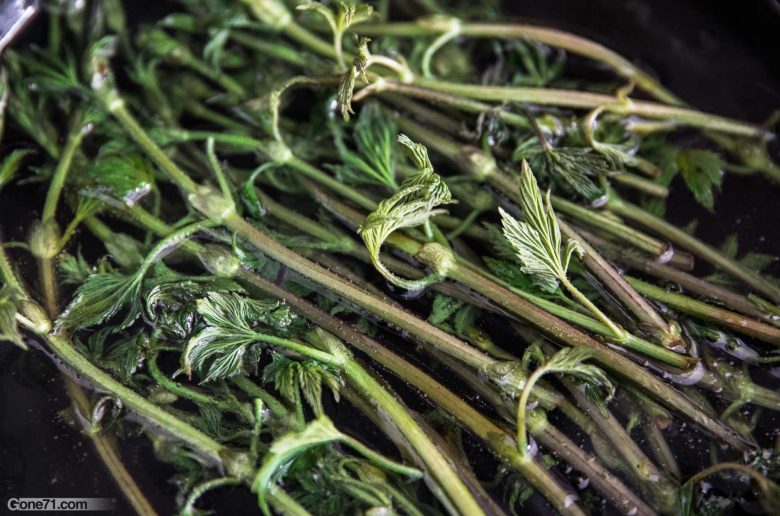 Pickled hop shoots
You can also pickle hop shoots in vinegar and/or oil. So if you don't know where to put your delicious find, you can save a good portion for lean times. Like other vegetables, the shoots can be preserved in a mixture of water and (apple) vinegar in a mason jar. To do this, briefly boil the brine in a ratio of 1:1 (water/vinegar) and, depending on your preference, add some sugar or salt and other spices such as turmeric. The sprouts are filled into the glasses and poured over with the hot brine up to the rim of the glass. Seal the jars tightly and leave to cool. Then store in a cool, dark place.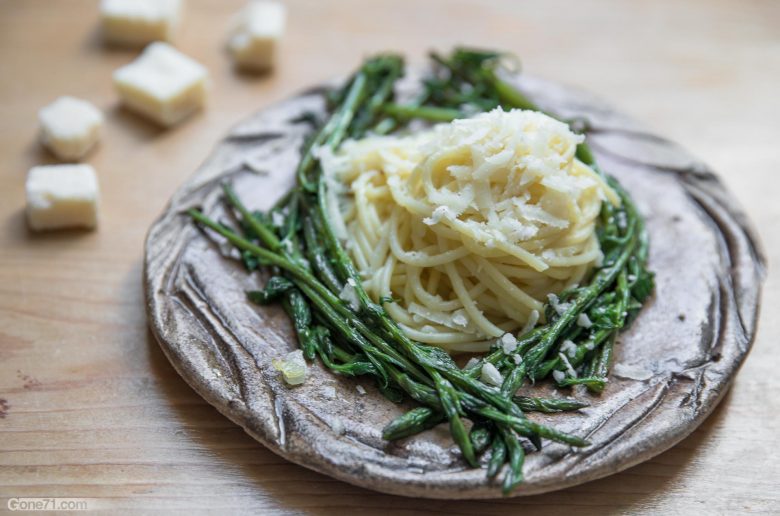 Another excellent preparation method is the combination with pasta, preferably tagliatelle or spaghetti. For this recipe simply cook the pasta in salted water al dente. About 4 minutes before the end of the cooking time, we add the hop shoots to the pasta and cook them together until the end. Drain well and stir through. Toss the mixture in a little olive oil and serve with plenty of parmesan. If you like, you can also cook the hop shoots separately in salt water or, in the case of very tender specimens, simply fry them briefly and then mix them with the pasta afterwards.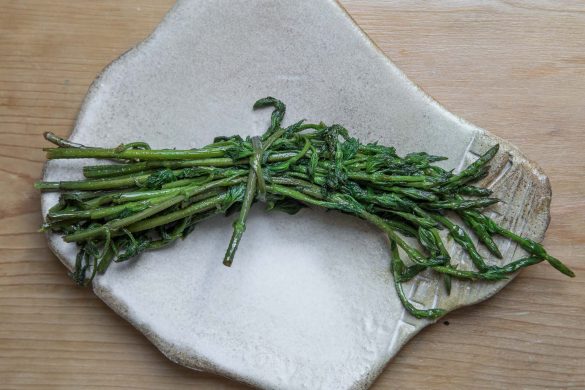 Hop shoots with fried potatoes
We find hop shoots together with fried potatoes and parmesan particularly delicious.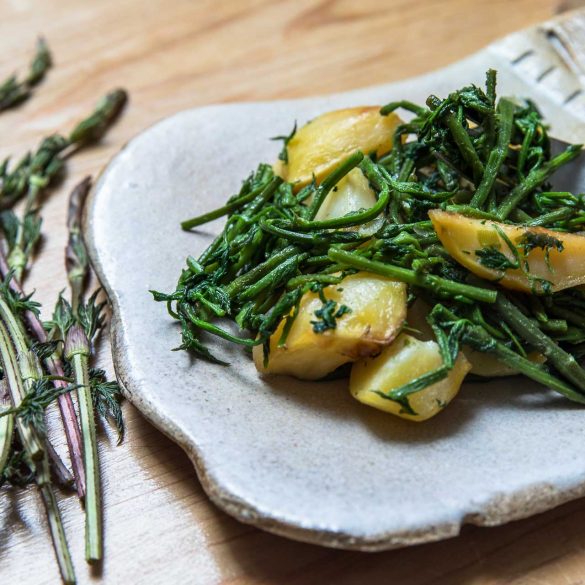 Ingredients
300g hop shoots
300g potatoes
1-2 onion
olive oil
salt, pepper
Instructions
Boil the potatoes.
Let cool and peel.
Then cut into quarters or smaller cubes, depending on size.
Peel and chop the onion and sauté briefly in olive oil (frying oil).
Add the hop shoots and some salt and fry together for about 5 minutes.
The potatoes can be fried in a separate pan at the same time.
Alternatively, set the fried onion and hop shoots aside in a bowl and fry the potatoes until crispy.
At the end, mix everything well in a pan, season with salt and pepper and sprinkle with Parmesan or feta cheese.
Can also be served very well with a fried egg.
Find some inspiration in other mushroom recipes
↓↓↓