The Scandinavian countries are a true playground for outdoor enthusiasts. Beautiful nature, paired with a myriad of opportunities to realize. In this article, we've rounded up a few favorite (bushcraft) activities that keep us busy on our trips up North (and beyond). "Bushcraft" is just a word that is often used nowadays to describe activities that people who are enthusiastic about the outdoors have always practiced anyway. It doesn't matter whether it's about looking for food, preparing it at the campfire, doing handicrafts or just finding a suitable shelter for the night – in the far north there is something for everyone.
#1 be creative
Our biggest advice is to be creative and flexible in everything you do. Use what you have and make the best of it. We especially like breathing new life into old things that have been left somewhere in the wilderness or someone has lost. It's also a great way to get new tools and things that you wouldn't normally count as part of your gear. From our point of view, THink outside the box is probably the most important approach when it comes to personal adventures in nature. This also applies to all life situations.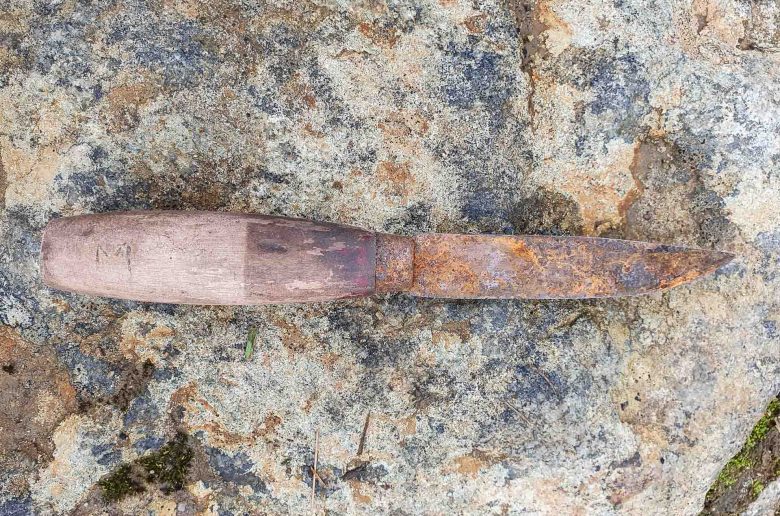 We found this old original Mora knife in the picture in an abandoned boat bay in northern Sweden at Torneträsk. Of course, half buried and rotten, it takes a certain vision to see any value in it. But with a little affection and skill, a great carving knife could be restored relatively quickly, which has already served well in many other projects. All it took was sandpaper, time and a little patience.
We then used it to carve a suitable case out of a piece of driftwood. Of course you can make it much easier for yourself and buy a great knife. But it's never quite the same. Anyone who knows the traditional Swedish knife brand Mora knows that they stand for good traditional knife quality and that our find, for example, has been produced in this form for over 100 years. The initially inconspicuous rusty relic also has its own history, which we have researched with excitement.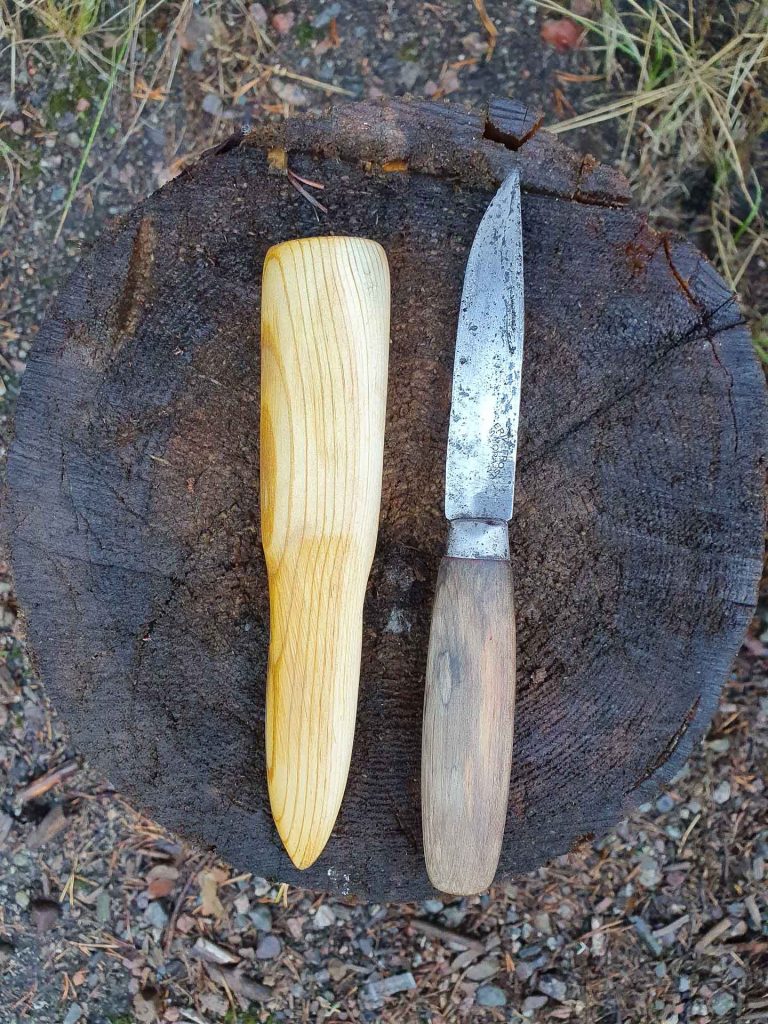 In another project we stumbled across an old drift hammer that begged us to give it a new usecase. Of course we complied with this request right away, so far we have only abused the back of our ax for hammering anyway. A new handle was carved on a campfire evening from a piece of birch firewood, an ax and the mora knife just described. It took a bit more time to polish the hammer head with sandpaper, we didn't have any other technical aids. But that too could be done and now we already have a knife and a hammer…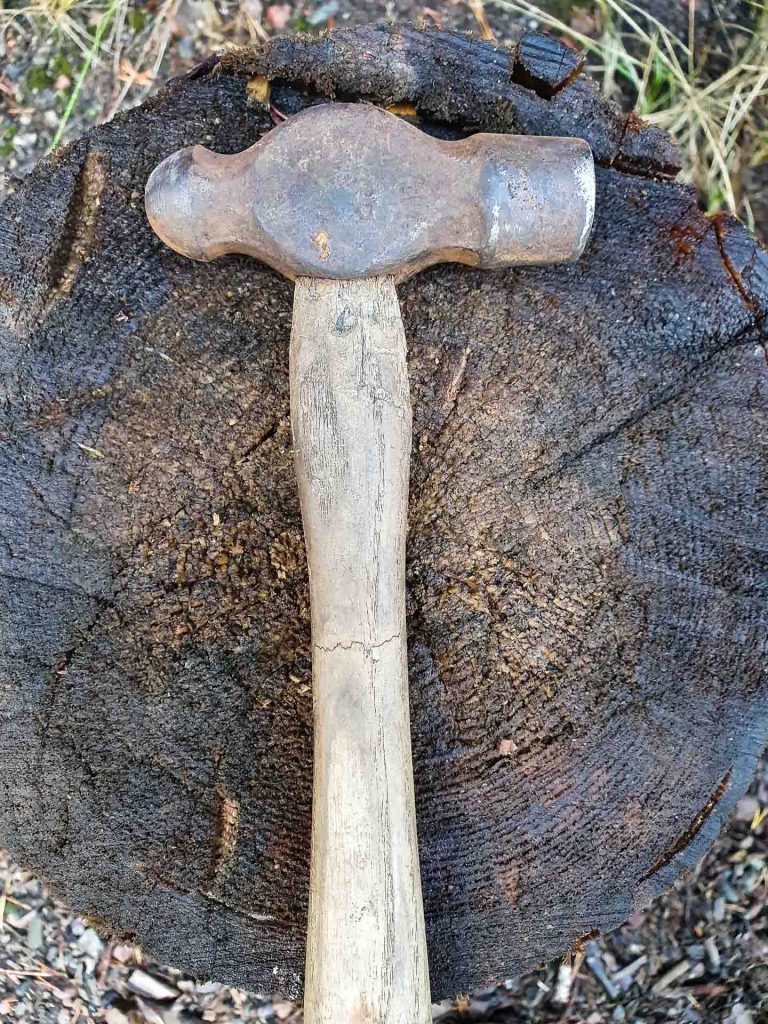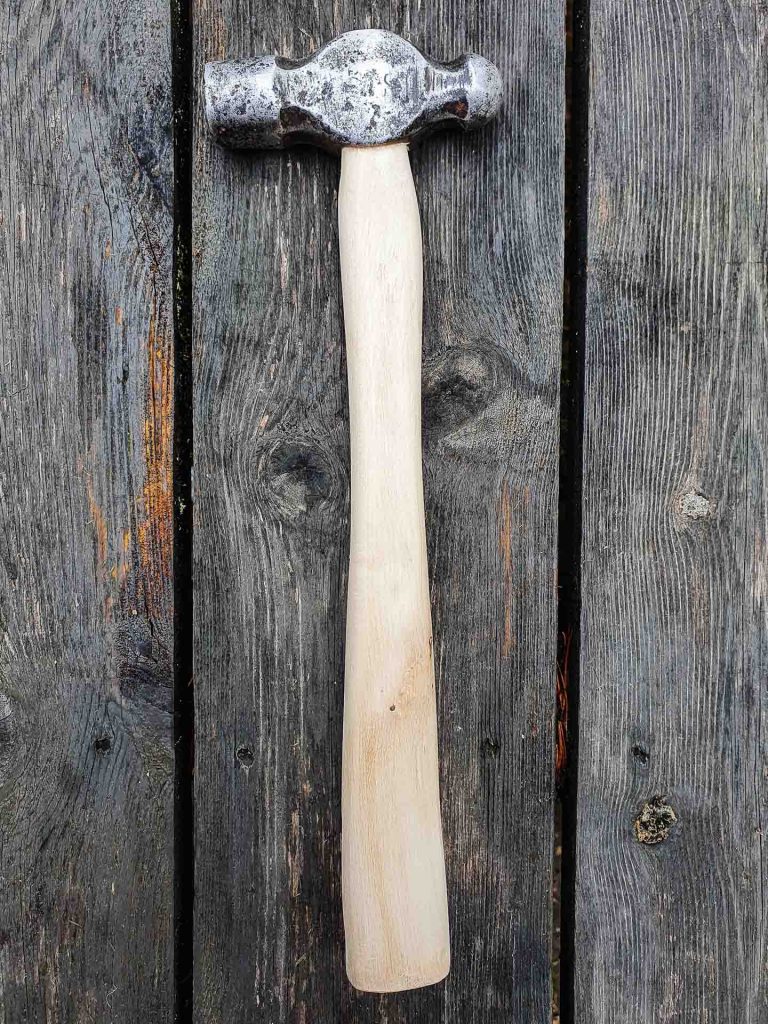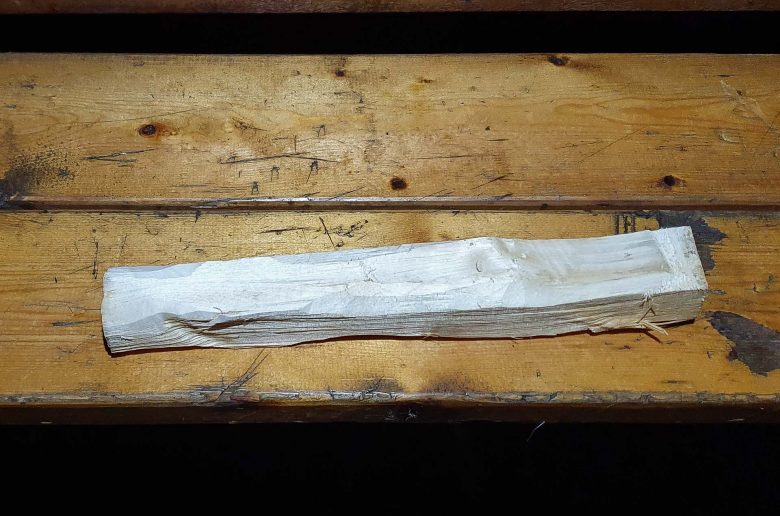 or many, of course, all of this may seem like a ridiculous waste of time, but everyone can decide for themselves which things they consider exciting and worthy of their time. The most important thing is that you have a certain vision.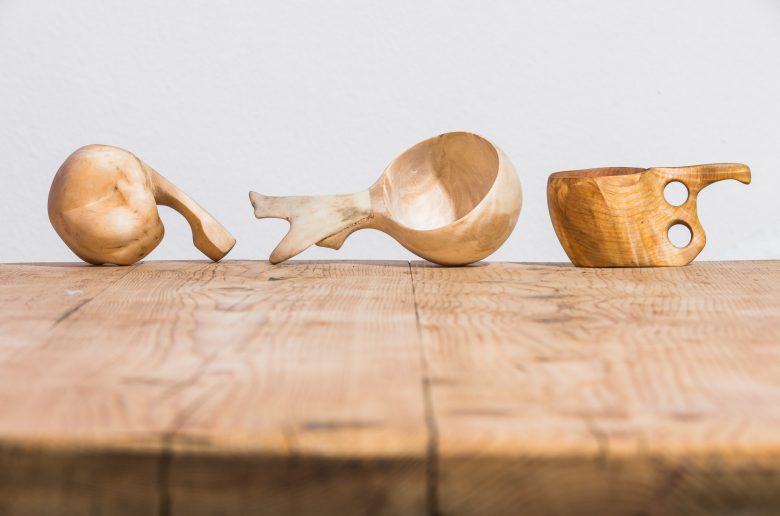 This brings us to perhaps the pinnacle of bushcraft carving – the kuksa. A kuksa is a wooden drinking cup traditionally made from a single piece of birch burl wood. For some, it is also considered an introduction to the high circles of bushcrafting, to make your own individually stylized traditional drinking vessel.
Manufacturing an original kuksa according to traditional standards is also a very demanding undertaking that often fails because of finding a suitable piece of wood for it. Birch burl wood is rare and you can count yourself lucky to find a suitable piece. You also have to keep in mind that in most cases you can't just go into the forest with a saw and start sawing on a tree. Luckily, you can also make great wooden drinking vessels out of whatever lumber you happen to have available. It doesn't have to be burl wood either.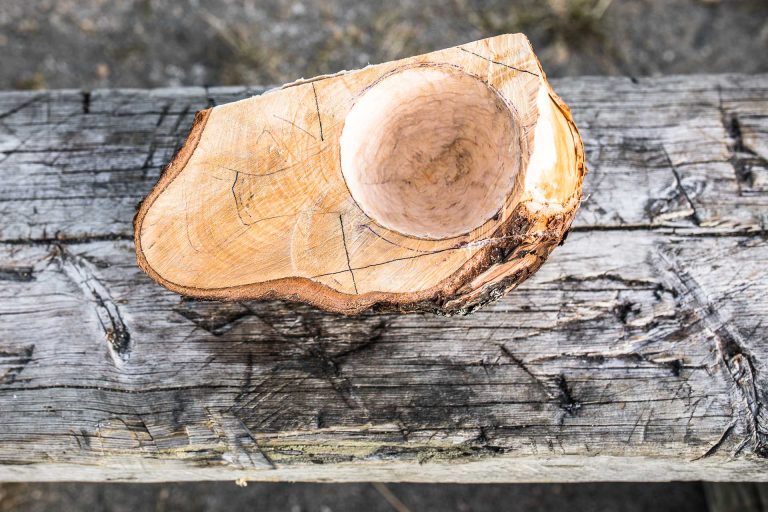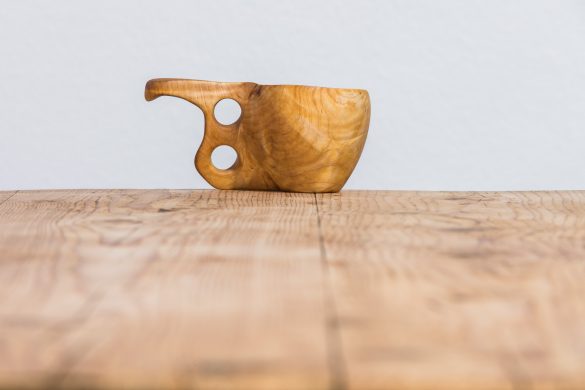 It is important to note that some types of wood are extremely hard and almost impossible to work with by hand. Others, on the other hand, are so soft that they are not as durable and break more quickly. For this reason, birch wood is a traditionally very popular wood for the production of such vessels, as it can be worked well by hand on the one hand, and on the other hand it is hard enough to withstand outdoor use.
Kuksas are one of the most iconic symbols in Scandinavia, especially in Lapland. Needless to say, carving your own kuksa while traveling through the northern lands is a great way to get a little closer to this region and culture.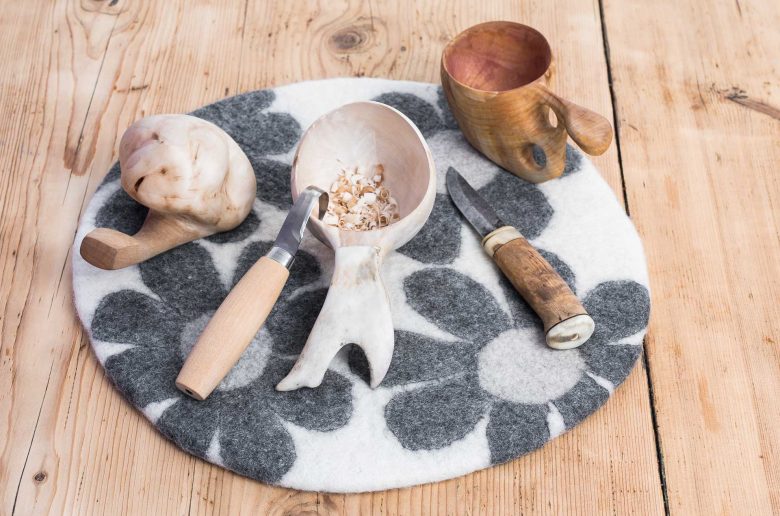 But the most important thing is certainly to create something that satisfies your own ideas and requirements. While traditions are often nice, creating something you enjoy using is far more important. We have put together a detailed guide for you on how to make your own kuksa with minimal tools. Basically, a saw, carving knife and chisel are all you need. An ax and a spoon knife can also be very helpful, but no longer essential.
It doesn't always have to be a kuksa though. Anyone who likes to work with their hands but doesn't want to carve something as complex as a kuksa right away can also try small things. Wooden cutlery, a spork (spoon-fork) or a simple dinner bowl are also great projects that can be made with more or less effort. We used birch wood in the manufacture of our utensils, and in as fresh a form as possible.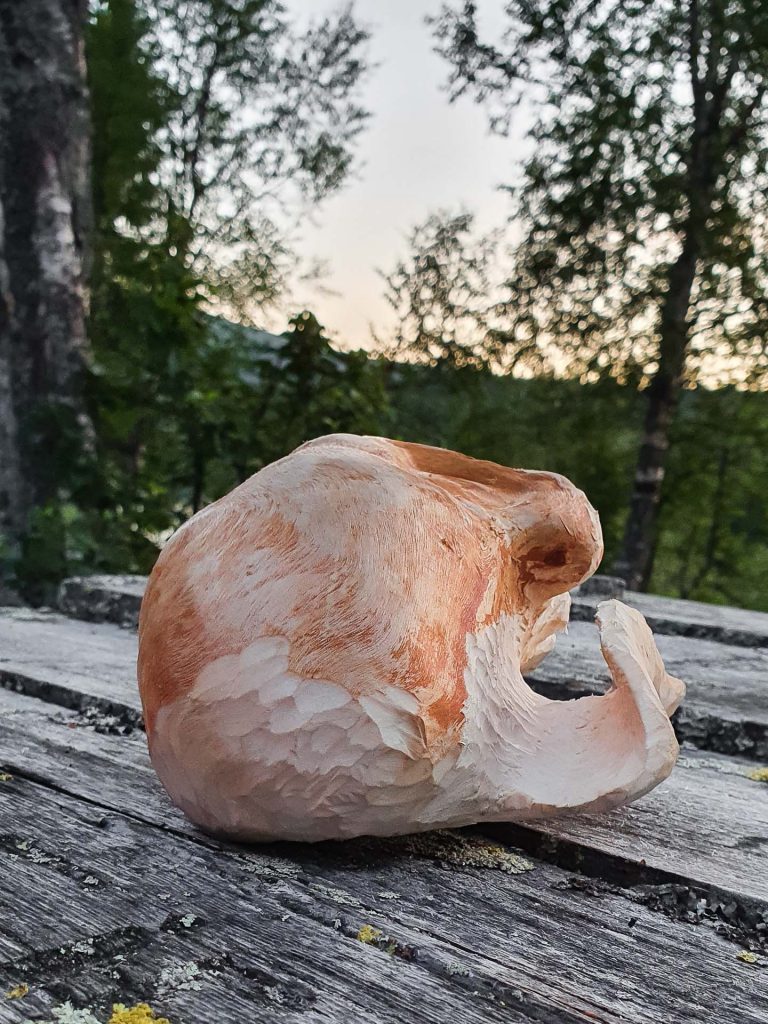 Fresh wood is the easiest to work with, but unfortunately also tends to crack. But if you keep a few basic things in mind, you shouldn't have many problems. For example, heartwood, i.e. the wood that grows in the middle of the tree or branch, should be avoided at all costs. So if you want to carve a larger workpiece, you should choose a correspondingly thick trunk. After the trunk has been split with an ax and wooden wedges, for example, the remaining piece should be significantly thicker than the product that you want to make.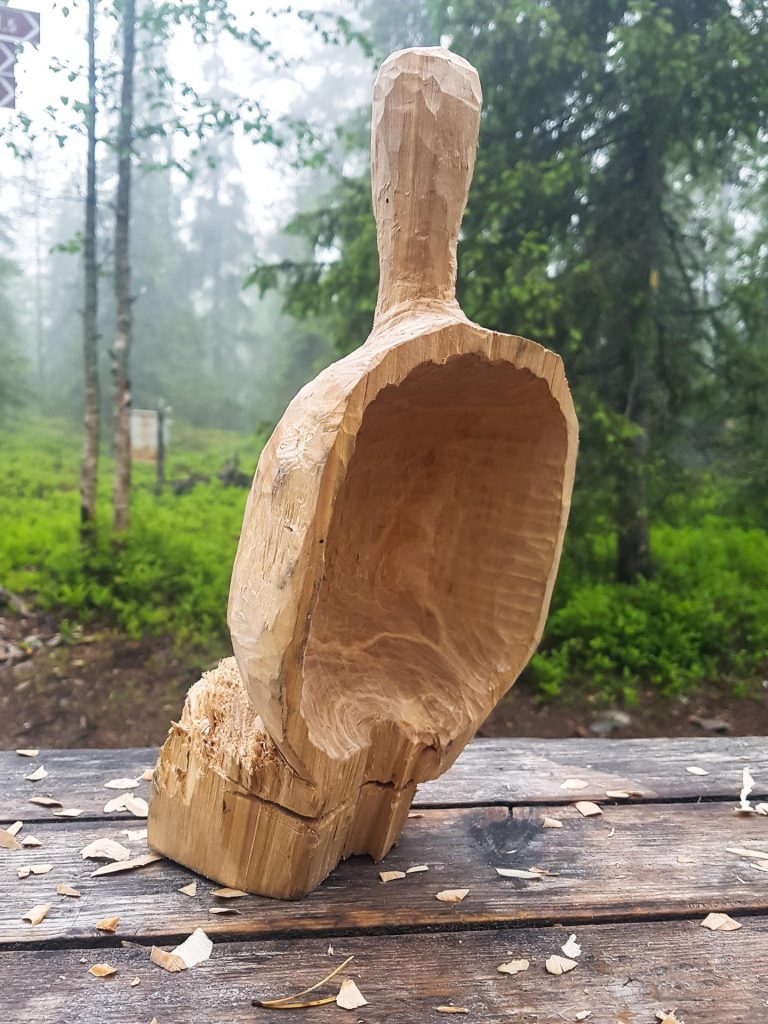 Of course, you should let your imagination run wild during production. We made this bowl from a freshly felled tree. To do this, we sawed off a corresponding piece of the trunk, split it with an ax and then worked on one of the remaining halves mainly with an ax on the outside and with a chisel on the inside. A process that is not necessarily easy, but which then gives all the more pleasure if you enjoy your meal from the end product.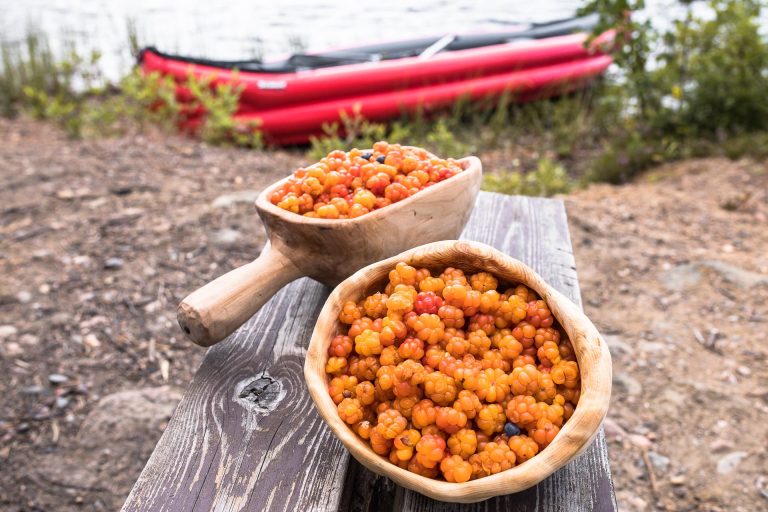 To make such vessels more durable, they should be impregnated with oil. In the wilderness, that's often easier said than done. Fatty foods like goulash or other oily dishes also offer some protection.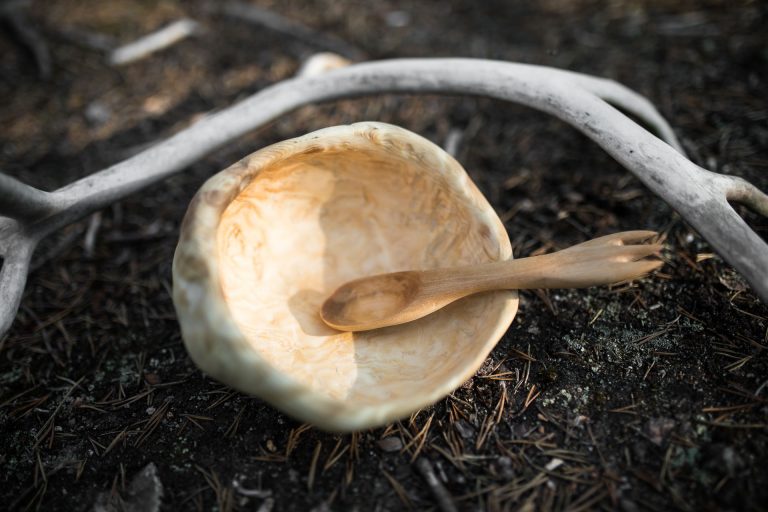 Of course, such a dish from a homemade bowl also needs to be eaten with the appropriate tools. Carving a corresponding wooden cutlery is also a good idea. It is often quick to make your own spoon and you can let your own ideas run free when it comes to the design. From our experience, however, it is helpful if you have a precise plan and design ideas in advance and sketch them out in advance on a suitable piece of wood.
Obtaining your own food from nature is of course one of the essential things of every bushcrafter. Mushrooms are an internationally widespread opportunity to procure your own food almost all year round. Scandinavia is a true hotspot for mushroom pickers and the amount of mushrooms in some areas exceeds most imagination.
Nonetheless, when picking mushrooms, you really have to know what you're doing. There is no margin for errors and experiments when foraging mushrooms as wild food source. A sentence that you hear all too often, but which really can't be stressed enough in practice. We would describe ourselves as reasonably experienced mushroom pickers, but we are always surprised ourselves which mushrooms sometimes find their way into our basket on our tours. However, we also collect almost a hundred different edible mushroom species throughout the year. An exact determination and double or better triple control is therefore really important, especially for the not so common species. For beginners, it is advisable to specialize in a few types of mushrooms with little potential for confusion and to gradually approach other types.
Once you have internalized the dangers, nothing stands in the way of a successful mushroom hunt. The tasty delicacies can also be found almost all year round and only a few are aware that some species such as the popular oyster mushrooms or Enoki can only be found after the first frost and during winter months.
Anyone who is seriously interested in wild mushrooms not only has a great responsibility but also a wide range of opportunities. In addition to classics such as porcini mushrooms, chanterelles, morels or parasols, it is above all the knowledge of the lesser-known edible species that makes this field really exciting. Our underrated favorites here include the Safron Milk cap, the Cauliflower mushroom, Black trumpets, Shaggy manes and bleach cups. But also other even less known species as half-free morels, wood ears, the blusher, chicken of the woods or lions mane and also selected members from the Russula family such as the Charcoal burner or the Crab brittle gill are excellent to eat.
Find more infos on specific edible mushrooms in our mushroom species section
Berries are yet another foraging classic that can be celebrated to excess in Scandinavia. Anyone who has ever been to Norway, Sweden or Finland during the blueberry season knows what abundance means In these countries, however, a large number of other berries can also be harvested, which often receive less attention in the shadow of the dominant blueberries, but are also as tasty or in some cases even better.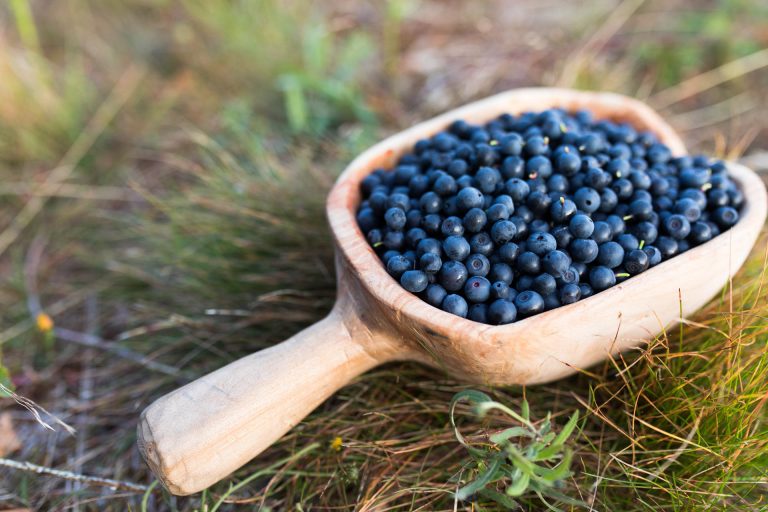 Perhaps the most coveted among locals and insiders are the cloudberries (Rubus chamaemorus). This little little known orange berry from the Rubus family, is a close relative of raspberries and blackberries and grows close to the ground and is almost exclusively wild. Anyone who sees locals trudging through the swamps with a bucket or similar vessel will know in future that they are hunting for hjorton (S), multebaer (N) and lakka (F) depending on the country. They are usually pickled or processed into jams. We like them fresh.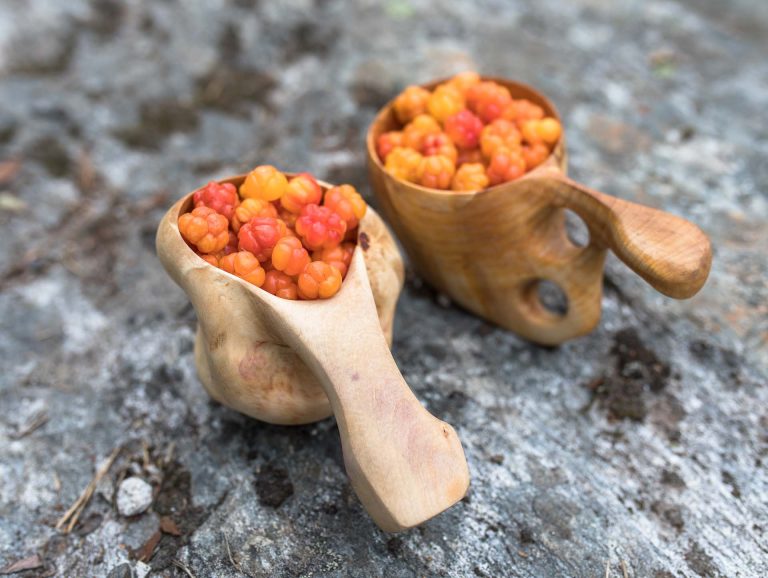 Lingonberries are another famous species, which are very popular for further processing. These close relatives of the bilberries respective European blueberries are often used in jams and juices.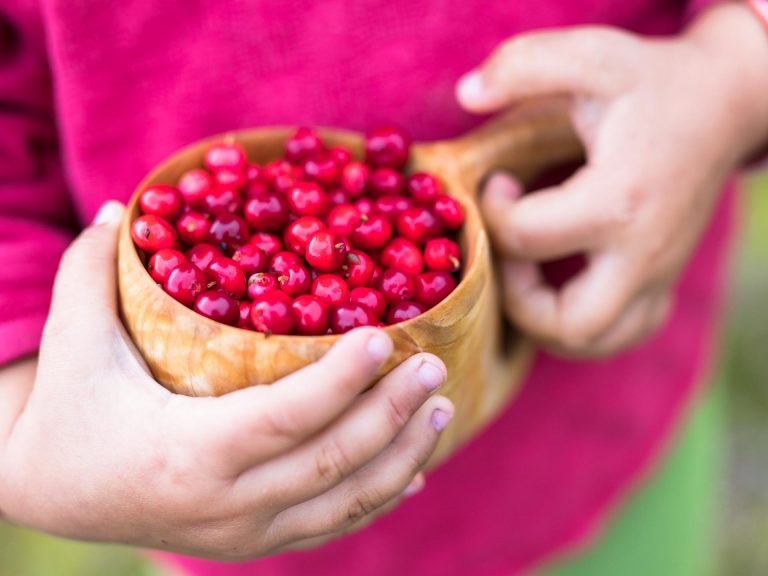 The very widespread crowberry is also edible and especially underestimated in our opinion. This one is for sure not the biggest highlight in terms of taste, but if you don't have anything else at the moment, you'll get used to the sweetish-bitter taste quite quickly and may even learn to appreciate it. It can be very refreshing. In many parts of Scandinavia crowberries are omnipresent and can be picked in coastal areas as wel as in high altitudes usually in vast amounts.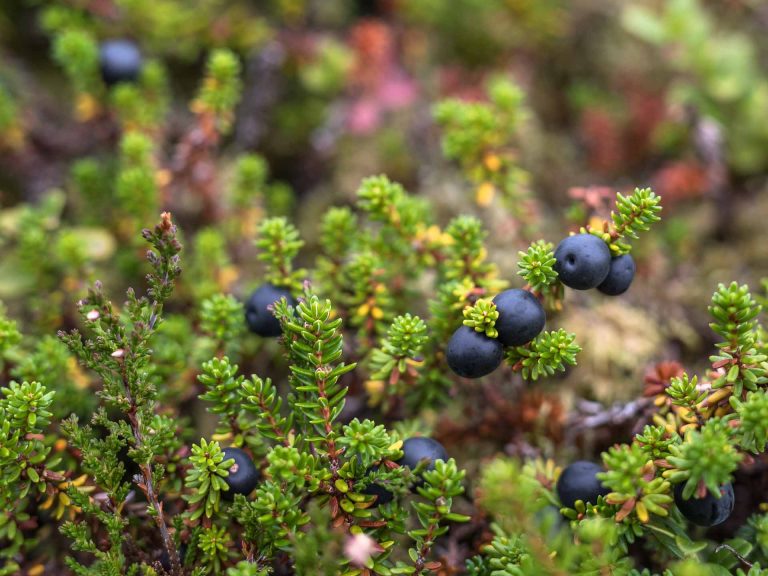 And then there are of course the classics such as wild strawberries, raspberries and blackberries, which you can also collect in large numbers in some areas. In short, Scandinavia is a berry paradise and if you like to collect food yourself, you will find a great offer here. In our berry guide we have summarized and described the 10 most important berries in Scandinavia. The more you know, the better.
If you spend a lot of time outdoors and feel firsty or want to nibble on something look for these berries. Who knows, after getting used to it you might even start to like them. Berries are a great source of food for people who like to be out and about in the Scandinavian nature.
Collecting or catching your own food is definitely an activity that connects with nature. On our travels we spend a lot of time getting our food from the surrounding nature as much as possible. Fishing is one of the most important sources of food, which can also be quite varied.
Find more infos on specific fish in our species overview

Anyone who knows how to catch a fish has a clear advantage in Scandinavia. But not all fish are the same and while some species such as mackerel, pollock or cod are often quite easy to catch, sea trout, salmon and arctic char require exponentially more knowledge in order to be successful. Fishing in the Scandinavian countries is an almost never-ending subject that has a lot to offer for everyone from absolute beginners to seasoned pros. Anyone who likes to stock up on fish to get their own food is basically in the right place here. However, there are a few things to keep in mind so hold on to your horses.
Even if it seems tempting in many places to spontaneously unpack your rod and start fishing, you should bear in mind that in freshwater waters in all Nordic countries fundamentally different licenses have to be obtained in order to fish legally. Disregarding this rule can result in severe penalties of several thousand euros. Especially waters with game fish, especially salmon-bearing rivers in Norway are particularly strictly regulated here.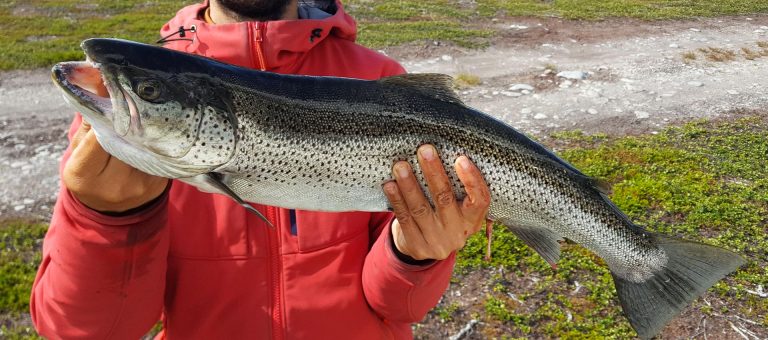 Anyone who doesn't want to deal with paying fees and acquiring fishing permits is probably best off on the coast of Norway. Basically, you get almost everything that an angler's heart desires here – it is home to cod, coalfish, plaice, halibut, seatrout and even salmon to name but a few. And the whole thing is completely free and for everyone. If you can survive on fish only, you shouldn't have any problems because fish are plentiful and big too.
Those who prefer to move in the fells and hunt grayling, arctic char and trout should be in good hands in the Norwegian and Swedish fells, especially in Lapland.
Those who prefer to try their hand at predatory freshwater fish such as pike and zander should try their hand at one of the countless bodies of water in Finland, especially in the southern parts of the country. Here these fish are particularly large and record-breaking.
Anyone who likes fish will definitely get their money's worth in Scandinavia. For those new to fishing, here's a quick guide on how to best catch a fish in the far north.
Campfire is perhaps one of the most iconic symbols for all wilderness-loving adventurers. Whether for cooking, for warmth or just for the romantic mood, a fire is usually there.
Since we can now go competently to procure food and have already killed one or the other fish, it naturally also needs to be prepared professionally in the wild. There are few things better than grilling your freshly caught fish over the local campfire.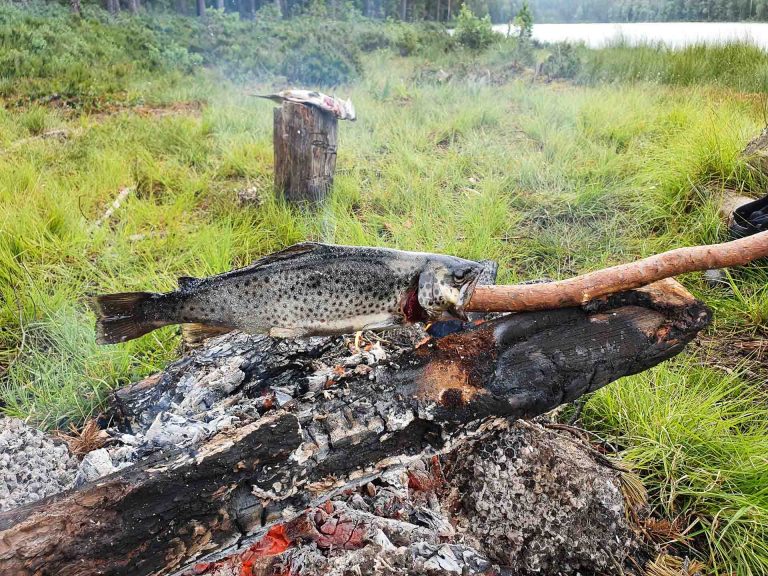 All of Scandinavia is littered with official and unofficial fireplaces just waiting for someone to come along and use them. Finland in particular is a promised land in this regard. At most of the campfire sites and rest areas, there is already cut and sometimes even chopped firewood that is available for free use. A service that is unparalleled in most countries. As a rule, you always use an existing fireplace if existing and not create a new one.
But this also comes with a great deal of responsibility and everyone who handles open fire in the wilderness must know exactly what they are doing.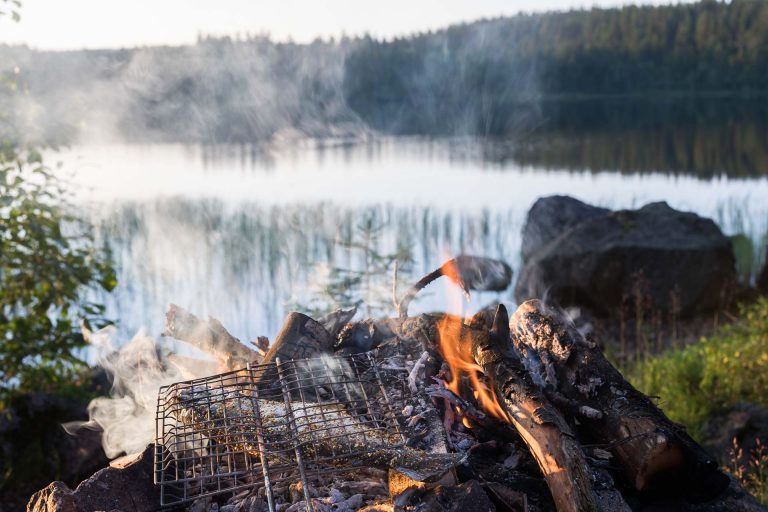 In principle, in Scandinavia it is allowed to make a campfire in the wild. However, it is your responsibility to find out in advance whether there are any forest fire alarms. In the summer months there are often devastating forest fires. During periods of severe drought, there are therefore frequent forest fire warnings during which it is not permitted to make fires in open places at all. This also includes official campfire spots that are not located in closed buildings. "One spark is enough" to wipe out entire stretches of forest is the mantra that you usually hear from the locals. And understandably there is little tolerance here so really make sure to act responsibly.
Further things to consider:
You can always use your camping stove since it is not considered an open fire.
You can collect twigs, bark, needles or anything else that has fallen to the ground but you are not allowed to cut or break down any living plants. It is also prohibited to damage dead trees if they are still standing.
Don't start a fire on sensible areas as moss or peat bogs. The fire can start spreading from there even after it appears to be out without you noticing.
You are accountable for any damage that occurs due to your actions.
Anyone who likes to be out and about in the Scandinavian wilderness appreciates a good shelter. Whether it's sheltering from the rain or resting through the night, protection can be very important. If you don't have a tent, you have to either build a makeshift shelter yourself or use one of the existing ones.
Whether you're on foot, by bike, or by camper, shelters are often found along the road. We are very often on the road with our camper and like to use such places to spend time in bad weather, to make a fire and to prepare food. In addition, these places are in many cases also a very social place, which allows you to make contacts and exchange a few words in the Scandinavian solitude.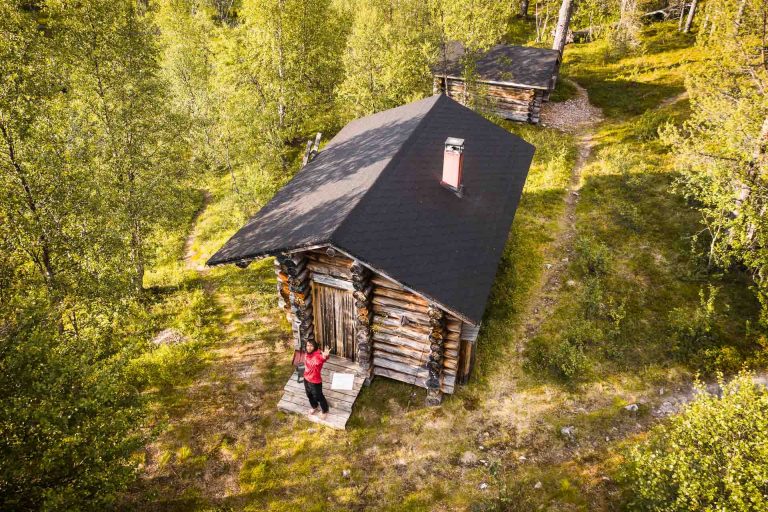 We also find them very helpful when planning short (ultra light) expeditions where we like to only travel with essentials. With appropriate planning, a hammock, a little food and a few essentials for orientation and for emergencies in our 25l backpack are usually enough to spend a few days in the wilderness for us.
Fortunately, there is a dense network of wilderness huts and other types of closed and open shelters in large parts of Finland, Sweden and partly also Norway. Whether trudging through the wilderness or close to civilization, some form of shelter is usually close by. The quality ranges from fully equipped winter shelters, with sleeping accommodation and cooking facilities, to the classic open shelters. The latter are the simplest and most rustic types. As a rule, they offer a canopy open on one side with a fireplace in front of it. Above all, they offer protection against rain and wind.
There are strong country-specific differences here and in our experience Finland offers the most generous and elaborate range of freely accessible shelters. Closed lap huts (kota) in particular are widespread and offer reliable shelter in bad weather. Sweden also has a dense network of open shelters, with open shelters being the most common. In Norway the situation is somewhat different. Due to the many mountains, there are a large number of well-equipped shelters, but many of them are not completely freely accessible and often you have to be a member of the Norwegian Trekking Association (DNT) to use them and/or pay a fee.
If you want to know how to find these shelters, you can get all the necessary information from our country-specific shelter guides below.
Further things to consider
You should also be aware that many places are built by local communities or associations e.g. as fishing shelters. Mainly locals who know where to find them use these shelters and there are usually no official signs that prompt you in the right direction. Treat these facilities with respect and be grateful that you are allowed to use them.
Use all facilities that you encounter with greatest respect and don't take these excellent services for granted. We have first hand witnessed instances where shelters where closed permanently due to misbehavior of individuals in various places of Scandinavia. So take that very serious to give others the chance to take advantage of these excellent facilities too.
Don't leave any trash behind if there is no designated place for it.
Always follow the rules and guidelines and treat other visitors with respect. To be first on a spot does not mean that you have special privileges.