swe.: Lärksopp | nor.: Lerkesopp | fin.: Lehtikuusentatti | dt.: Goldröhrling, Lärchenröhrling
The larch bolete is an excellent edible mushroom. Like other mushrooms from the Suillus family it can cause allergic respective intollerance reactions – feeling unwell and flu-like conditions are possible in very rare cases. If this happens to you, you should stop consuming this mushroom and other mushrooms from the Suillus family.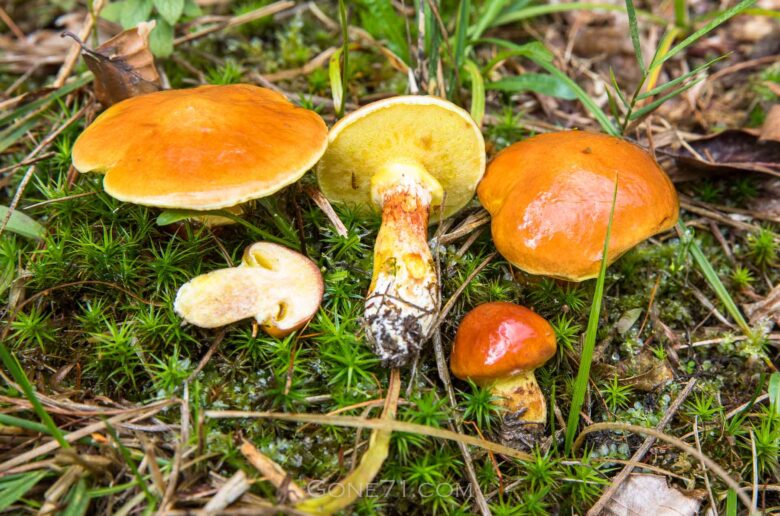 height: 5 – 15 cm
cap diameter: 4 – 20 cm
trunk diameter: 0,5 – 2 cm
months: July – October
colours: light yellow later orange cap, yellow stem
habitat: symbiosis with larch
smell: pleasant
taste: dull
characteristic: slimy cap skin, ring (remains)
consumption: cooked (slightly toxic if consumed raw)
Appearance & habitat of the larch bolete

The cap of the Larch bolete (Suillus grevillei) is golden yellow to reddish yellow and grows 3-12 centimeters wide. The shape of the cap is arched and shiny in dry weather. In humid conditions however it becomes very slimy.
The underside of the cap is characterized by yellowish pores. The stem is yellowish to reddish-yellowish or reddish-brownish and has a height of about 5-10 centimeters. Its thickness is about 0,5-2 centimeters. This mushroom is also characterized by a ring, however, often there are only the remains left to be seen.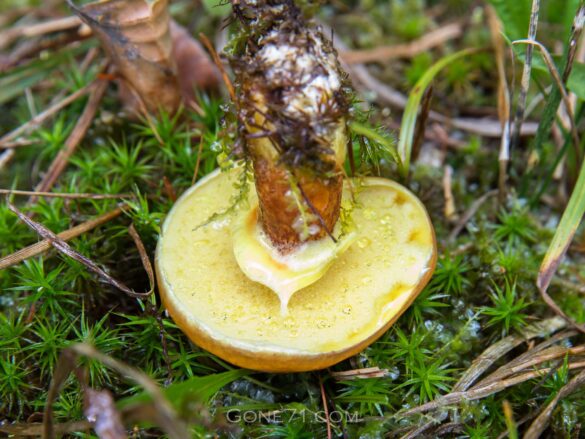 Lookalikes
Possible confusion with Velvet bolete (Suillus variegatus), Slippery jack (Suillus luteus) and other fungia such as Suillus cavipes, Aureoboletus gentilis, Suillus placidus amm… All of the above are edible with reservations.
In the juvenile stage, the larch bolete can also be confused with deadly poisonous representatives from the Cortinarius family – e.g. Cortinarius meinhardii (spledid webcap). Therefore, it is very important to pay attention to the underside and make sure that there are pores and no lamella.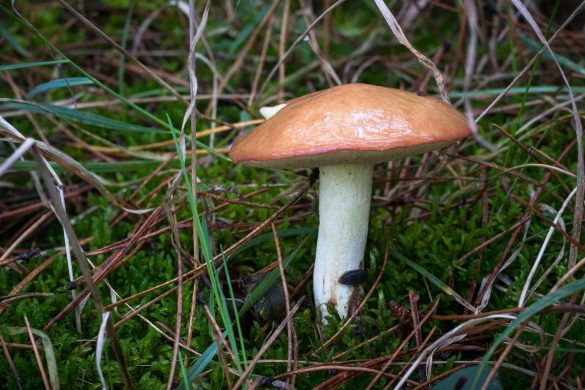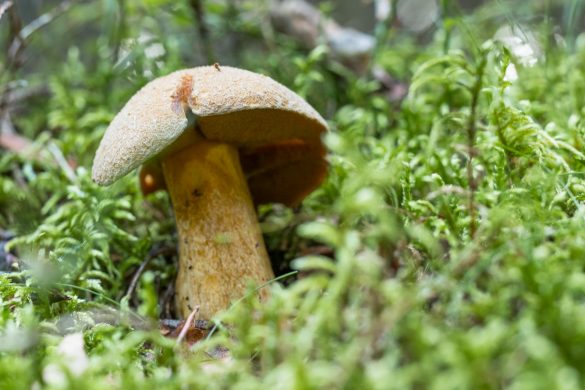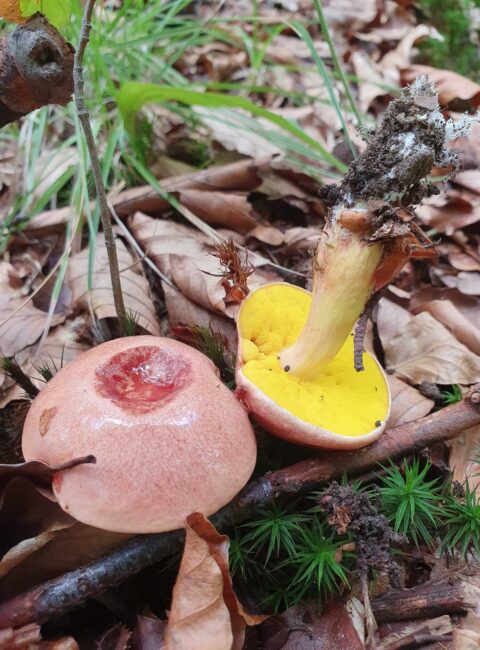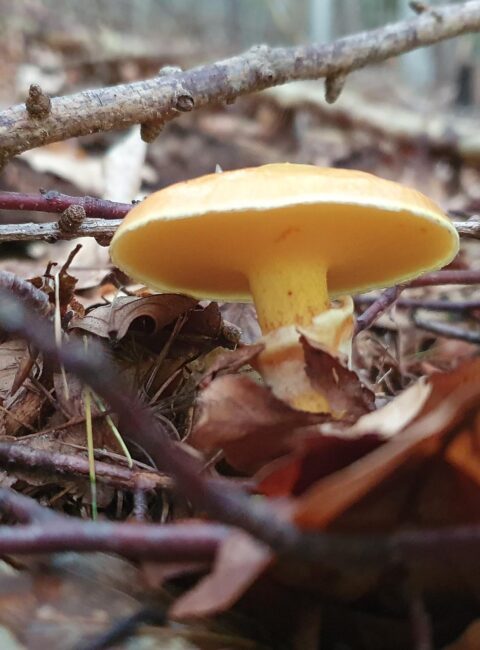 These are just a few of the potential sources of confusion and the list goes on. There is also a grey variation of the larch bolete, the sticky bolete (Suillus viscidus) – also edible but considered of lesser quality.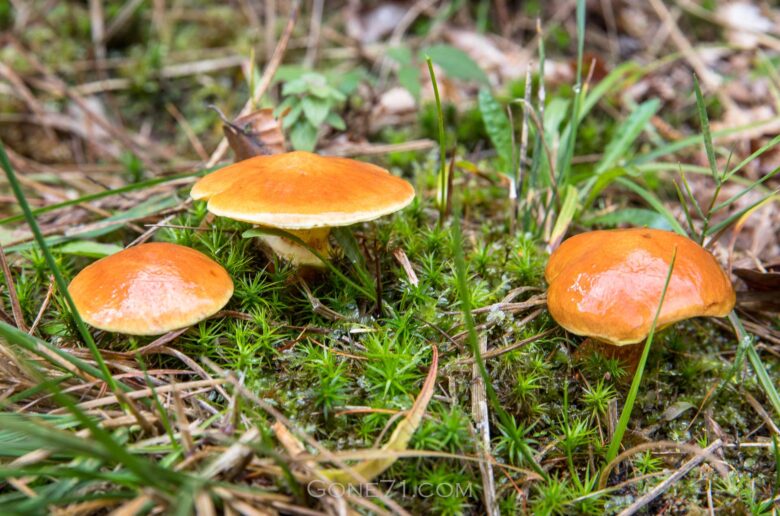 The larch bolete can be tricky to transport due to its surface. Dirt residues tend to stick to the cap and other parts. It is best if the fungus is cleaned of dirt on site and transported in a basket. Another good option is to arrange the fungus between leaves of coltsfoot or other big-leaved plants so as not to damage the fungi.
Some sources highly recommend to remove the skin. That can be easier said than done when you have dry or very small specimen. However, the skin is to cause allergic reactions in rare cases. In such a case you should avoid mushrooms form the Suillus family. We did not have any problems with this mushroom though.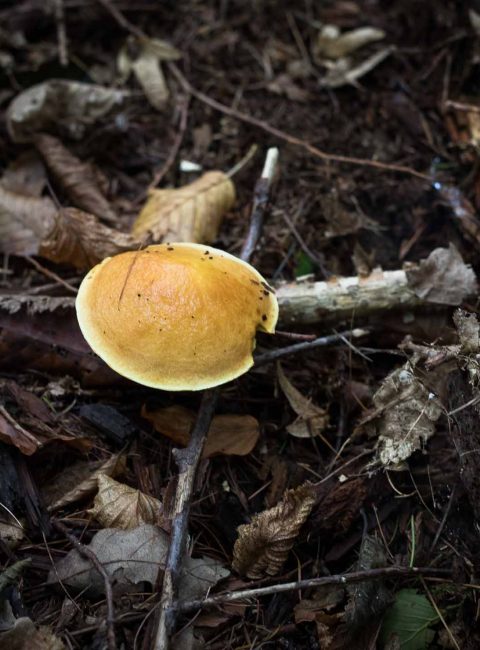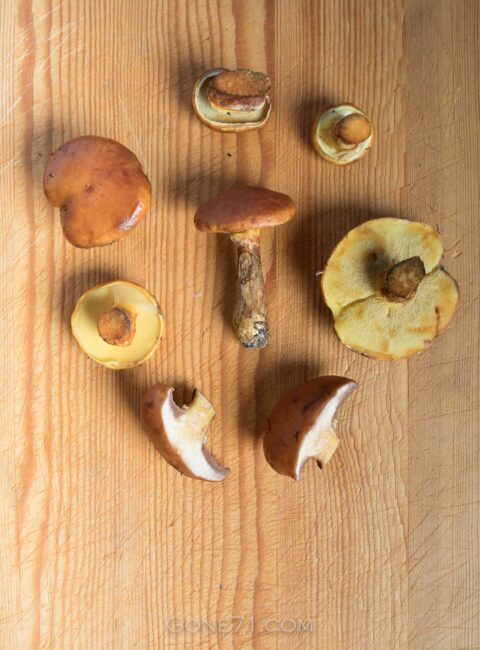 Larch bolete in the kitchen
The larch bolete is edible and considered an excellent mushroom. It should be processed quickly as it spoils quickly. Raw, it is considered slightly poisonous and, like all mushrooms of the Suillus and Leccinum genus, should be heated well for at least 15 to 20 minutes.
The mushroom is best suited for roasting and baking, but it is also very good in soups and stews.
The larch bolete is particularly tasty breaded like baked champignons. In our recipe, we fried the mushrooms along with red onion and served them with roasted carrot-buckwheat.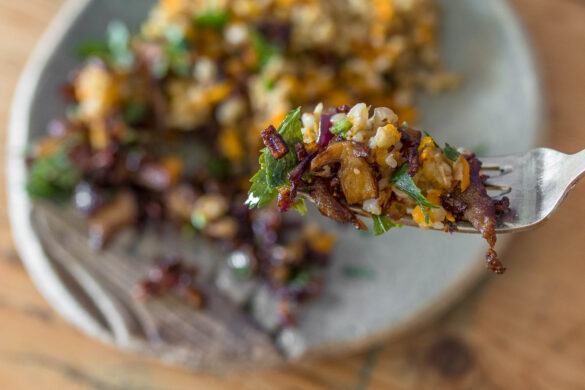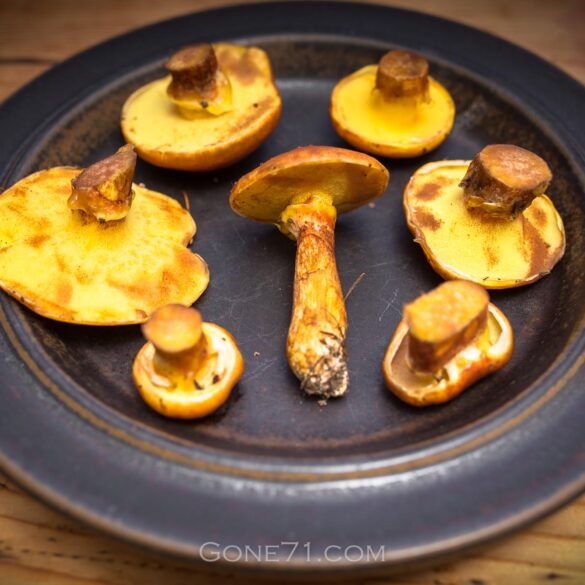 Ingredients
1 red onion or 4 shallots
400g fresh larch bolete
4 carrots
300g buckwheat
olive oil
salt, pepper
Parsely
Instructions
Boil the buckwheat
Peel and coarsely grate the carrots
Sauté the carrots briefly in olive oil in a pan
Add the cooked buckwheat and fry lightly until golden
Meanwhile chop the mushrooms in fine slices an put aside
Chop the onion and toss in butter or olive oil
Add the mushrooms and sauté together for 15 to 20 minutes
Season with salt and pepper
Serve the mushrooms together with the buckwheat and sprinkle with parsely
Notes
We recommend peeling off the skin of the cap on the mushrooms.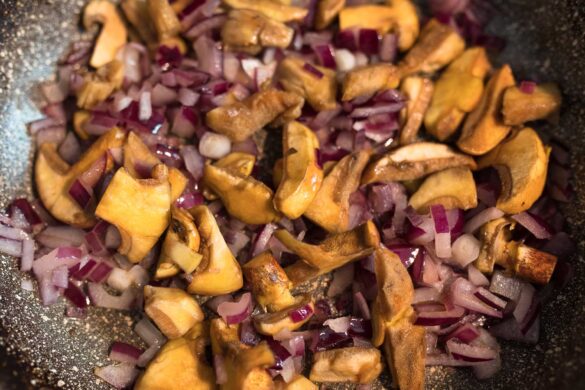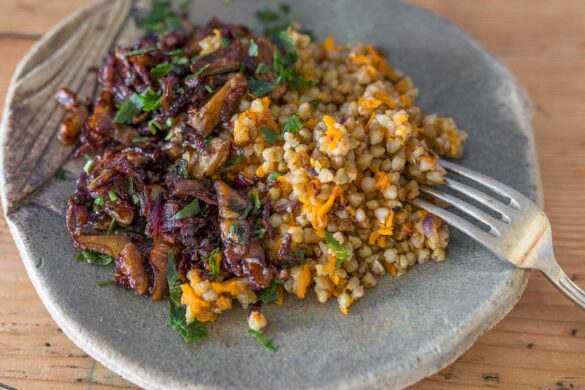 We have compiled this overview with the best of knowledge and belief, but do not claim to be complete and reserve the right to make errors.
Learn more about poisonous mushrooms and mushroom poisons here
↓↓↓
Find some inspiration in other mushroom recipes
↓↓↓