Finnish: Nuijakuukunen
Swedish: Långfotad röksvamp
Norwegian: Stilkrøyksopp
German: Beutelstäubling, Bäutelbovist
Sci. Syn.: CALVATIA EXCIPULIFORMIS, CALVATIA EXCIPULIFORMIS FORMA ELATA, HANDKEA EXCIPULIFORMIS, CALVATIA SACCATA, LYCOPERDON POLYMORPHUM VAR. EXCIPULIFORME
fruiting body: 3 – 25 cm
months: June – October
colours: white, later yellow
characteristic: consists of fine coral like branches
habitat: mixed forests, meadows
taste: mild
smell: pleasant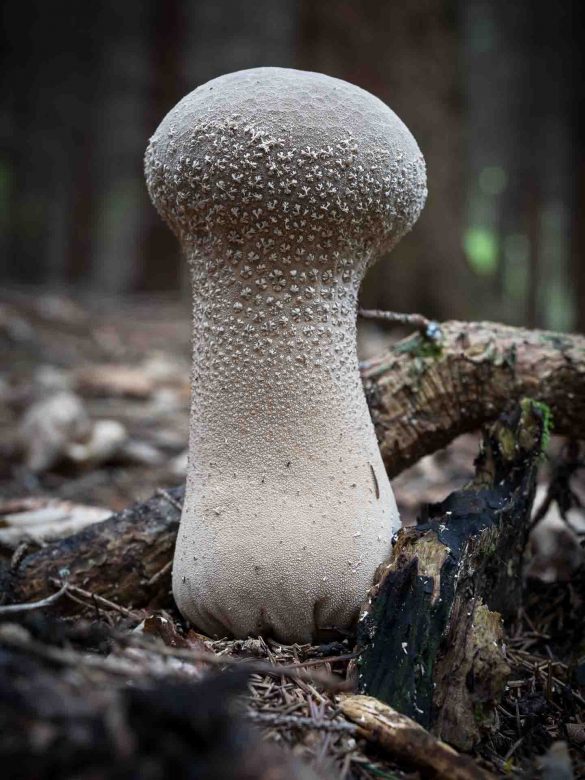 Description
The pestle puffball (Lycoperdon excipuliforme) is a very good edible mushroom that is particularly suitable for breading and frying. Due to its many ingredients such as vitamins, zinc, iron, magnesium and other it is also considered very healthy.
Lookalikes
Most likely, pestle puffballs are confused with other puffballs such as the common puffball (Lycoperdon perlatum) and others. The rule for all (European) puffballs is: If the inner fruit mass is pure-white and does not show any signs of gills they are usually edible.
Gills could be an indicator for a young specimen of the absolutely deadly destroying angle (Amanita virosa) or at least unpleasant poisonou fly agaric (Amanita muscaria). Both have the appearance of white balls in early stages when they are totally covered in velum. For this reason these fungi should always be sliced ​​vertically and the developing structures should be inspected carefully.
We have compiled this overview with the best of knowledge and belief, but do not claim to be complete and reserve the right to make errors.
Learn more about poisonous mushrooms and mushroom poisons here
↓↓↓