swe.: Rödbrun stensopp | nor.: Rødbrun steinsopp | fin.: Männynherkkutatti | dt.: Kiefernsteinpilz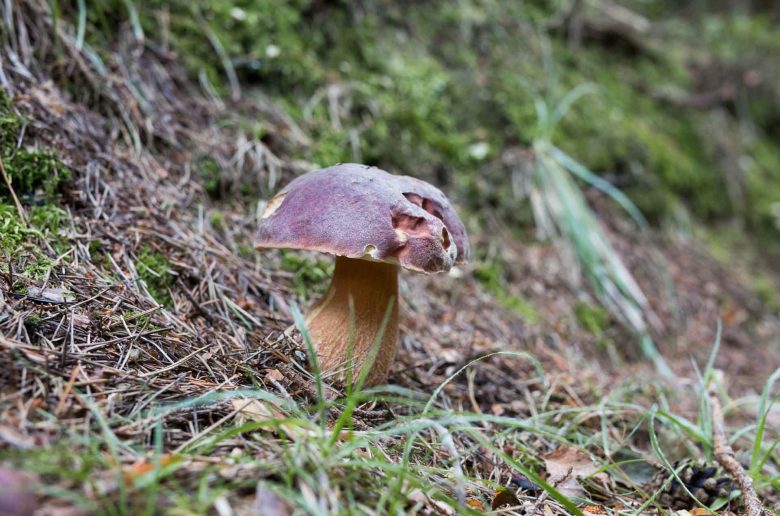 Description
The pine bolete (Boletus pinophilus) is one of several types of boletus, all of which are equal in taste and potential uses. The majority of mushroom pickers usually do not differentiate between porcini mushroom species, but consider all of them as one species.
In contrast to the classic porcini (Boletus edulis) or the summer bolete (Boletus reticulatus), the cap skin of the pine bolete is more reddish. A good feature to distinguish the pine bolete from other species is the white line along the cap skin.
Pine boletes are not as common as the common porcini but can be found throughout most central and Northern European countries.
Lookalikes
Pine boletes can be easily confused with the Tylopilus felleus better known as bitter bolete or bitter tylopilus. This mushroom looks very similar with usually a slightly thinner and darker stem and lighter cap. The pores develop a slightly pinkish tone especially in older specimens. If you are not sure the easiest way to identify this mushroom is its strong bitter taste. Bitter bolets are not poisonous but even a small amount is enough to ruin your whole dish. Make sure to leave them in the forest.
We have compiled this overview with the best of knowledge and belief, but do not claim to be complete and reserve the right to make errors.
Learn more about poisonous mushrooms and mushroom poisons here
↓↓↓
Find some inspiration in other mushroom recipes
↓↓↓