Lapland is a remarkable region in the North of the Scandinavian Peninsula. The Sámi the native residents call it Sápmi and it is one of the last wilderness areas in Europe. The good thing is, it is easy to get there despite its remote location.
The term Lapland usually refers to the region North of the polar circle and includes the Finnmark region in Norway, The Finnish province Lapland and the Swedish province of Norbotten. Usually the best way to get there is by plane. There are very good connections from all Northern capitals and there are even international flights heading in the North. However you can also go by train, hop on busses or bring your own vehicle to the North. Even hitchhiking is a possibility. Find the approach that suits best for you.
PLANE
Flight connections are very good into the North and you can fly to various destinations in all three countries. It is the fastest and most convenient way to get there. Flight times vary between 1 and 2,5 hours depending on your starting point and destination. The most frequented airports in the North are Rovaniemi in Finland, Luleå and Kiruna in Sweden as well as Alta, Tromsø and Kirkenes in Norway.
Most of them feature even international flights from various places e.g. in the UK, Germany, Netherlands and also Switzerland. However there are also a lot of smaller airports that can be reached by domestic flights getting you at least close to most destinations.
There are a variety of domestic companies offering usually daily connections either from Oslo, Stockholm or Helsinki to or within the North. So flying as far as Vardø or to Honningvøg close to North Cape is usually no problem. However, in order to get all the way up into the North you might have to go via Oslo and change your flight there. There are around 250 flights a week departing from Oslo to the northern parts of Norway and you can take further connections from there.
Finland
| | | |
| --- | --- | --- |
| Domestic Flights | Direct International Flights | Airport Transfers |
| | | |
|   | Lufthansa –> Munich, Frankfurt, Berlin, Zurich to Rovaniemi | |
|   | EasyJet –> London Heathrow to Rovaniemi | |
|   | TUI airways –> London or Manchester to Ivalo,  Kuusamo, Rovaniemi | |
|   |   | |
|   |   | |
Sweden
Norway
For connections you can take one of the many buses connecting all major cities in the North. However if you want to stay flexible and get around a bit a rental car is probably the best option.
TRAIN
Taking a train from one of the capitals (or along the way) is a great option to get to the southern parts of Lapland. In Norway the main rail network leads to the southern parts of Lapland and ends in Bodø. However if you travel via Stockholm you can take the Swedish route that ends in Narvik, Norway and goes through Kiruna and Abisko. If you travel via Helsinki you can take a train to Rovaniemi and from there further north-west to Kolari. There are always several trains a day and you can also travel overnight. To give you an idea about duration: The very popular connection Helsinki – Rovaniemi lasts around 10 hours. Trains are very comfortable and usually on time.
Tickets
Usually all the main train destinations offer great bus connections that can often be already booked as a combination ticket to take you into the wilder and more remote parts of Lapland.
ROAD
If you are in the lucky position to bring your own camper van or mobile home to Scandinavia you can take advantage of the vast network of roads to and within Lapland. Renting a car or motorhome is also a good option if you have the money. However it might be more economic if you rent a car directly in one of the bigger cities like Rovaniemi, Tromsø or even Vadsø.
Main roads
If you start your journey in one of the capitals the routes north are pretty straight foreword. In all three countries you can usually simply follow the main road to the north.
Finland: Helsinki (E75) – Jyväskyle – Oulu – Rovaniemi | 830 km (~10 hours)
Sweden: (E4) Stockholm – Umeå – Luleå – Gällivara | 1,135 km (~13,5 hours)
Norway: (E6) Oslo – Trondheim – Mo I Rana – Narvik | 1390 km (~20 hours)
Be advised however that distances are very long. Getting to Lapland itself is often not the problem but if you plan to travel into Finnmark possibly heading for North Cape or Kirkenes there are some serious hours of driving involved. The distance from Oslo to North Cape is around 2000 km one way. So you better have time or be prepared for a proper road trip. If you take a rental car make sure that the distance you travel is covered in your package.
Smaller roads
If you are not in a rush (which you should not be if you drive) it is more adviceable to take some of the smaller roads into the North. They will usually take you much longer but you'll get to enjoy the scenic alternative which is often an attraction in itself. Especially in Norway you'll have to take a lot of ferries to cross between fjords.
Main roads in all countries are usually in very good conditions with low traffic, especially in the North. many of the smaller roads can be pretty rough non paved streets that will often take longer than your navigation might suggest – especially if you drive in your own vehicle that you want to keep for a while.
Be aware
Having your own means of transportation in the North is very helpful to visit different places. Smaller roads might be closed or are open only during certain hours per day. The main streets are normally free all year round but you should be aware that it can be dark 24 hours a day, 7 days a week in the North with temperatures hitting -30° C (-22 F). So prepare properly if you head there on your own in winter.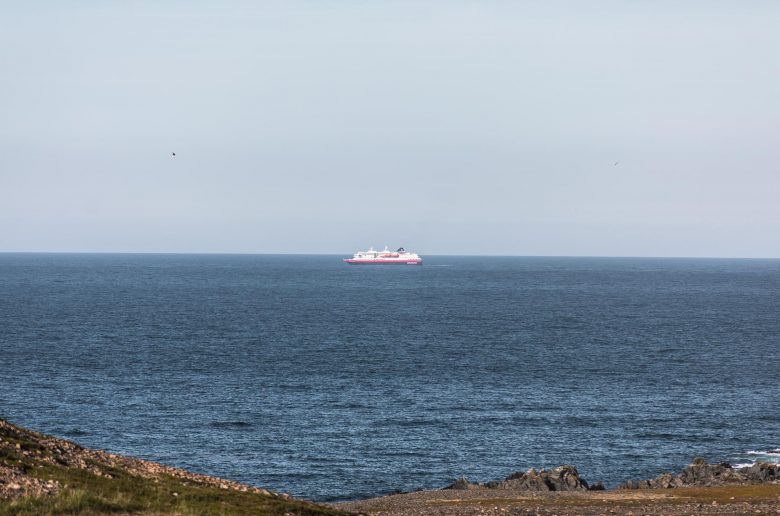 BOAT (Hurtigruten)
The enthusiasts and those who like it slow can embark the famous Norwegian Coastal Voyage Hurtigruten. This is the old post route that is nowadays transformed in a major tourist attraction. The cruise is usually considered a trip on its own and will take you some time depending on where you go exactly. The journey starts in Bergen on the south-west coast of Norway and stops at 34 destinations before it embarks in Kirkenes.
Depending on your package the trip will set you back some serious money up to several thousand Euros. However, for those who have the time and resources it might be a rewarding experience. It is a great way to see the beautiful fjord-landscape of Norway from a different angle and you are free to leave the ship during docking time.
BUS
Due to the long distances from the capitals to the north, direct busses to the North are rather inconvenient and also not very frequent. There is a (ski)bus operating several times a week between Helsinki and Rovaniemi taking around 13 hours to give one rare example. However, busses are a great means to get around in the North once you are there. There are good connections to most places in the North.
Finland
In Finland there are basically three major bus companies that operate throughout Lapland: Exprees Bus, Matkahuolto and Ketosen Liikenne Oy. Bigger airports in the North like Rovaniemi and Ivalo also host special shuttle transfers e.g. to Inari (Lapin Linjat or Kuljetusliike Ilmari Slant). Local busses in Rovaniemi can be booked at www.linkkari.fi . Line 8 will take you to the Santa Clause village if you feel like going there.
Sweden
The bus network in Sweden is not all that great but therefore you have the main railway connection all the way to the North. In the districts Norbotten and Västerboten you can opt for LTN (Länstrafiken) buses. If you arrive in Luleå you can take the local busses 4 and 104 to get around.
For destinations like Björkliden and hotel transfers in Kiruna and Abisko you can check the airport transfers that provide a good shuttle service to all major hotels including the ice hotel in Jukkasjärvi.
Norway
If you want to get around in Finnmark by public transportation you can opt for Boreal Transport Nord AS which operates large parts of the area. For planning your trip you can check departures and general timetables at Snelandia https://snelandia.no . Be aware that due to the great distances, trips can take far more than 10 hours. Other useful connections:
Tromsø airport: Flybussen (airport express bus) (15 min) or public bus Nr. 40 and 42 to the centre.
Bodø airport: public bus 1 and 4 to the center (10 min)
Narvik airport: Flybussen to Narvik center (75 min)
Hitchhike

If everything else fails or if your budget equals 0 you can always opt for hitchhiking. Challenge yourself with the ultimate 5000+ km Finoscandinavien hitchhiking tour leading you through all 4 Nordic countries (Stockholm, Kopenhagen, Oslo, Lofoten, Alta, Rovaniemi, Helsinki) next summer. Well, we actually did that a long time ago and for the adventures type this might maybe still be an option in the post Covid-19 times. People are in general very friendly; however be prepared for some waiting time, especially in the North where the frequency of cars is very low.