Lapland is the indigenous land of northern Europe and home to the wild parts of Scandinavia and Finland. If you love to be surrounded by beautiful, undisturbed nature, reindeer and big fishes you should go!
Depending on the definition Lapland has a population of far less then <1 per km2 outside the urban areas and settlements and the possibilities for outdoor affine people and adventure seekers are plentiful. Unless you are strictly bound to a metropolitan environment for your survival you should consider going.
Lapland or Sápmi
The first northern settlers to describe the Sápmi, the land of the Sámi people, used the name Lapland. They called the indigenous population Lapp's and the name derives from there. To some Sámi the term Lapland has a negative connotation and can be even offensive, so if you want to make close friends in the north you can start by calling it by its indigenous name. However as foreign visitors we have usually some associations with Lapland and using another term for it might feel odd.
Nowadays the term refers usually to the region of Fennoscandia north of the polar circle. In some interpretations the term equates to the cultural habitat of the Sámi, which would stretch much further south. Sámi originally never had the use for the concept of a national state and nowadays the land of the Sámi stretches over Norway, Sweden, Finland and also Russia. The Sámi have their own parliament and are granted special rights in their territory but are mostly bound to country specific laws. Due to national borders the Russian part is usually of minor popularity and less present in peoples heads when talking about the region. When we refer to Lapland we mainly refer to the Lapland province of Finland, the Norbotten province of Swedish Lapland and the Finnmark in northern Norway.
What to do in Lapland?
Lapland is a paradise for outdoor enthusiasts, fishermen, travellers, photographers and everyone else who appreciate wild nature or a glimpse into the last indigenous culture of Europe. It is the land of the extremes with 24 hours of sunshine in midsummer and eternal darkness during winter months. Temperatures range from -30° C to +25° C and you want to prepare well for your trip up North.
How you want to spend your time depends on you and on your style of travel. The approach to available activities spans always from guided all inclusive tours to that all alone outdoors survival experience in the wild. Here is an overview of some of the things you should see and try.
Go fishing in Lapland
Plan a hiking trip in the backcountry
Meet the Sámi and their culture
Go, find a reindeer antler
Visit Lapland in winter
See the midnight sun
See Ruska
North Cape & alternatives
Visit Santa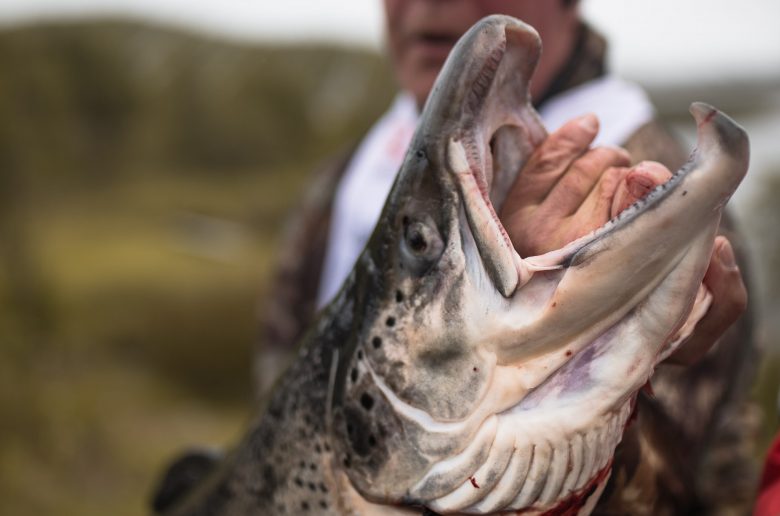 Fishing in Lapland
If you are enthusiastic about fishing Lapland got you covered. It's the land where the mighty arctic char endures the arctic waters of the mountain lakes and trouts and graylings thrive to remarkable size. All this while king salmon roams the rivers on its yearly journey back to the spawning grounds. No matter if you are a total beginner or a seasoned pro, the possibilities for fishing are sheer endless and you can pursue this activity all year round. Rivers like the Tanaelva. Lakselva or Altaelva are considered one of the best salmon rivers in Europe and there are plenty of tributaries and other fisheries that are superb fishing grounds for salmon too.
If you feel that the strict regulations and expensive licenses involved are not your style you might want to head of into the backcountry and try your luck with the beautiful arctic chars instead. You can go with your spin fishing equipment or master the art of fly fishing and if you are on your backcountry survival trip you can challenge your self by surviving on fish.
In the winter months when the ice hits a minimum of 5-centimeter thickness, the ice fishing season starts and that is the time where locals start to drill holes into the surface of lakes like mad. In Finland ice fishing is even covered under the everyman's right and free for everyone. All you need is an ice fishing rod, some bait and a drill. You can always simply ask some locals to help you out to make that hole. If you are unsure you can always book an ice fishing trip in almost every region in the North.
So there are no excuses, take your rod and go north. Be aware though that each of the northern countries has its own fishing regulations and usually you need to acquire a permit. For more detailed information on licenses, techniques and fishing in Scandinavia and Finland we recommend our free guides to fishes in the North and fishing in Scandinavia and Finland:
Make a hiking or trekking trip
Lapland features some of the best national parks and nature reserves in Europe and the possibilities for hiking and backcountry adventures are sheer endless. It's considered Europe's last wilderness and the good thing is ­– it is accessible to everyone. Make a daytrip with your children or vanish for an undefined time into the wild.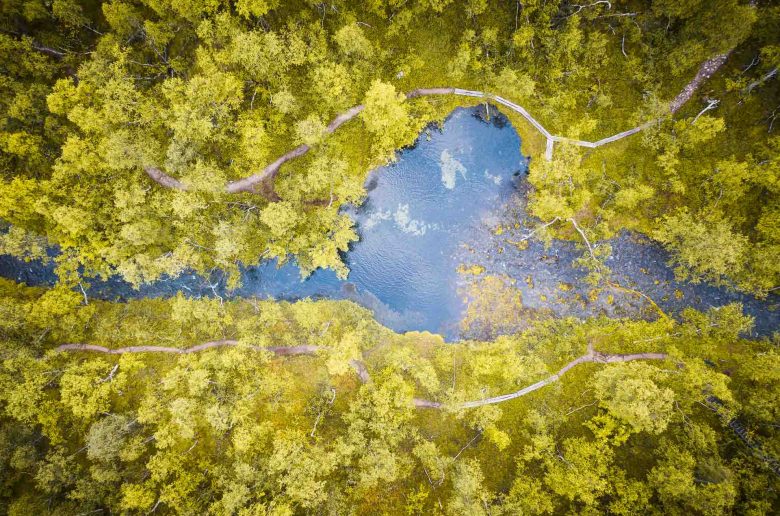 The easiest approach to make a hiking trip is probably by visiting some of the beautiful National parks and start from there. They are prepared for all types of tourists and offer short hiking trails that are suitable for/with kids, longer daytrips or even hikes with overnight stays in wilderness huts and shelters. Our top picks are:
Lemmenjoki National Park (Fin)
Abisko National Park (Swe)
Varangerhalvøya National Park (Nor)
Some of the bigger parks can feature a tourist information center that can give you very detailed information and advice on almost everything you want to know. For simple daytrips there are usually information points with marked hiking routes and round trips that you can usually follow without bringing your own map.
If you are looking for the ultimate trekking experience in the wild you should plan a wilderness hut or shelter tour and/or bring your own tent. National parks like Lemmenjoki offer a variety of possibilities where you can follow hiking trails on several day round trips from wilderness hut to wilderness hut. You can even choose to head directly into the wild with map, compass or GPS and make your own path to one of the remote wilderness huts where usually no one is going at all. If you set out for such an adventure make sure to prepare well. There is no one around to help you in emergency cases and if you get lost you can be in big trouble. That said we think it is the best thing you can do. You can even find your own personal reindeer antler.
For detailed information on free shelters and wilderness huts throughout the Northern countries look here:
Meet the Sámi and their culture
Sámi culture is a very broad term that covers amongst others music, theater, folklore, literature, handicraft, food and everything even remotely related to reindeer husbandry. Meeting the real locals of northern Europe can be a colorful experience and you might have seen the pictures of Sámi people in their traditional costumes. It is called kolt in Sámi language and usually only worn at festivities and official gatherings. According to the appearance of this costume an insider can tell from which region the wearer comes. However usually if you meet them in every day life you'll not identify them as Sámi.
In Norway, Sámi centers are in Kautokeino and Karasjok. In Sweden Kiruna, Arvidsjaur and Jokkmokk are places with the highest Sámi population and in Finland the region around Inari, Utsjoki and Enontekiö are considered Sámi centers.
Museum
One way to get deeper insights into the Sámi culture is by visiting some of the excellent museums like the Siida museum in Inari, the Ajtte museum in Jokkmokk or the Sámi National museum in Karasjok. These are all great places to get a feel for the traditional life and modern challenges of Sámi culture. And all of these facilities have a different focus so you can visit all of them without feeling it repetitive.
Winter- and summer markets
Markets are probably the best way to meet Sámi from all over the place, gathered in one spot. Even though, some market have gathered popularity amongst tourist, they still a very important platform amongst Sámi people to cultivate social contacts and to showcase their products and duodji (Sámi handicrafts). The most famous of these markets is the winter market in Jokkmokk with around 30.000 visitors each year. A great inside tip is the much smaller summer market in Varangerbotn that takes place usually at the end of August. This market is almost exclusively made for Sámi people to meet, celebrate and socialize. That does not mean that visitors are not welcome but it is not promoted and the entire program is in Sámi. It's a very familial event and a great opportunity to meet Sámi culture close up.
Join other local festivities
Apart from the winter- and summer markets there are lots of other local festivities to discover in Lapland. One such example is the annual lohi-rijeha (salmon fishing festival) in Utsjoki, Finland taking part around the end of July. This is actually a local fishing competition where the whole community gathers to a small celebration. The competition itself is actually international and there are participants from Sweden and Norway as well. And it's all about the biggest fish.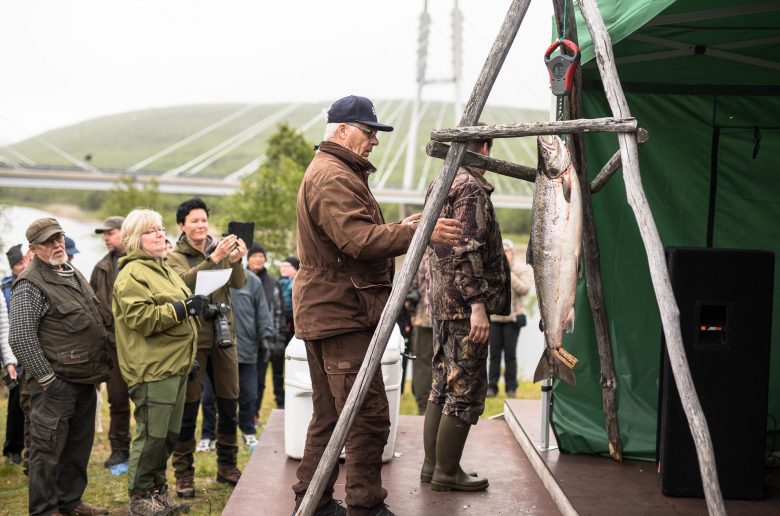 You can find many such local festivities throughout the year in Lapland and they are a great way to meet Sámi people. Most of them are organized by local communities as a village fete and you have to follow the leads of small billboards or ask locals or in tourist centers in order to find them.
Talk to them
The third option is that you simply walk into that only coffee in Utsjoki (or in any other place in Lapland) and simply start a conversation. Seriously, don't be shy. People from the northern countries, especially Fins have often the reputation to be introverted and non communicative. In our experience this is only half the truth and they are usually very friendly, communicative and helpful when you approach them actively and start a conversation.
Visit Lapland in winter
If you don't mind the temperatures winter is a magical time in the north. There are around 200 nights a year that feature the stunning aurora display and the clear dark winter nights are one of the best opportunities to see them. There are loads of touristic tour operators specialized in aurora viewings but in reality, all you need to know is when they are likely to occur and to look up.
Cabins can be rented all year round and you can either stay on your own or take some all-inclusive offers. The usual touristic attractions include, reindeer sleigh riding, husky safaris, ice hotel visits, snow mobile rides or a meeting with (an overweight) Santa Clause. These are all legit activities and the number of tour operators for such activities are almost as plentiful as mosquitos in summer.
If you are looking for a more active program on your own you should take or borrow backcountry ski or snowshoes and head out for day- and wilderness huts. The snow-covered icy landscape can be purely magical and you'll be surprised to which places you can get to. If you are not convinced too much about physical exercise you can always go ice fishing either on your own or with a guided tour. In case you get stuck in the north and despise snow and cold you might want to move at least temporarily into a sauna. Lapland in winter is beautiful and if you can stomach the cold you should definitely go there.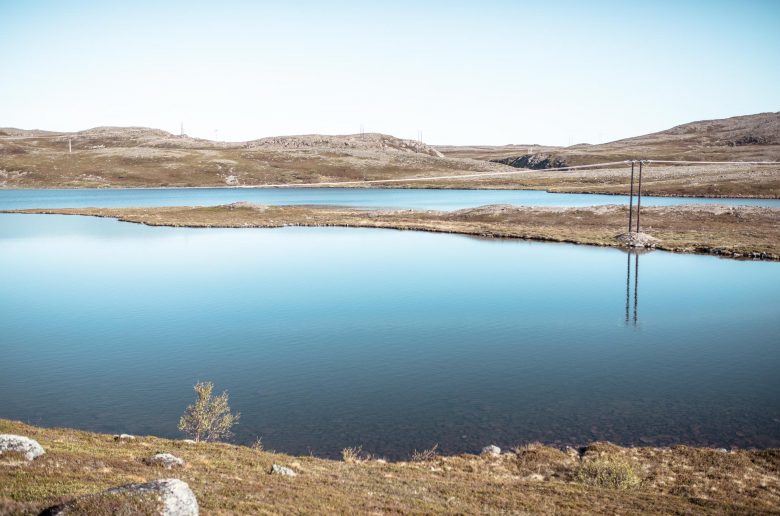 A seasonal experience that is worth a visit by its own is the midnight sun. The midnight sun is the contrast to the dark arctic winters and it's the season of the year when life gets busy in the north. It's especially for everyone who thinks that sleeping is for later. 24 hours of daylight every day gives you plenty of opportunity to chase your outdoor dreams. No matter if you want to chase that salmon all night long or keep on walking for days – the sun will not let you down. When the 24 hour days start depends how far north you go. Around the polar circle the long day starts in the beginning of June and ends in the beginning of July. The summer solstice on 21st June is always the turning point. If you spend your time further north like Berlevåg the sun will not set from beginning of May till the end of August.
Be amazed by the colors of Ruska
Ruska is the Finnish name for natures color explosion in autumn. It is the time of the year when the berry shrubs and trees change their color to a fiery spectrum of yellow, orange and red making the landscape a feast for the eyes. The sudden changes in landscape can appear literally overnight when a sudden drop in temperatures arises. The phenomena stretches from the moors over forest up into the highlands and give a diverse spectrum of warm colors. Different trees and plant species can be identified from far away. Birch trees for example turn bright yellow, blueberry shrubs deep red and some keep their green color a little longer to add some fresh green to the spectrum. For many locals this is the actual highlight of the year and we agree that this is visually the most beautiful time of the year. Due to colder temperatures there are also no mosquitos around to bother you so if you can cope with lower temperatures this is a great time for your trekking trips. If you plan your fishing adventure during this time be aware that some (especially salmonid) species are protected during autumn and that there are different rules for foreigners and residents.
See the end of the road – North Cape & alternatives
The North Cape is one of these places, which are cloaked by an adventures or even mythical touch that constantly whispers – come and visit me. And than there are these loud rumours that most have at least vaguely heard of, that it is a crowded tourist trap, that it is a boring pile of rocks, nothing to see at all, that it is very expensive and always covered in fog anyway. We have gathered some useful insights that can help you with your decision – including alternatives that might suite you better than the "original".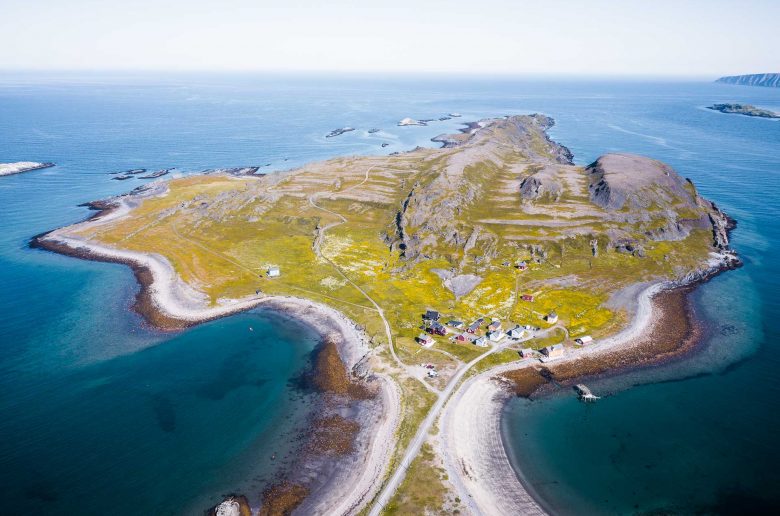 Visit Santa
Well, let us say that this is not for everyone. Everyone knows that Santa lives in Finland. What people usually do not know is that he lives in a shopping mall 10 kilometers north of Rovaniemi called the Santaclause village. We have actually been there for you and come to the conclusion that it is so ridiculous that we are tempted to suggest it. You can symbolically cross the polar circle there and if you feel like cueing with other tourists you can go and sit on Santas lab. If you have children in the right age they might be happy with this experience. Otherwise it is a Christmas themed shopping mall with Christmas tunes all over the place. You'll find outlets of most Finnish designer brands as Marimekko, Ittala or Marttiini.
How to get to Lapland
Lapland is one of the most remote destinations in Europe and yet it is fairly easy to get there. However, depending on where you start your journey and where you want to go exactly there are different approaches.
Plane
Flying into the north is the fastest and most convenient way to get there – if you can afford it, that is. The flight connections are very good and you can usually fly all the way up to Mehamn or Berlevåg in Finnmark from Oslo. However Tromsø, Alta and Kirkenes are the best-connected airports in Norway. The main airports in Sweden are Kiruna and Luleå but there are smaller airports e.g. in Gällivara and Arvidsjaur with good connections from Stockholm. If you go via Helsinki in Finland you can fly directly to Rovaniemi, Ivalo or Kemi and three more destinations. Depemding on your connections flights last usually 1 or 2 hours.
By train
If flying is not an option you can start your journey by train. In Norway the main rail network leads to the southern parts of Lapland and ends in Bodø. However, if you start in Stockholm or along the Swedish rail connection to the North you can go via Kiruna and Abisko to Narvik in Norway. The Finnish trains will lead you from Stockholm to Rovaniemi and from there further north-west to Kolari. Usually all main train destinations have excellent bus connections to take you further North. There are several connections a day and you can also take overnight trains. To give you an idea about duration: The very popular connection Helsinki – Rovaniemi lasts around 10 hours.
By boat
The enthusiasts and those who like it slow can embark the famous Norwegian Coastal Voyage Hurtigruten. This is usually considered a trip by its own and will take you several days depending on where you go exactly. It's also usually quite costly and can set you back between several hundred to even several thousand Euros depending on your style and comfort of travel. However for everyone who has the time and money it is a great way to see the beautiful fjord-landscape of Norway from a different angle.
By road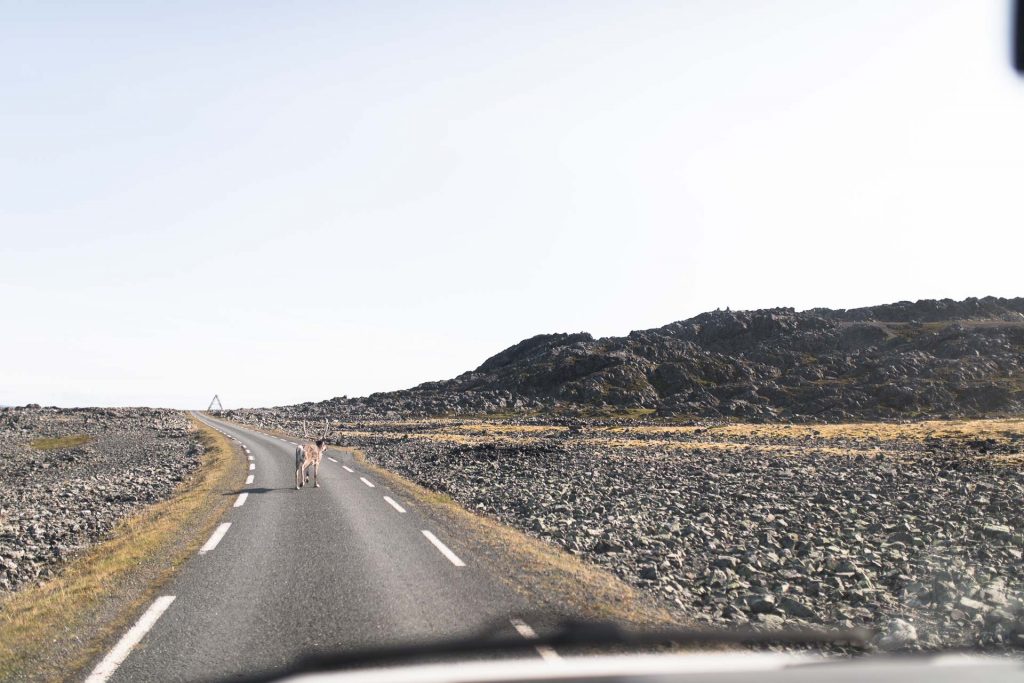 If you have a (rental) car or campervan or caravan, you can simply follow the main road network all the way up to the North. Streets in all countries are usually in very good conditions with low traffic, especially in the North.
Having your own means of transportation in the North is very helpful to visit different places. It's also a common option to fly to North and rent a car in one of the bigger destinations like Rovaniemi or Tromsø. The main streets are normally free all year round but you should be aware that it can be dark 24 hours a day, 7 days a week in the North with temperatures hitting -30° C (-22 F). So prepare properly if you head there on your own in winter.
By bus
Due to the long distances from the capitals to the north, direct busses to the North are rather inconvenient and also not very frequent. There is a (ski)bus operating several times a week between Helsinki and Rovaniemi taking around 13 hours to give one rare example. However, busses are a great means to get around in the North once you are there. There are good connections to all places in the North.
Hitchhike
If your travel expenses for transportations equal 0 you can always opt for hitchhiking. Challenge yourself with the ultimate 5000+ km Finoscandinavien hitchhiking tour (Stockholm, Kopenhagen, Oslo, Lofoten, Alta, Rovaniemi, Helsinki) next summer. Well, we actually did that a long time ago and for the adventures type this might be an option. People are usually very friendly; however expect some waiting time, especially in the North where the frequency of cars is very low.
Find detailed information on airports, flight connections, trains, busses here
↓↓↓
What is the best season for Lapland?
The northern winter lasts by our standards usually for half of the year. An interesting fact to consider is that the locals actually divide the year in 8 different seasons:
Deep winter (christmas) – December
Frosty winter (late winter) – January and February
Crusty snow (spring) – March / April
Departure of ice (early summer) – May
Midnight sun (summer) – June / July
Harvest season (late summer) July / August
Colorful autumn (autumn) – September
First snow (early winter) – October/November
The months can vary of course depending where you are exactly but you get the idea. The best season to travel to Lapland depends of course entirely on your needs and preferences.
Winter
All seasons have their charm and but if you are looking for the magical green glow in the night sky you might want to visit the North between November and March. In some areas October and April are also very suitable for a Northern light chase. This is also the time of the year when the whole landscape is blanked out with beautiful snow and ice fishing is in full season. Normally snow arrives in the middle of October and stays till May. That is at least true for the more southern and middle parts of Lapland but depends also very much on altitude and latitude.
It's definitely the right time for winter sport enthusiasts and activities but remember that the days can be very short and refreshing. Public activity areas are usually very well lit but if you plan for that more adventures backcountry tour you should really prepare accordingly.
Spring
Spring in Lapland is short and partly the time that many foreigners would probably call a mild winter elswhere. Since there is usually snow until May and in higher altitude even till June, snowy outdoor activities are still in full season with the difference of convenient daylight. After the snow melts, there is usually a big and very quick explosion of life and the first cycle of mosquitos start to hatch. As annoying as they might seem, they are also an important food source for many species of fish. And after the usually harsh winter they are very hungry. Spring is good season for fishing activities. It's also a good time to visit the North if you like it especially quite since the main tourist streams start to come in around midsummer.
Summer
This is the bright time of the year with. If you go all the way to the northern parts of Finnmark you can experience an staggering 3 months of permanent daylight. Closer to the polar circle it is around one month but even if the sun sets occasionally there is usually more daylight then you can make use of. It's the right time to plan your hiking tours and trekking adventures, to spend all night fishing for salmon or to make a kayak or canoe trip. There are also a lot of cultural events that you might want to visit. For locals this is usually the most active time of the year when they leave sleeping for another time. It's also the main season for mosquitos so you should prepare accordingly, especially if you go to the wilderness areas of Lapland.
Autumn
This is the time of the year, Finnish people call ruska. It's a color explosion where birch trees turn bright yellow and blueberry shrubs turn flame red. The phenomenon accurse usually in the beginning of September when the first frost sets is. Appearing first in the northern parts of Lapland and areas of higher altitude it works it's way down to the polar circle usually within a week. For nature lovers and harvesters it is a feast for eyes and bellies. The warm colors are omnipresent and the forests are full with berries and mushrooms.