swe.: Sillkremla | nor.: Rød sildekremla | fin.: Sillihapero | dt.: Roter Heringstäubling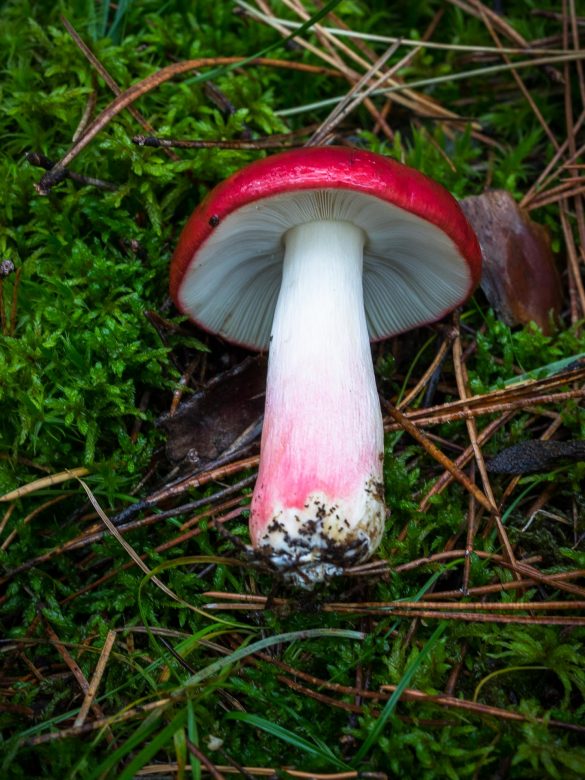 Description
The red crab brittlegill is a real eye-catcher with its intense color. And the best thing is that it tastes extremely good too. Since brittlegills are not commercially available in stores and some knowledge is required to identify them, this mushroom is very often left in the forest.
In contrast to the charcoal burner (Russula cyanoxantha), brittlegills have brittle lamellae. Due to their intense color, they are easy to distinguish from the former. The color is usually darker in the middle of the hat than on the edge. With some brittlegills, the hat skin begins to shine particularly intensely when it is wet. There are many colour variations of this mushroom like the green crab brittlegill (Russula clavipes).
The preferred habitat is the coniferous forest, e.g. spruce, fir or pine. The main season is from early summer to autumn.
The crab brittlegill has a fishy smell to it that gets lost while cooking. Don't be intimidated by this. However, make sure to identify this mushroom correctly since there are many similar looking species that are inedibel or poisonous.
Lookalikes
Due to the high risk of confusion with other red Russula species such as Russula emetica (The sickener, vomitting russula), clear identification is essential. By carefully tasting, you can usually distinguish edible from inedible Russula species. If the sample has a sharp or bitter taste, it is not an edible member of the Russula family. But be careful, sickeners can be realy intense and often you'll not taste anything else for a while.
Find some inspiration in other mushroom recipes
↓↓↓
We have compiled this overview with the best of knowledge and belief, but do not claim to be complete and reserve the right to make errors.
Learn more about poisonous mushrooms and mushroom poisons here
↓↓↓