Finnish: Tupasorakas
Swedish: Gyttrad taggsvamp
Norwegian: Børstepiggsopp
German: Dorniger Stachelbart, Dorniger Stachelseitling
Sci Syn.: CREOLOPHUS CIRRHATUS, CREOLOPHUS CIRRATUS
fruiting body: 5 – 25 cm
months: July – November
colours: white, yellowish in later stages
characteristic: consists of several spiny leaflike caps
habitat: deciduous trees, beech, birch
taste: mild
smell: pleasant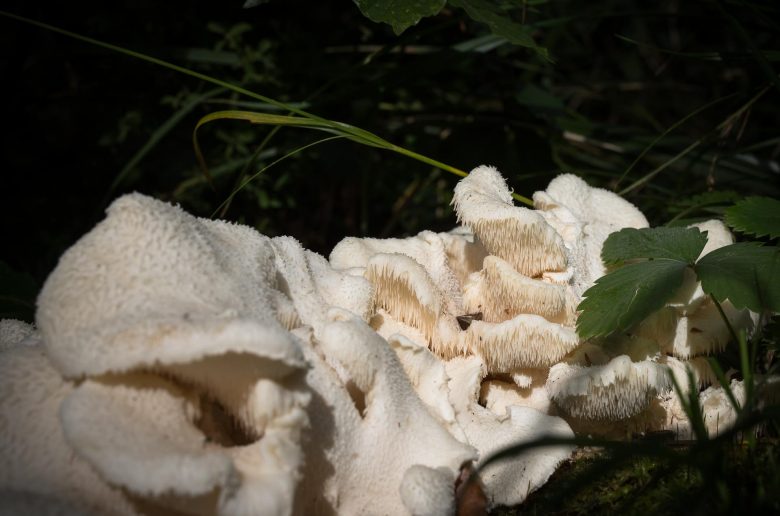 Description
Like all species from the genus Herecium, the Tiered tooth (Herecium coralloides) is a decomposer, growing on dead wood. It often occurs on tree trunks of deciduous trees like beech or birch.
Their caps are covered with thorn-like short spines that do not follow any particular direction. The spines on the underside of the hats with the spore-bearing fruit layer, on the other hand, are arranged vertically. The whitish flesh turns yellow and becomes somewhat tough with age.
Lookalikes
Hericium erinaceus (Bearded tooth)
Hericium coralloides (Coral tooth)
Climacodon septentrionalis (Northern tooth)
The tiered tooth differs from the other species of its genus by its hat-shaped fruiting bodies. The bearded tooth (Hiricium erinaceus) does not form caps but rather dense clusters of hanging spines on a common trunk for example.
Notes
Notes for cooking: Corall tooths can be cultivated and are considered very rare in the wild. In some countries they are protected. They can be cut and fried or prepared in similar ways as the Bearded tooth.
We have compiled this overview with the best of knowledge and belief, but do not claim to be complete and reserve the right to make errors.
Learn more about poisonous mushrooms and mushroom poisons here
↓↓↓