swe.: Grå kantarell | nor.: Kokstrompetsopp | fin.: Lehtovahvero, harmaa torvisieni | dt.: Grauer Leistling, Graue Kraterelle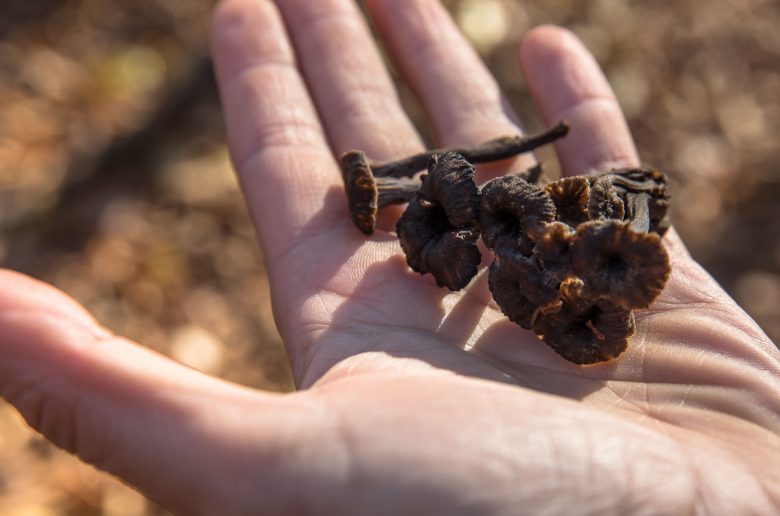 Description
The shape and greyish-black color of the fruiting bodies are reminiscent of small black trumpets (Craterellus cornucopioides), but do not have a smooth surface on the underside, but rather clear gray ridges. It has a mild taste when consumed raw. The cap grows between 2 and 8 cm in diameter.
The main season for this mushoom is from September to October where it can appear in big groups mainly in deciduous forests. Ashen chanterelle often grow between death trumpets and are threfore very often mistaken.
Lookalikes
This mushroom is usually confused with black trumpets (Craterellus cornucopioides) but can also be mistaken with Pseudocraterellus undulatus (edible) or Faerberia carbonaria (not tasty but considered edible). Non of these lookalikes are poisonous and the former two are considered equally delicious in taste.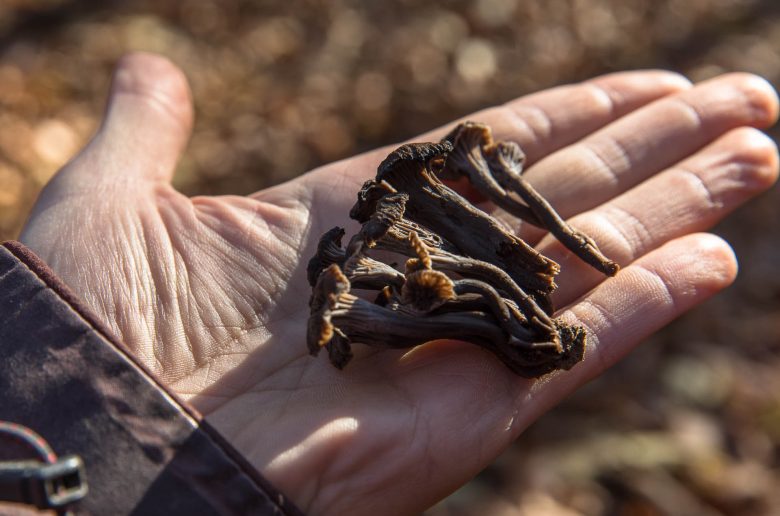 Notes
Notes for cooking: Ashen chanterelle are excellent mushrooms for soups, sauces and mixed mushroom dishes. You can use them similar to black trumpetes but they are slightly less intensive in taste
Find some inspiration in other mushroom recipes
↓↓↓
We have compiled this overview with the best of knowledge and belief, but do not claim to be complete and reserve the right to make errors.
Learn more about poisonous mushrooms and mushroom poisons here
↓↓↓