swe.: Enoki | nor.: Enoki | fin.: Talvijuurekas | dt.: Samtfußrübling, Enoki | sci. syn: Collyibia velutipes
Mucidula mucida, also known as the porcelain fungus, is a real eye catcher with its shiny and sparkling white appearance. This is a unique and fascinating mushroom that is often overlooked by foragers and mushroom enthusiasts. With its delicate white cap and slimy texture, it may not be the most appealing mushroom at first glance. However, once you learn to appreciate the porcelain fungus, you can enjoy its culinary qualities.
The velvet shank is one of the most underrated mushrooms out there. Often simply called Enoki, it is actually not (any more) the same as the Enoki or Enokitake (F. filliformis) cultivated all over the world and especially in Japan – they look identical though. You might even recognize the one or the other from where you can sometimes buy Enoki as bundles of long and thin white mushrooms in supermarkets. This species were treated as identical until DNA analyses recently showed that they are two different species. Culinarily, however, this makes no difference.
Only few know, that the velvet shank is one of the most endurable winter mushrooms out there and even better – it is quite common.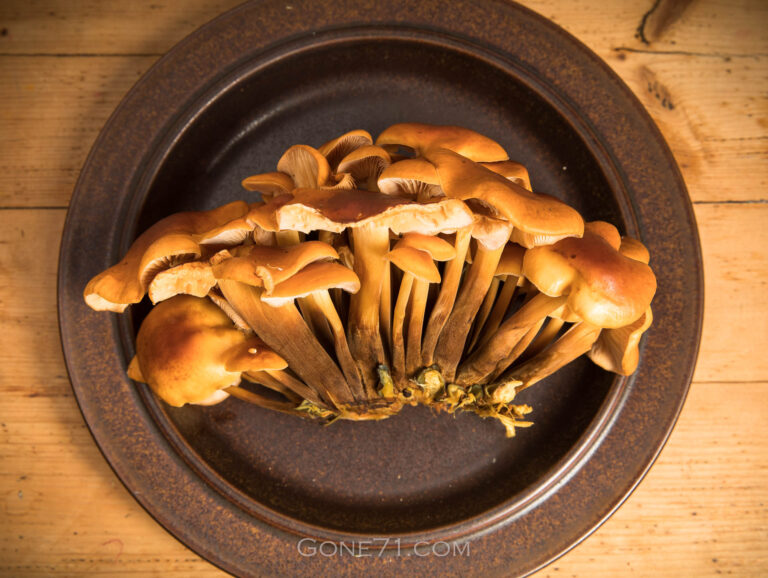 Velvet shank – a mushroom for the winter season
In their wild form, the velvet shank mushroom is a classic winter mushroom that usually begins its season after the first frost and can be found until spring. While most mushroom enthusiasts have long since retired in front of the warming stove, things are only really getting started for this one.
Its honey-coloured fruiting bodies often stand out in the monotonous winter landscape, hence the name Flammulina, the "little flame". For the foraging purists it is THE mushroom that complements the mushroom year together with oyster mushrooms. Occasionally the fruiting bodies have literally to be freed of snow and ice during harvest.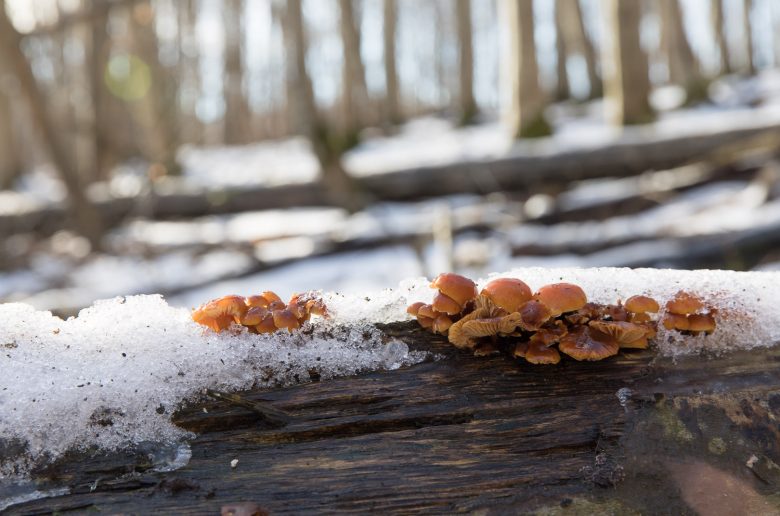 Only harvest mushrooms that you can identify with 100% certainty! The consequences can be life threatening if you are wrong. If you have the slightest doubt: do not eat the mushroom! This is not a mushroom guide! For correct identification consult a mushroom expert.

How to find and identify velvet shanks?
Velvet shanks usually grow in clusters. As decomposers, they are mainly found on wood from dead or damaged deciduous trees. As its name suggest, the wild form features a velvet stem with a dark base, which, due to its tough, rubberlike structure, can only be used as mushroom powder when dried. The gills are white to slightly yellowish, while the cap, despite its honey-colour, has a slightly sticky consistency. Mushrooms that are exposed to particularly strong weather conditions and low temperatures are slightly darker in colour from the centre on outwards.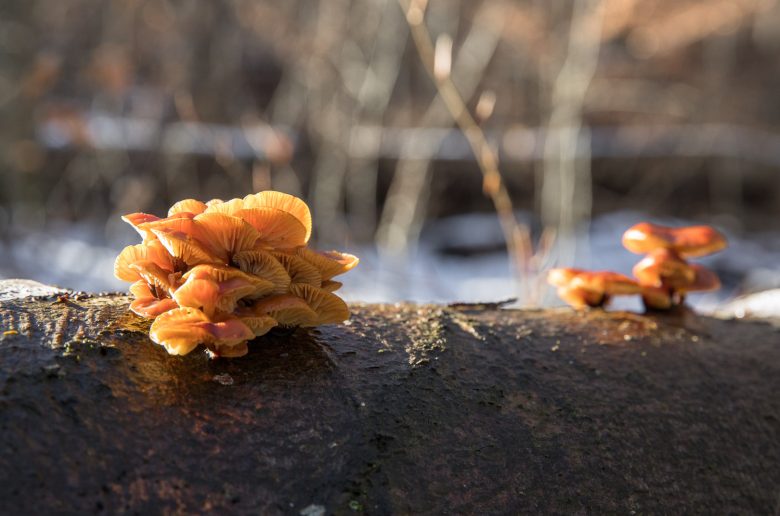 diameter: 2 – 9 cm
months: September – April
colours: white-yellow stem with dark base | yellow-brown, honey-brown cap
habitat: deciduous trees
taste (raw): pleasnat, slightly sweet, good
consumption: cooked
Confusing Velvet shanks
Due to the cold season in which velvet shanks are found, confusion with other mushrooms is rather rare. However, we have found velvet shanks also in August. A potentially fatal doppelganger is the deadly poisonous funeral bell also known as the deadly skullcap (Galerina marginata) which is usually (but not always!) found on coniferous wood from the end of winter to late autumn.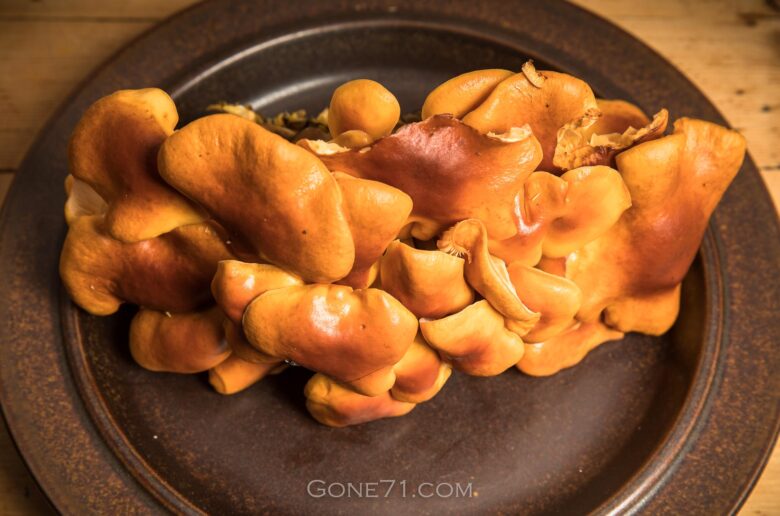 The clearest distinguishing feature is the velvety and above all ringless stem, whitish to yellowish lamellae and the white spore powder of the velvet shank. It also has a rubbery stem that returns to its original position after compression.
The deadly skullcap (G. marginata) in contrast has brownish gills, rusty brown spore powder and a whitish fibrous stalk.
There are also other different species of velvet shanks such as F. fennae, but they have an almost identical appearance and are also edible. For normal mushrooms, they are hardly distinguishable.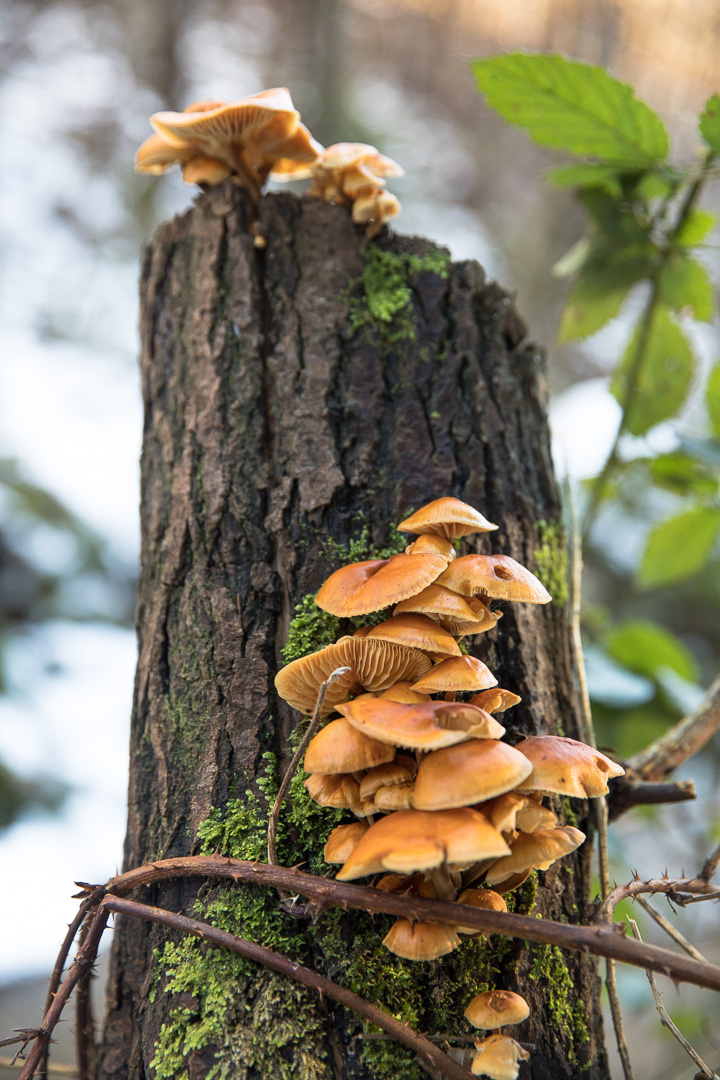 Cultivation of velvet shanks & Enoki
This mushroom, or at least its Asian counterpart F. filliformis, has been cultivated for over a thousand years. First reports from China (900) state that ripe fruiting bodies were rubbed on tree stumps in order to promote the cultivation of this fungus. In Japan, it is the most cultivated mushroom next to shiitake and enjoys particular popularity there.
The fact that cultivated fruit bodies of enoki or velvet shanks usually have a completely different appearance from the wild form is due to the way they are grown. The long white shape of the mushroom is created by growing in narrow, tall containers, e.g. bottles under exclusion of light. Otherwise it is the same mushroom.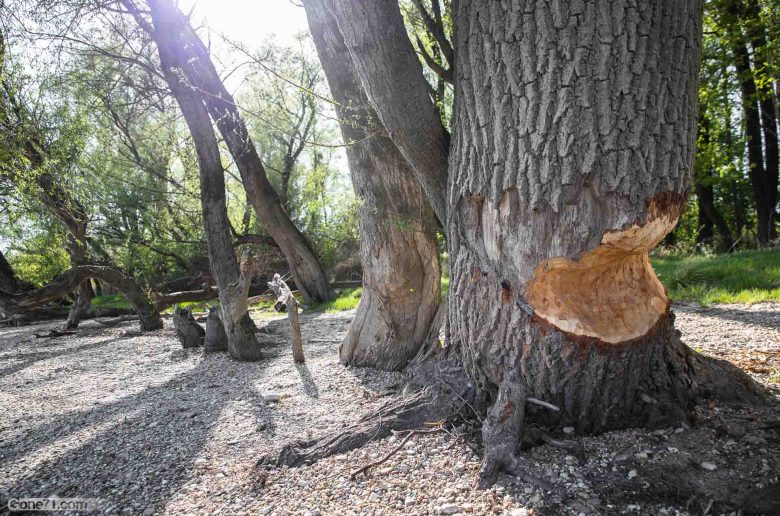 Cultivating Velvet shanks/Enoki yourself
The mushroom is very easy to cultivate. If you want to try it yourself, it is best to use willow wood. The wood should not be completely fresh and should be left to mature for a few weeks. Fresh wood usually contains natural antibiotic substances that do not allow the fungus to develop. Grow kits such as mycelium dowels can be obtained from your trusted dealer on the Internet. As a rule, holes are drilled into a tree trunk at regular intervals (usually 10 – 15 cm) and the dowels inserted.
However, it does not necessarily require mycelium from the dealer. If you have fresh fruiting bodies, you can try rubbing them into the cut of a trunk and then wait for fruiting bodies to appear in the following season.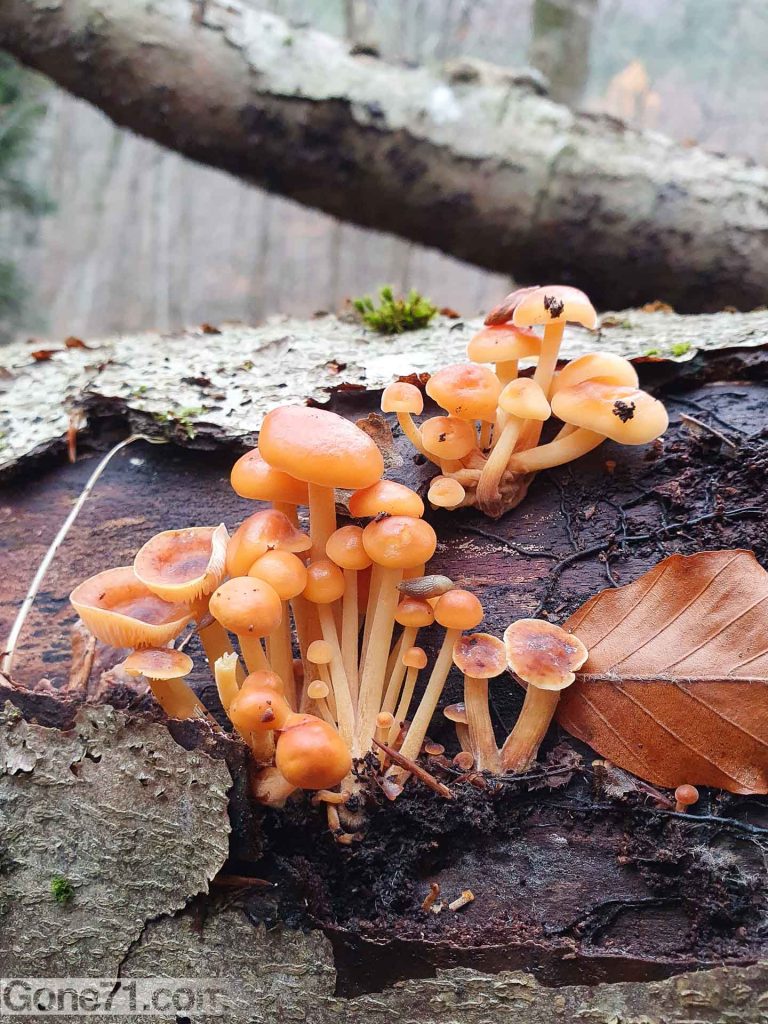 Velvet shanks in the kitchen
Finding something edible in nature during the barren winter months is not easy. That is why it is always a special joy for us when we discover these "little flames", which the name Flammulina means, in the barren landscape.
It's pleasant slightly sweet taste makes it an excellent protagonist for sauces and soups of all kinds. Velvet shanks can also be dried and stored very well.
Their close relative Enokitake is a very popular component in Asian cuisine. This mostly pure white-stemmed cultivated form is visually very different from the velvet shank as we know it, but said to be equivalent in use and taste.
In TCM it is used, among other things, to strengthen the immune system, to revitalize in a state of exhaustion and to prevent or accompany cancer.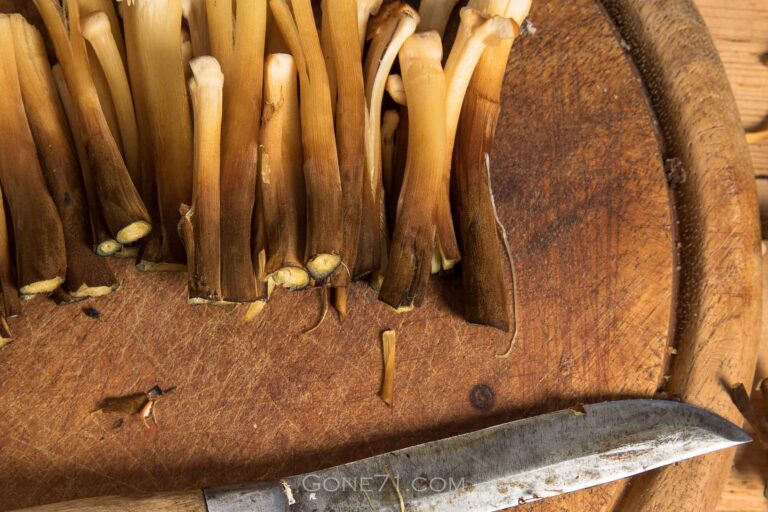 Cleaning Velvet shanks
Cleaning Flammulina velutipes  involves removing the stems as they are tough and inedible. Start by gently wiping the caps with a damp cloth to remove any dirt or debris. Then, using a sharp knife, separate the stem from the cap by cutting just above where they meet. Discard the stems and use the cleaned caps in your desired recipe.
It is important to check the edibility of Flammulina velutipes if they are collected during frost, as the cold temperatures can affect their quality. The flesh of the mushroom should be firm and not slimy or discolored. If the flesh is soft, mushy, or has a different texture than when the mushroom is fresh, it is no longer safe to consume. Always inspect mushrooms carefully before using them to ensure they are still edible and safe to consume.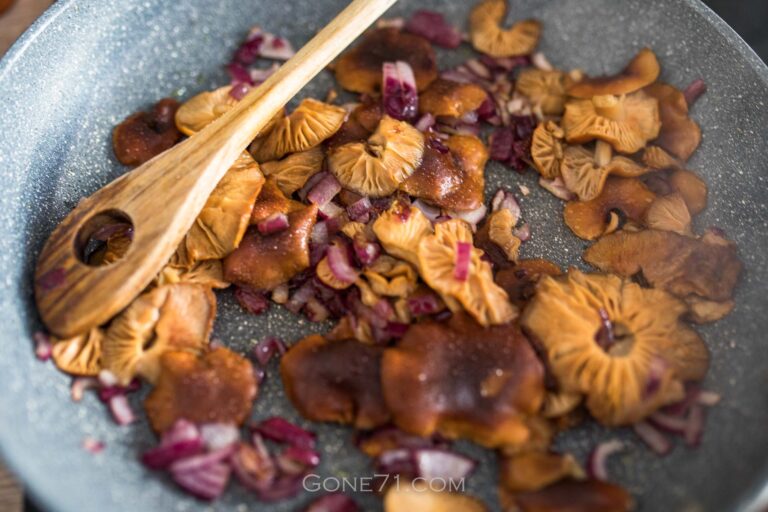 Sauteed Velvet shanks/Enoki with Caramelized Onions and Quinoa Salad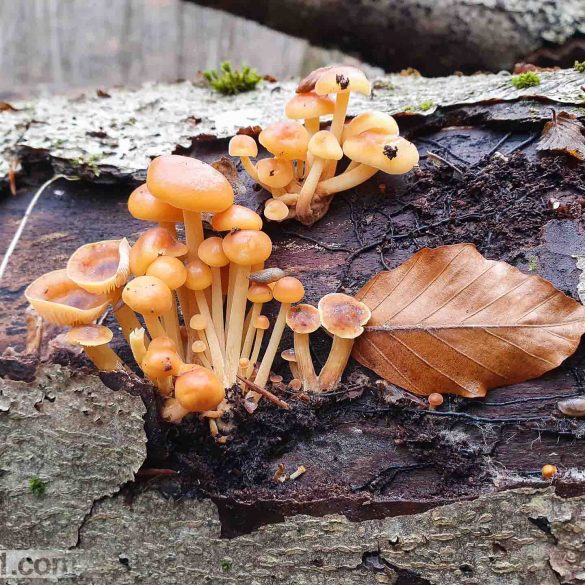 Ingredients
1 pound Flammulina velutipes (Velvet Shiitake) mushrooms, cleaned and sliced
2 large onions, sliced
2 cloves garlic, minced
2 tbsp olive oil
Salt and pepper to taste
1 cup quinoa
2 cups water or chicken broth or vegetable broth
1/2 cup chopped cherry tomatoes
1/4 cup chopped parsley
2 tbsp balsamic vinegar
1 tsp honey
1 tbsp lemon juice
Instructions
In a large pan, heat the olive oil over medium heat.
Add the sliced onions and cook until they are caramelized and soft, about 10 minutes.
Add the minced garlic to the pan and cook for another minute.
Add the sliced Flammulina velutipes mushrooms to the pan and season with salt and pepper. Cook until the mushrooms are tender, about 5-7 minutes.
While the mushrooms are cooking, rinse the quinoa and place it in a pot with the water or chicken broth. Bring it to a boil, then reduce the heat to low and cover. Cook for about 20 minutes or until the quinoa is tender and the liquid has been absorbed.
In a large bowl, mix the cooked quinoa, chopped cherry tomatoes, chopped parsley, balsamic vinegar, honey, and lemon juice. Season with salt and pepper to taste.
Serve the sauteed Flammulina velutipes mushrooms and caramelized onions over the quinoa salad as a side dish.
We have compiled this overview with the best of knowledge and belief, but do not claim to be complete and reserve the right to make errors.
Learn more about poisonous mushrooms and mushroom poisons here
↓↓↓
Find some inspiration in other mushroom recipes
↓↓↓